The 1954 French flap:
The index page for the 1954 French flap section of this website is here.
October 8, 1954, Montluçon, Allier:
Reference for this case: 8-Oct-54-Montluçon.
Please cite this reference in any correspondence with me regarding this case.
Summary:
The national newspaper Paris-Presse for October 12, 1954, reported that a worker, Mr. Magnier, and truckers, saw in Montluçon a luminous ball which crossed the sky at high speed.
Ufology catalogs of the 1970s indicated that there was an observation on October 8, 1954, at 08:30 p.m., in Montluçon in the Allier.
Mr. Magnier, a factory worker living in Argenty, was coming down towards Montlucon when suddenly a luminous craft whose shape he was unable to specify passed silently near him.
The original sources are said to be the newspapers La Montagne and Centre-Matin for October 18, 1954.
Reports:
[Ref. ppe1:] NEWSPAPER "PARIS-PRESSE":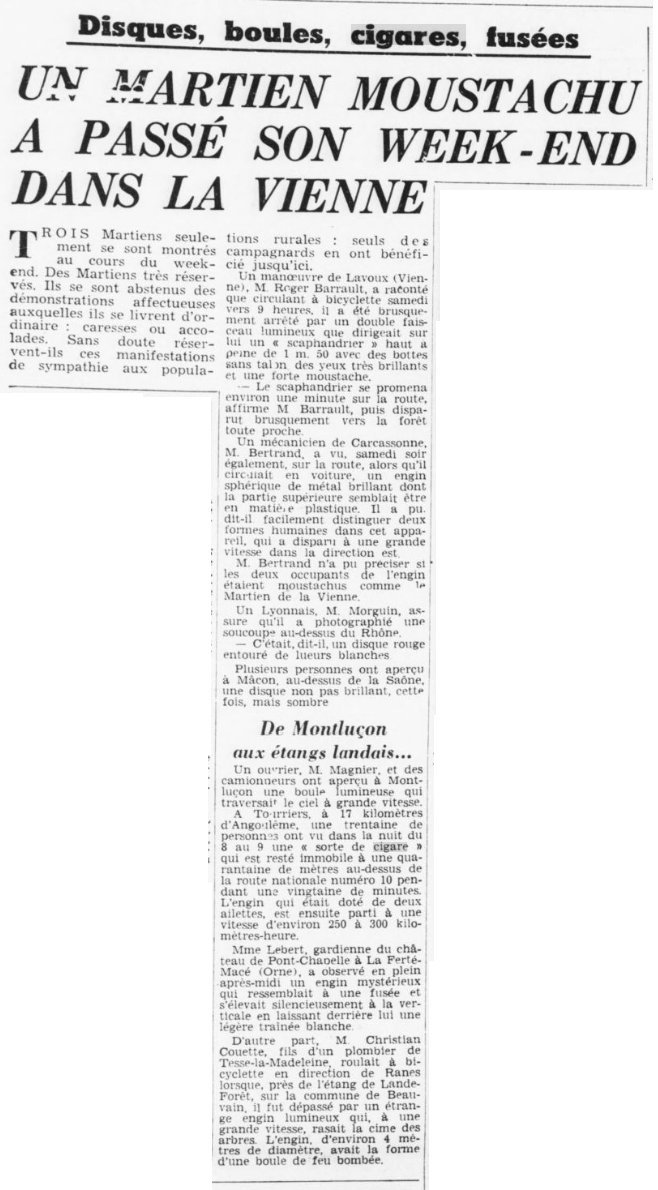 Discs, balls, cigars, rocket
A MARTIAN WITH A MUSTACHE SPENT HIS WEEKEND IN THE VIENNE
Only THREE Martians showed up over the weekend. Very reserved Martians. They abstained from the affectionate demonstrations to which they usually indulge in: caresses or hugs. No doubt they reserve these expressions of sympathy for rural populations: only country people have benefited from it so far.
A manual worker of Lavoux (Vienne), Mr. Roger Barrault, said that riding a bicycle at around 9 a.m. on Saturday, he was suddenly stopped there by a double beam of light directed by him by a "scuba diver" barely 1 m 50 tall with boots without heels very bright eyes and a strong mustache.
- The diver strolled for about a minute on the road, says Barrault, then suddenly disappeared into the nearby forest.
A mechanic from Carcassonne, Mr. Bertrand, saw, also on Saturday evening, on the road, while driving, a spherical craft of shiny metal whose upper part seemed to be made of plastic. He was able, he says, to easily distinguish two human forms in this craft; which disappeared at high speed in the east direction.
Mr. Bertrand could not specify if the two occupants of the craft were mustached like the Martian of the Vienne.
A Lyon resident, Mr. Morguin, claims that he has photographed a saucer over the Rhône.
- It was, he said, a red disc surrounded by white lights.
Several people saw a disc in Mâcon, above the Saône, not brilliant, this time, but dark.
From Montluçon to the Landes marshes...
A worker, Mr. Magnier, and truckers saw a luminous ball at Montluçon crossing the sky at high speed.
In Tourriers, 17 kilometers from Angoulême, around thirty people saw in the night from the 8th to the 9th a "kind of cigar" who remained motionless about forty meters above national road number 10 for about twenty minutes. The craft, which had two fins, then left at a speed of around 250 to 300 km per h.
Mrs. Lebert, guardian of the Pont-Chapelle castle in La Ferté-Macé (Orne), observed a craft in the middle of the afternoon mysterious that looked like a rocket and rose vertically silently, leaving behind a slight white trail.
Also, Mr. Christian Couette, son of a plumber from Tesse-la-Madeleine, was riding a bicycle towards Ranes when, near the Etang de Lande-Forêt, in the commune of Beauvain, he was overtaken by a strange luminous craft which, at high speed, grazed the top of the trees. The object, about 4 m in diameter, had the shape of a domed fireball.
[Ref. ous1:] "OURANOS" UFOLOGY MAGAZINE:
08/10/1954 Montluçon (20 heures 30).
M. Magnier, ouvrier d'usine demeurant à Argenty descendait vers Montluçon. Soudain, un engin lumineux dont il ne put préciser la forme passa silencieusement près de lui. (La Montagne-Aurillac du 18/10/1954).
[Ref. ldl1:] "LUMIERES DANS LA NUIT" UFOLOGY MAGAZINE:
October 8 (La Montagne for 11/10) Montluçon 08:30 p.m..
Mr. Magnier saw, passing near him, a luminous machine between Argenty and Montlucon.
[Ref. ioi1:] "INFO-OVNI" UFOLOGY MAGAZINE:
030 10/08/54 09:30 p.m. Montluçon
Lum. object. Silent and low altitude
014 10/08/1954 08:30 p.m. Montluçon witness Mr. Magnier
The witness who was going from Argenty to Montlucon suddenly saw silently passing near him a lum. craft whose shape he was unable to specify (Centre Matin for 10/18/54)
[Ref. fru1:] MICHEL FIGUET AND JEAN-LOUIS RUCHON:
The two authors report that in Montluçon in the department of Allier on October 8, 1954, at 08:30 p.m., a luminous object was observed by one witness who did not tell about its shape.
The authors indicate that the source is La Montagne for October 11, 1954.
[Ref. gep1:] UFOLOGY GROUP "GEPO":
| | | | | |
| --- | --- | --- | --- | --- |
| 10/8/54 | 08:30 p.m. | Montluçon (03) | 000V1 | |
[Ref. lcn1:] LUC CHASTAN:
Luc Chastan indicates that in the Allier in Montluçon on October 8, 1954 at 20:30 hours, there is an "observation of a luminous object."
Luc Chastan indicates that the source is "Ovni, Premier dossier complet... by Figuet M./ Ruchon J.L. ** Alain Lefeuvre pub. 1979".
Explanations:
Insufficient information, possible meteor.
Keywords:
(These keywords are only to help queries and are not implying anything.)
Montluçon, Allier, Argenty, Magnier, car, night, unique, close, luminous, night, silent
Sources:
[----] indicates sources that are not yet available to me.
[ppe1] Article in the national newspaper Paris-Presse, Paris, France, page 5, October 12, 1954.
[----] Article in the regional newspaper La Montagne, Aurillac, France, October 11 and / or 18, 1954.
[----] Article in the regional newspaper Cemtre-Matin, France, October 18, 1954.
[ous1] "Dossier 'Allier'", catalogue in the ufology magazine Ouranos, France, Nouvelle Série #7, page 2, 2ème trimestres 1973.
[ldl1] "Les archives de 1954 pour l'Allier", catalogue in the ufology magazine Lumières Dans La Nuit (LDLN), France, #128, page 16, October 1973.
[ioi1] "Un demi-siècle d'activités O.V.N.I. dans l'Allier", catalogue in the ufology magazine INFO-OVNI, France, special issue, page 5, December 1975.
[fru1] "OVNI, Premier Dossier Complet des Rencontres Rapprochées en France", book by Michel Figuet and Jean-Louis Ruchon, Alain Lefeuvre publisher, France, page 135, 1979.
[gep1] "Catalogue mondial Pasqualini, list, in the ufology bulletin GEPO Informations, ufology group GEPO, France, #21, September / December 1980.
[lcn1] Base OVNI France, website by Luc Chastan, France, circa 2005, at baseovnifrance.free.fr/detobs.php?numobs=804
Document history:
| Version: | Created/Changed by: | Date: | Change Description: |
| --- | --- | --- | --- |
| 0.1 | Patrick Gross | May 12, 2005 | First published. |
| 1.0 | Patrick Gross | January 26, 2009 | Conversion from HTML to XHTML Strict. First formal version. Additions [lcn1]. |
| 1.1 | Patrick Gross | June 26, 2019 | Additions [ioi1], [ous1], [ldl1], Summary. Explanations changed, were "Not looked for yet." |
| 1.2 | Patrick Gross | January 8, 2020 | Addition [ppe1]. In the Summary, addition of the paragraph "The national newspaper Paris-Presse..." |
| 1.3 | Patrick Gross | May 1, 2022 | Addition [gep1]. |