The 1954 French flap:
The index page for the 1954 French flap section of this website is here.
October 2, 1954, Bourg-en-Bresse, Ain:
Reference for this case: 2-Oct-54-Bourg-en-Bresse.
Please cite this reference in any correspondence with me regarding this case.
Summary:
There was apparently an observation in Bourg-en-Bresse on October 2, 1954.
I find it mentioned in a newspaper clipping for October 6, 1954, in the 1958 book of Aimé Michel, and by Jacques Vallée who give an hour, 06:10 p.m.
But while the so-called "alignment" of Bourg with 3 other places of sightings of October 2, 1954, was mentioned in the ufology literature, I found no other information on the observation itself so far.
Reports:
[Ref. prs1:] UNKNOWN NEWSPAPER FOR OCTOBER 6, 1954: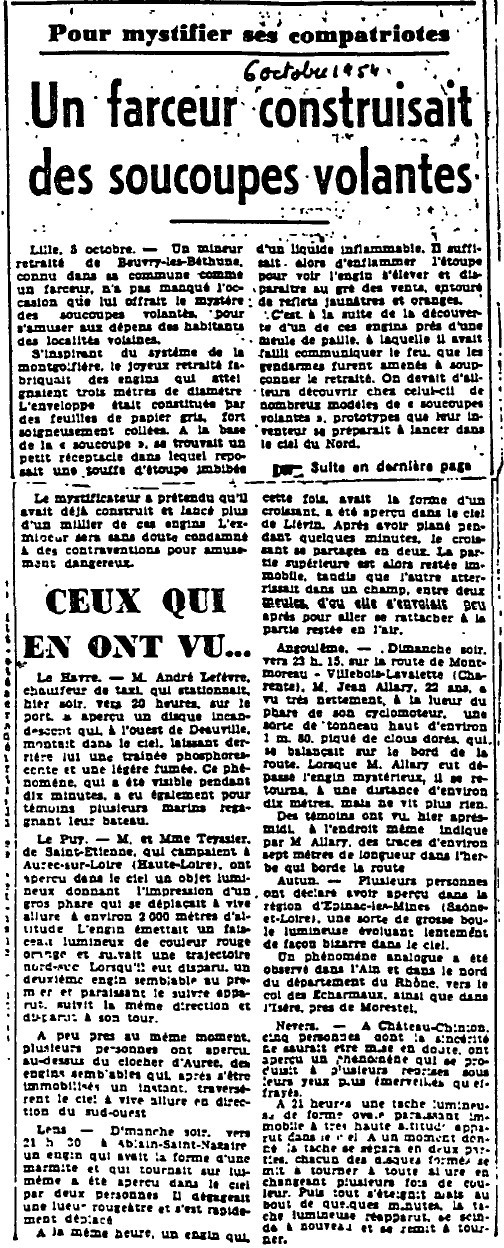 To mystify his compatriots
A prankster built flying saucers
Lille, 5 October. - A retired mine worker of Beuvry-les-Bethune, known in his commune as a prankster, did not miss the opportunity offered to him by the mystery of the flying saucers to amuse himself at the expense of the inhabitants of the neighboring localities.
Inspired by the hot air balloon system, the happy retired man built machines that were three meters in diameter. The envelope consisted of sheets of gray paper, strongly glued together. At the base of the "saucer" was a small receptacle in which lay a tuft of tow impregnated with a flammable liquid. It was then enough to ignite the tow to see the machine rise and disappear at the winds, surrounded by yellowish and orange reflections.
It was after the discovery of one of these devices near a stack of straw, to which it had almost set fire, that the gendarmes were led to suspect the retired man. In fact, there were many models of "flying saucers" at his place, prototypes that their inventor was preparing to launch in the sky of the Nord.
The mystifier claimed that he had already built and launched more than a thousand of these devices. The ex-mine worker will no doubt be sentenced to fines for dangerous amusement.
Those who have seen...
Le Havre. -- Mr. André Lefèvre, a taxi driver, who was parked yesterday evening at 8 p.m. on the harbor, saw an incandescent disk which rose to the west of Deauville, leaving behind a phosphorescent trail and a slight smoke. This phenomenon, which was visible for ten minutes, was also witnessed by several sailors returning to their boat.
The Puy. -- Mr. and Mrs. Teyssier, of Saint-Etienne, who camped at Aurec-sur-Loire (Haute-Loire), saw in the sky a luminous object giving the impression of a large headlight moving at a rapid pace at about 2000 meters altitude. The craft emitted an orange-reddish light beam and followed a north-south trajectory. When it had disappeared, a second apparatus, similar to the first, appeared to follow it, in the same direction, and disappeared in its turn.
At about the same time, several persons saw above the bell-tower of Aurec similar machines which, after being immobilized for a moment, crossed the sky at a rapid pace towards the south-west.
Lens. -- Sunday evening, around 9:30 p.m., in Ablain-Saint-Nazaire, a machine that had the shape of a pot and which rotated on itself was seen in the sky by two people. It emitted a reddish glow and moved quickly.
At the same time, a craft which, this time, had the shape of a crescent, was seen in the sky of Liévin. After hovering for a few minutes, the crescent split in two. The upper part then remained motionless, while the other landed in a field between two haystacks, from which it took off shortly afterwards to join the part that was in the air.
Angoulême. -- Sunday evening, around 9:15 p.m., on the road from Montmoreau to Villebois-Lavallette (the Charente), Mr. Jean Allary, 22, saw very clearly, in the light of his moped's headlight, a sort of barrel high of about 1.50 meters, studded with gilded nails, which swayed on the side of the road. When Mr. Allary had passed the mysterious machine, he looked back, at a distance of about ten yards, but he saw nothing.
Witnesses saw, yesterday afternoon, at the very place indicated by Mr. Allary, traces about seven meters long in the grass that borders the road.
Autun. -- Several people said they saw in the region of Epinac-les-Mines (the Saône-et-Loire), a kind of large luminous ball moving slowly in a bizarre manner in the sky.
A similar phenomenon has been observed in the Ain and in the north of the Rhone department, towards the Col des Echarmaux, as well as in the Isère, near Morestel.
Nevers. -- In Chateau-Chinon, five persons whose sincerity could not be doubted, saw a phenomenon which occurred several times before their more astonished than frightened eyes.
At 9 o'clock a luminous spot of oval shape, seemingly motionless at a very high altitude, appeared in the sky. At one point the spot began to rotate at full speed, changing color several times. Then all went out, but after a few minutes the luminous spot reappeared, split again, and began to rotate.
[Ref. aml1:] AIME MICHEL:
Aimé Michel lists "Bourg" as a spot of an alignment in straight line of observations of October 2, 1954.
[Ref. gqy1:] GUY QUINCY:
Saturday October 2 [, 1954]
[... Other cases...]
unknown hour:
: Bourg (Ain): luminous sph.
[... Other cases...]
[Ref. jve5:] JACQUES VALLEE:
| | | | | | | | | | | | | | |
| --- | --- | --- | --- | --- | --- | --- | --- | --- | --- | --- | --- | --- | --- |
| 181 | -005.22600 | 46.20400 | 02 | 10 | 1954 | | | | BOURG | F | 151 | C** | 170 |
[Ref. ldl1:] "LUMIERES DANS LA NUIT" UFOLOGY MAGAZINE:
[Ref. pis1:] "PHENOMENES INCONNUS" UFOLOGY BULLETIN:
In this ufology bulletin, Alain Barbe published a map with cases (but not all the 61 cases or more) for October 2, 1954, including that of Bourg, which he, like Aimé Michel did, thooght to often be "aligned" beyond mere chance:
[Ref. lhh1:] LARRY HATCH - "*U* COMPUTER DATABASE":
3909: 1954/10/02 18:10 1 5:13:40 E 46:12:20 N 3333 WEU FRN AIN 7:7
BOURG-en-BRESSE,01,FR:SIGHTING ON NE-SW LINE:BACK AGAIN 10/14/54 @1813 hrs
Ref# 49 MICHEL,Aime: FS & STRAIGHT LINE TH: Page No. 112 : TOWN &CITY
[Ref. lcn1:] LUC CHASTAN:
Luc Chastan indicates in his database that in the Ain in Bourg en Bresse on October 2, 1954, at an unknown hour, there was an observation of a disc.
The source is indicated as "M.O.C. by Michel Aimé ** Arthaud 1958".
Explanations:
Totally insufficient information.
Keywords:
(These keywords are only to help queries and are not implying anything.)
Bourg-en-Bresse, Ain, disc
Sources:
[----] indicates sources that are not yet available to me.
[prs1] Article in an unidentified newspaper, France, October 6, 1954
[aml1] "Mystérieux Objets Célestes", book by Aimé Michel, Arthaud publisher, France, 1958.
[aml1] "Flying Saucers and the Straight-Line Mystery", book by Aimé Michel, English versionof "Mystérieux Objets Célestes", S.G. Phillips publisher, USA, 1958.
[gqy1] "Observations 1954", monograph by Guy Quincy, France - Algeria, private publication, page 10, the 1950's.
[jve5] "Catalogue préliminaire de 500 observations", listing in "Les Phénomènes Insolites de l'Espace", book by Jacques and Jannine Vallée, Table Ronde publisher, France, 1966.
[aml1] "A Propos des Soucoupes Volantes", book by Aimé Michel, réimpression de "Mystérieux Objets Célestes", Planète publishers, France, page 139, 1966.
[jve5] "Catalogue préliminaire de 500 observations", listing in "Les Phénomènes Insolites de l'Espace", book by Jacques and Jannine Vallée, Robert Laffont publisher, France, page 249, 1978.
[aml1] "Mystérieux Objets Célestes", book by Aimé Michel, Seghers publisher, France, page 152, 1977.
[aml1] "Mystérieux Objets Célestes", book by Aimé Michel, Robert Laffont publisher, France, page 152, 1978.
[ldl1] Ufology magazine Lumières Dans La Nuit (LDLN), France, #77, page 3, September /October 1965.
[pis1] "Du nouveau sur l'orthothénie?", article by Alain Barbe, in the ufology bulletin Phénomènes Inconnus, C.F.R.S, France, #14, pages 17,18, 1971.
[lhh1] "*U* Computer Database", database by Larry Hatch, USA, circa 2002.
[lcn1] Base OVNI France, website by Luc Chastan, France, circa 2005, at baseovnifrance.free.fr/detobs.php?numobs=2448
Document history:
| Version: | Created/Changed by: | Date: | Change Description: |
| --- | --- | --- | --- |
| 1.0 | Patrick Gross | June 10, 2009 | First published. |
| 1.1 | Patrick Gross | June 20, 2010 | Addition [jve5]. |
| 1.2 | Patrick Gross | December 30, 2016 | Addition [prs1]. |
| 1.3 | Patrick Gross | October 2, 2019 | Additions [aml1], [ldl1], [pis1], [lhh1], Summary. Explanations changed, were "Not looked for yet." |
| 1.4 | Patrick Gross | December 1, 2021 | Addition [gqy1]. |