The 1954 French flap:
The index page for the 1954 French flap section of this website is here.
September 28, 1954, Fécamp, Seine-Maritime:
Reference for this case: 28-Sep-54-Fécamp.
Please cite this reference in any correspondence with me regarding this case.
Summary:
The regional newspaper Paris-Normandie for October 1, 1954, reported that residents of Fécamp had seen on September 28, 1954, at 09:15 p.m., five "saucers" that appeared west of Fécamp and traced "by various movements, a curious ballet of a duration estimated at several minutes."
Reports:
[Ref. pne1:] "PARIS-NORMANDIE" NEWSPAPER: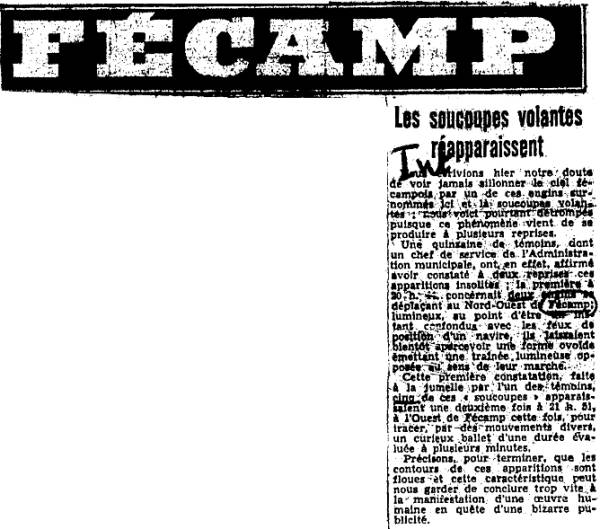 FECAMP
The flying saucers reappear
We wrote our doubt yesterday to never see the sky of Fécamp furrowed by one of these apparatus called flying saucers here and there: however we stand corrected since this phenomenon has just occurred on several occasions
About fifteen witnesses, among them the head of department of the Municipal administration, indeed, affirmed to have noted twice these strange appearances; the first at 08:[??] p.m. related to two machines moving in the North-West of Fécamp: luminous, at the point of beings confused with the navigation lights of a ship, they soon let see an ovoid shape emitting a luminous trail opposite their direction of movement.
This first observation made with the binocular by one of the witnesses, five of these "saucers" appeared a second time at 09:51 p.m., in the West of Fécamp this time, to trace, by various movements, a curious dance whose duration was evaluated as of several minutes.
Let us specify, to finish, that the contours of these appearances are fuzzy and this characteristic prevents us to conclude too quickly that it is the display of some human work in search for bizarre publicity.
[Ref. lcc1:] "LE COURRIER CAUCHOIS" NEWSPAPER:
Flying saucers were seen Monday and Tuesday
By twice and at twenty-four hours of interval one saw, from Fécamp, mysterious machines moving in the sky.
Monday evening, first of all, one of our fellow-citizens of the vicinity of the sea stated to have seen a red disc moving above Yport. The guettor of the alerted semaphore prepared his telescopes, but vainly.
The next day evening, however, another resident of Fecamp absolutely worthy of faith, since it is Mr. Alexandre Dubar, director of the Engineering Departments of the city, took some fresh air at the edge of the beach when he saw, in the direction of the North-West two luminous points, of ovoid shape moving vertically. Thereafter, several of our fellow-citizens were to make the same observation.
As it cannot be a collective visual error, it should well be supposed that there is something mysterious in the air.
Explanations:
Probable planes.
In the Press for September 24, 1954, it was said that "the biggest aerial drill in Europe", operation "Etoile Filante" ("Shooting Star"), will take place, by NATO Air Forces, above France and Germany.
Keywords:
(These keywords are only to help queries and are not implying anything.)
Fécamp, Seine-Maritime, five, night, duration, multiple, maneuvers
Sources:
[----] indicates sources that are not yet available to me.
[pne1] Article in the regional newspaper Paris-Normandie, Rouen, France, October 1, 1954.
[lcc1] Article in the local newspaper Le Courrier Cauchois, France, October 4, 1954.
Document history:
| Version: | Created/Changed by: | Date: | Change Description: |
| --- | --- | --- | --- |
| 1.0 | Patrick Gross | June 8, 2010 | First published. |
| 1.1 | Patrick Gross | September 27, 2019 | Addition of the Summary. Explanations changed, were "Not looked for yet." |