The 1954 French flap:
The index page for the 1954 French flap section of this site is here.
October 28, 1954, Connaux, Gard:
Reference for this case: 28-Oct-54-Connaux.
Please cite this reference in any correspondence with me regarding this case.
Summary:
The regional newspaper Le Provençal for October 30, 1954, mentioned observations of "luminous fireballs" on "Thursday", therefore on October 28, 1954, around 9 p.m.; this had been seen among other people by a person in Connaux.
Reports:
[Ref. lpl1:] NEWSPAPER "LE PROVENCAL":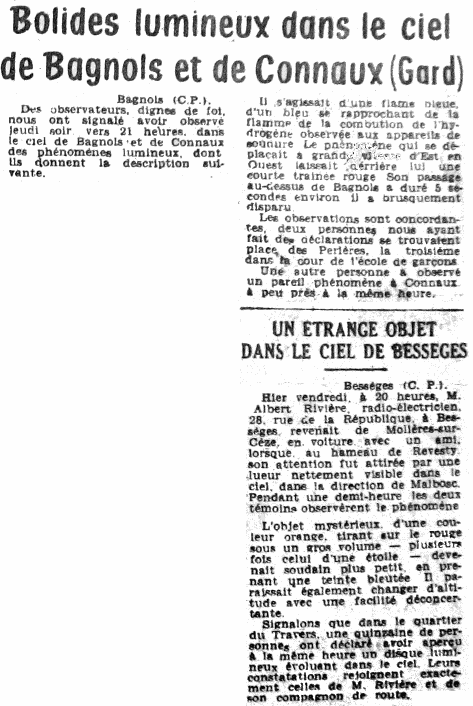 Luminous fireballs in the sky of

Bagnols and

Connaux (Gard)

Bagnols (C.P.).

Worthy of faith observers reported to us that they have observed Thursday evening, around 9 p.m., in the sky of Bagnols and Connaux, luminous phenomena of which they give the following description.

It was a blue flame, of a blue approaching the flame of combustion of hydrogen observed with welders. The phenomenon which moved at high speed from East to West left behind itself a short red trail. Its passage above Bagnols lasted 5 seconds approximately it suddenly disappeared.

The observations are concordant, two people having made us statements were place of Perières, the third in the yard of the boys school.

Another person observed a similar phenomenon with Connaux about the same hour.
A WEIRD OBJECT IN THE SKY OF BESSEGES
Bessègues (C.P.).
Yesterday Friday, at 8 p.m., Mr. Albert Rivière, radio-engineer, 28 street of the Republic, in Bessègues, returned from Molières-sur-Cèze by car with a friend, when, in the hamlet of Revesty [sic, Revety], his attention was drawn by a definitely visible gleam in the sky, in the direction of Malbosc. During half an hour the witnesses observed the phenomenon.
The mysterious object, of an orange color drawing on the red with a large volume - several times that of a star - became suddenly smaller, while taking a bluish color. It also appeared to change altitude with a disconcerting ease.
Let's report that in a district of the Travers, about fifteen people stated to have seen at the same hour a luminous disc evolving in the sky. Their observations match exactly those of Mr. Rivière and his fellow traveler.
[Ref. uda1:] "UFODNA" WEBSITE:
The website indicates that on 28 October 1954 at 21:00 between Bagnols and Connaux, Bagnols, France, "An unidentified object was sighted, but with appearance and behavior that most likely would have a conventional explanation. One object was observed by four witnesses."
The source is indicated as "Vallee, Jacques, Computerized Catalog (N = 3073)".
Explanations:
Probable meteor.
Keywords:
(These keywords are only to help queries and are not implying anything.)
Connaux, Gard, multiple, night, flame, blue, trail, red, fast, duration
Sources:
[----] indicates sources that are not yet available to me.
[lpl1] Article in the regional newspaper Le Provençal, France, page 12, October 30, 1954.
[uda1] "28 Oct 1954 - Bagnols, France", web page by the website UFOdna, circa 2008, at www.ufodna.com/uf02/uf3/023607.htm
Document history:
| Version: | Created/Changed by: | Date: | Change Description: |
| --- | --- | --- | --- |
| 0.1 | Patrick Gross | July 12, 2007 | First published. |
| 1.0 | Patrick Gross | February 23, 2010 | Conversion from HTML to XHTML Strict. First formal version. |
| 1.1 | Patrick Gross | June 21, 2019 | Addition [uda1]. |