The 1954 French flap:
The index page for the 1954 French flap section of this website is here.
October 22, 1954, Cavaillon, Vaucluse:
Reference for this case: 22-Oct-54-Cavaillon.
Please cite this reference in any correspondence with me regarding this case.
Summary:
The regional newspaper Le Provençal for October 23, 1954, had reported on page 12 that an "irridescent disc" had been seen on Cavaillon on October 22, 1954.
The newspaper, without giving the hour, indicated that one Mr. Leon Dominique, of the Ratacan district, had seen it above the Saint-Jacques hill. The luminous disc, depending on its whirling, was iridescent, sometimes blue and sometimes red, and was moving towards Fontaine-de-Vaucluse.
Reports:
[Ref. lpl1:] NEWSPAPER "LE PROVENCAL":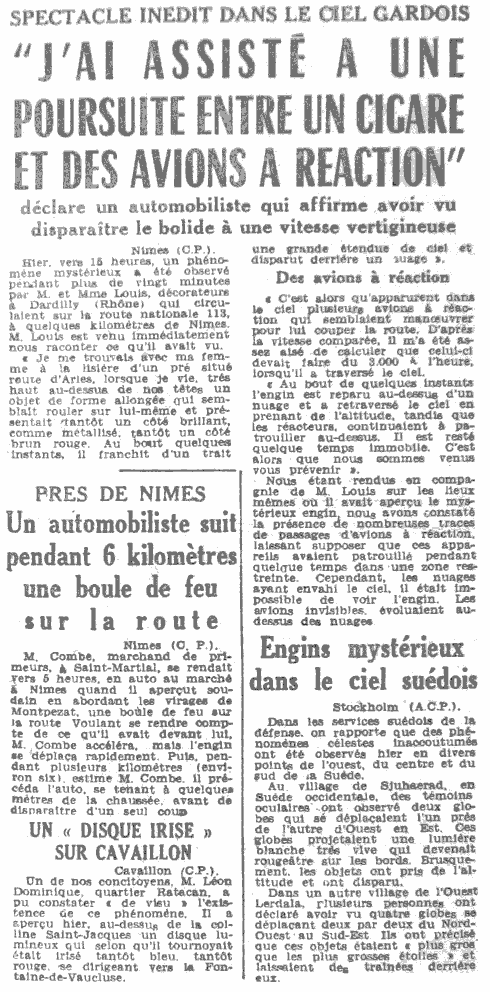 UNPRECEDENTED DISPLAY IN THE SKY OF THE GARD
"I HAVE WITNESSED A
CHASE BETWEEN A CIGAR
AND JET AIRPLANES"
says a the driver of a car who claims to have seen
the bolide disappear at a vertiginous pace
Nimes (C.P.).
Yesterday, around 3 hours p.m., a mysterious phenomenon was observed during more than twenty minutes by Mr. and Mrs. Louis, decorators in Dardilly (the Rhone) who were driving on the National Road RN 113, a few kilometres from Nimes. Mr. Louis immediately came to tell us what he had seen.
"I was with my wife at the edge of a meadow located road of Arles, when I saw, very high above our heads an object of elongated shape which seemed to roll on itself and presented sometimes a side shining as metallized, sometimes a brown-red side. At the end of a few moments, it crosses a great extent of the sky and disappeared behind a cloud".
Jet airplanes
"At this point in time several jets appeared in the sky, which seemed to operate to cut its travel path. According to compared speed, it was rather easy to me to calculate that the latter was to go at 3.000 [km] per hour when it has crossed the sky."
"At the end of a few moments the machine reappeared above a cloud and recrossed the sky while taking altitude, whereasthe jets continued to patrol above. It remained motionless a few moments. At this point in time we came to warn alert you."
As we went in company of Mr. Louis to the very location where he had seen the mysterious machine, we noted the presence of many traces of passages of jets, which let us suppose that these airplanes had patrolled during a few times in a narrow zone. However, the clouds had invaded the sky, it was impossible to see the craft. The invisible planes evolved above the clouds.
Mysterious craft in the Swedish sky
Stockholm (A.C.P.).
In the Swedish services of the defense, one reports that unaccustomed celestial phenomena were observed yesterday in various points of the west, the center and the south of Sweden.
At the village of Sjuhserad, in Western Sweden, eyewitnesses observed two spheres which moved one close to the other from West to East. These spheres projected a very sharp light which became reddish on the edges. Suddenly, the objects took altitude and disappeared.
In another village of the West, Lerdala, several people stated to have seen four spheres moving two by two from the North-West to the South-East. They specified that these objects were "larger than the largest stars" and left trails behind them.
NEAR NIMES
A car's driver follows
for 6 kilometers
a ball of fire
on the road
Nîmes (C.P.).
Mr. Combe, greengrocer, in Saint-Martial, went around 5 hours, by car at the market in Nimes when he suddenly saw when approaching the turns of Montpezat, a ball of fire on the road. Wanting to check what he had in front of him, Mr. Combe accelerated, but the machine moved quickly. Then, during several kilometers (approximately six), estimates Mr. Combe, it preceded the car, remaining within a few meters of the roadway, before disappearing all of a sudden.
AN "IRIDESCENT DISC"
ON CAVAILLON
Cavaillon (C.P.).
One of our fellow-citizens, Mr. Leon Dominique, of the Ratacan district, was able to see for himself the existence of this phenomenon. He saw, yesterday, above the Saint-Jacques hill a luminous disc which according to whether it whirled was iridescent sometimes in blue sometimes in red, moving towards Fontaine-de-Vaucluse.
[Ref. lcn1:] LUC CHASTAN:
Luc Chastan indicates that in the Vaucluse in Cavaillon on October 22, 1954 at an unknown hour, "A witness observes above the St Jacques hill a red, blue luminous disc alternatively rotating, iridescent and moving towards Fontaine de Vaucluse."
Luc Chastan indicates that the source is "Le Provençal."
[Ref. uda1:] "UFODNA" WEBSITE:
The website indicates that on 22 October 1954 in Cavaillon, France, "An unidentified object was sighted, but with appearance and behavior that most likely would have a conventional explanation. One object was observed. "
The source is indicated as Vallee, Jacques, Computerized Catalog (N = 3073).
[Ref. ubk1:] "UFO-DATENBANK":
| Case Nr. | New case Nr. | Investigator | Date of observation | Zip | Place of observation | Country of observation | Hour of observation | Classification | Comments | Identification |
| --- | --- | --- | --- | --- | --- | --- | --- | --- | --- | --- |
| 19541022 | | | 22.10.1954 | | Cavaillon | France | | NL | | |
Explanations:
It is of course possible that this was a meteor. The report is too meager to get any more certainty.
Keywords:
(These keywords are only to help queries and are not implying anything.)
Cavaillon, Vaucluse, Léon Dominique, Ratacan, disc, luminous, whirling, rotation, iridescent, red, blue, Fontaine-de-Vaucluse
Sources:
[----] indicates sources that are not yet available to me.
Document history:
| Version: | Created/Changed by: | Date: | Change Description: |
| --- | --- | --- | --- |
| 0.1 | Patrick Gross | February 28, 2006 | First published. |
| 1.0 | Patrick Gross | January 14, 2010 | Conversion from HTML to XHTML Strict. First formal version. Additions [lcn1], [uda1]. |
| 1.1 | Patrick Gross | March 6, 2017 | Addition [ubk1]. |
| 1.2 | Patrick Gross | January 4, 2018 | Addition o the Summary. Explanations changed, was "Not looked for yet." |