The 1954 French flap:
The index page for the 1954 French flap section of this website is here.
October 22, 1954, Binic, Côtes-du-Nord:
Reference for this case: 22-Oct-54-Binic.
Please cite this reference in any correspondence with me regarding this case.
Summary:
Agence France Presse (AFP) reported on October 22, 1954, from Binic, in the Côtes-du-Nord, that a passer-by said he saw a small man with a hair-covered body in Wilson Street.
Some residents went to meet him, while standing on the sidewalk, the "little man" seemed to wait for them. But one finally realized that he was only a gas bottle.
Reports:
[Ref. afp1:] AGENCE FRANCE PRESSE:
BINIC (Côtes-du-Nord). -- A passer by stated to have seen, in Wilson street, a small man, body covered with hairs. Some inhabitants from went to encounter him. Upright on the pavement, the man seemed to await them. They rushed in his direction to finally realize that it was a gas bottle.
[Ref. lcx1:] NEWSPAPER "LA CROIX":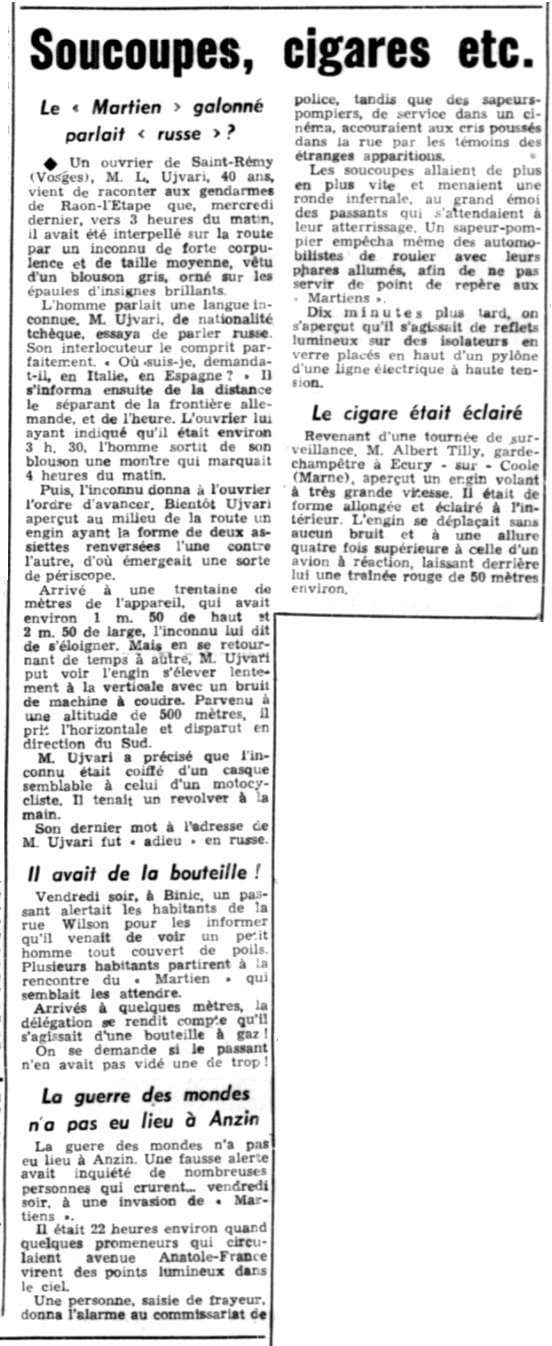 Saucers, cigars, etc.
The lacquered "Martien"
spoke "Russian"?
A worker from Saint-Rémy (Vosges), Mr. Ujvari, 40 years old, has just told the gendarmes of Raon-l'Etape that, last Wednesday, around 3 a.m., he was stopped on the road by a stranger of large build and average height, wearing a gray jacket, decorated on the shoulders with shiny badges.
The man spoke an unknown language. Mr. Ujvari, of Czech nationality, tried to speak Russian. His interlocutor understood it perfectly. "Where am I, he asked, in Italy, in Spain?" He then inquired about the distance separating him from the German border, and the time. The worker having told him that it was around 3:30 a.m., the man took out of his jacket a watch that marked 4 a.m.
Then the stranger gave the worker the order to move forward. Soon Ujvari saw in the middle of the road a craft in the shape of two plates reversed one against the other, from which emerged a kind of periscope.
Arrived at about thirty meters from the apparatus, which was about 1.50 high and 2.50 m. wide, the stranger tells him to move away. But, looking back from time to time, Mr. Ujvari varies could see the machine rise slowly vertically with a noise of sewing machines. Arrived at an altitude of 500 meters, it took the horizontal and disappeared in direction of the south.
Mr. Ujvari said the unknown was wearing a helmet similar to that of a motorcyclist. He had a gun in his hand.
His last word to Mr. Ujvari was "farewell" in Russian.
He had a bottle!
Friday evening, in Binic, a passerby alerted the residents of rue Wilson to inform them that he had just seen a little man all covered with hair. Several resident set off to meet the "Martian" who seemed to be waiting for them. Arriving a few meters away, the delegation realized that it was a gas bottle!
We wonder if the passer-by hadn't emptied one too many!
The War of the Worlds did not take place in Anzin
The War of the Worlds did not take place in Anzin. A false alarm had worried many people who believed... Friday evening, in an invasion of "Martians."
It was around 10 p.m. when a few strollers walking along avenue Anatole-France saw bright spots in the sky.
A person, seized with fear, sounded the alarm at the police station, while firefighters, on duty in a movie theater, rushed to screams in the street by witnesses of the strange apparitions.
The saucers were going faster and faster and leading an infernal dance, much to the excitement of passers-by who expected their landing. A firefighter even prevented motorists from driving with their headlights on, so as not to serve as a landmark for the "Martians".
Ten minutes later, one noticed that they were light reflections on glass insulators placed at the top of a pylon of a high-voltage power line.
The cigar was lit
Returning from a surveillance tour, Mr. Albert Tilly, rural policeman in Ecury-sur-Coole (Marne), saw a machine flying at very high speed. It was elongated and lighted inside. The machine moved silently and at a speed four times that of a jet plane, leaving behind a red trail of about 50 meters.
[Ref. mcs1:] MICHEL CARROUGES:
Michel Carrouges indicates that in Binic, Côtes-du-Nord, according to the A.F.P. on October 22, 1954, "a passer by stated to have seen, in the street Wilson, a small man, the body covered of hairs. Some residents went to meet him. Upright on the pavement, the man seemed to await them. One precipitated in his direction to finally realize that it was a gas bottle".
[Ref. mft1:] MICHEL FIGUET:
This ufologist noted:
| CASE Nr | CLASSIFICATION | DATE | HOUR | PLACE | ZIP CODE | CREDIBILITY SOURCE |
| --- | --- | --- | --- | --- | --- | --- |
| 96 | CE3 | .. 10 1954 | hnp | Binic | 22 | E (misinterpretation) F.G. |
[Ref. mft2:] MICHEL FIGUET:
In an update to his Francat catalog, Michel Figuet indicates:
10.1954
Binic
Confusion with a bottle of gas.
E. Zurcher, p. 176.
[Ref. uda1:] "UFODNA" WEBSITE:
The website indicates that on 22 October 1954 in Binic, France, "Close encounter with an unidentified craft and its occupants. An unidentifiable object and its occupants were observed at close range on the shore. "
The source is indicated as Carrouges, Michel, Les Apparitions de Martiens, Fayard, Paris, 1963.
[Ref. ubk1:] "UFO-DATENBANK":
| Case Nr. | New case Nr. | Investigator | Date of observation | Zip | Place of observation | Country of observation | Hour of observation | Classification | Comments | Identification |
| --- | --- | --- | --- | --- | --- | --- | --- | --- | --- | --- |
| 19541022 | | | 22.10.1954 | | Binic | France | | CE III | | |
Explanations:
The date is that of the news release by Agence France Presse, the exact date of the incident is not indicated.
Negative case, misinterpretation.
Keywords:
(These keywords are only to help queries and are not implying anything.)
Binic, Côtes-du-Nord, confusion, hairy, gaz, bottle, multiple
Sources:
[----] indicates sources that are not yet available to me.
[afp1] News release by the Agence France Presse (AFP), October 22, 1954.
[lcx1] Article in the national newspaper La Croix, Paris, France, page 2, October 24, 1954.
[mcs1] "Les Apparitions de Martiens", book by Michel Carrouges (aka Louis Couturier), Fayard publisher, France, page 164, 1963.
[----] "Les Apparitions d'Humanoïdes", book by Eric Zurcher, Alain Lefeuvre publisher, France, page 183, 1979.
[mft1] "Catalogue Francat des rencontres rapprochées en France (Listing 800 - 1982) (2 - Suite)", list compiled by Michel Figuet, in the ufology magazine Lumières Dans La Nuit (LDLN), France, #257-258, page 17, November - December 1985.
[mft2] "Catalogue Francat des rencontres rapprochées en France (Listing 800 - 1982) (6 - Suite et fin) - RR3 élucidées", list compiled by Michel Figuet, in the ufology magazine Lumières Dans La Nuit (LDLN), France, #265-266, page 18, July / August 1986.
[uda1] "22 Oct 1954 - Binic, France", web page by the UFOdna website, circa 2008, at www.ufodna.com/uf05/uf9/059782.htm
[ubk1] Online database UFO-Datenbank, Germany, found in 2016, at ufodatenbank.de
Document history:
| Version: | Created/Changed by: | Date: | Change Description: |
| --- | --- | --- | --- |
| 0.1 | Patrick Gross | June 5, 2005 | First published. |
| 1.0 | Patrick Gross | January 14, 2010 | Conversion from HTML to XHTML Strict. First formal version. Additions [mcs1], [uda1]. |
| 1.1 | Patrick Gross | March 6, 2017 | Addition [ubk1]. |
| 1.2 | Patrick Gross | January 3, 2018 | Additions [mft1], Summary. |
| 1.3 | Patrick Gross | January 14, 2021 | Addition [lcx1]. |