UFOs in the daily Press:
Cigars and saucers over France, September 1954:
The article below was published in the daily newspaper Paris-Presse, Paris, France, page 5, on October 2, 1954.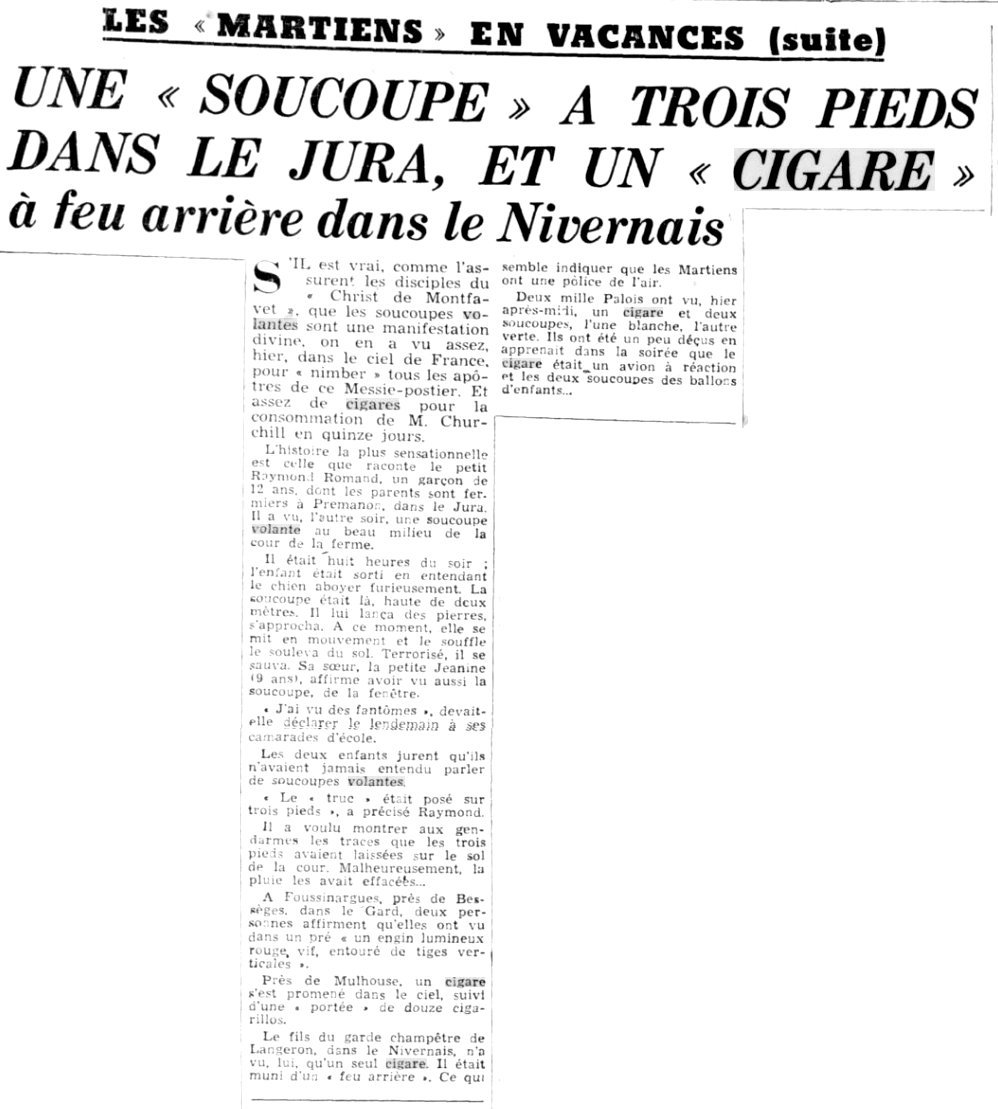 THE "MARTIANS" ON HOLIDAYS (CONTINUED)
A "SAUCER" WITH THREE FEET IN THE JURA, AND A "CIGAR"
with rear light in the Nivernais
IT is true, as the disciples of the "Christ of Montfavet" [*] assure, that the flying saucers are a divine manifestation, we saw enough, yesterday in the sky of France, to "halo" all the apostles of this Messiah postman. And enough cigars for Mr. Churchill's consumption in a fortnight.
The most sensational story is the one told by little Raymond Romand, a 12-year-old boy, whose parents are farmers in Prémanon, in the Jura. The other night he saw a flying saucer in the middle of the farmyard. It was eight o'clock in the evening; the child had gone out hearing the dog barking furiously. The saucer was there, two meters high. He threw stones at it, approached. At that moment, it started to move and the blow lifted him from the ground. Terrorized, he fled. Her sister, little Jeanine (9), claims to have also seen the saucer from the window.
"I saw ghosts," she said to her schoolmates the next day.
The two children swear they had never heard of flying saucers.
The "thing" was on three feet," said Raymond.
He wanted to show the gendarmes the traces that the three feet had left on the court ground. Unfortunately, the rain had wiped them out...
In Foussinargues, near Bessèges, in the Gard, two people claim that they saw in a meadow "a bright, sharp red luminous machine, surrounded of vertical rods". Near Mulhouse, a cigar wandered in the sky, followed by a "litter" of twelve cigarillos.
The son of the rural guard of Langeron, in the Nivernais, saw only one cigar. It had a "rear light". Which seems to indicate that the Martians have an air force.
Two thousand residents of Pau saw, yesterday afternoon, a cigar and two saucers, one white, the other green. They were a little disappointed when they learned in the evening that the cigar was a jet plane and the two saucers were children's balloons...
[*] Georges Roux, the so-called "Christ of Montfavet" (1903-1981), left his job at the post office in Avignon, tried the careers of poet, novelist, musician, then in the 1950s proclaimed himself "healer", then "reincarnation of Christ" and even "God". He founded a sect, wrote "spirituality" books, predicted the "end of times" for January 1, 1980, and obtained a small success, much starred in the press.