UFOs in the daily Press:
Observation in Jungholtz, France, 1976:
The article below was published in the daily newspaper L'Alsace, France, le 28 août 1976.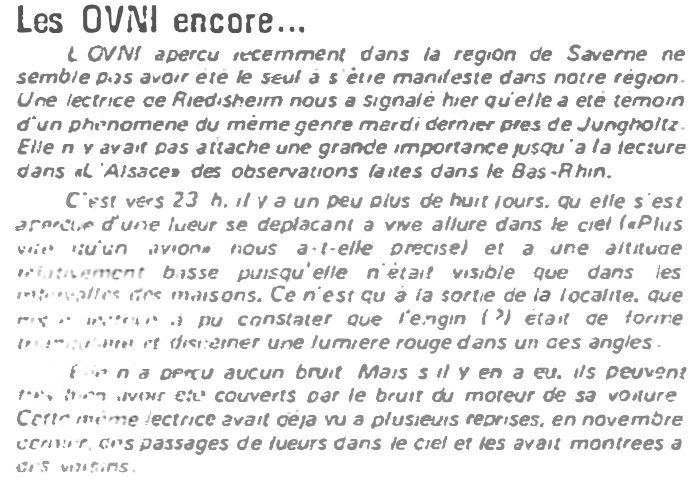 UFOs... again
The UFO recently seen in the area of Saverne does not seem to have been the only one to appear in our region.
A reader from Riedisheim told us yesterday that she has witnessed a similar phenomenon last Tuesday near Jungholtz. She had not attached great importance until reading in "L'Alsace" about the sightings in the Bas-Rhin.
It was around 11 p.m., a little more than eight days ago, she noticed a light moving at high speed in the sky ("faster than a plane" she told us) and at a relatively low level since it was visible between the houses. It was not until the exit of the locality that our reader found that the craft (?) Was triangular in shape and that she discerned a red light in one corner.
She did not perceive any noise. But if there was noise, it may well have been covered by the engine noise of her car. This same reader had seen several times in November, glimmers passing in the sky, and she had shown them to neighbors.