UFOs in the daily Press:
UFOs in Eastern France, 1978:
The article below was published in the daily newspaper Dernières Nouvelles d'Alsace, France, on January 13, 1978.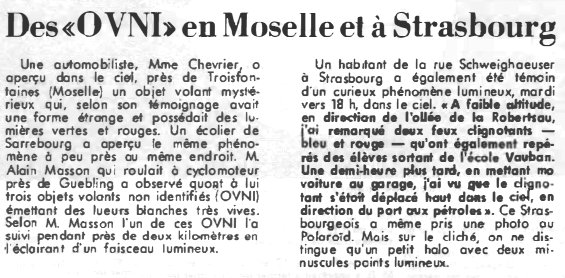 "UFOs" in the Moselle and Strasbourg
A motorist, Mrs. Chevrier, saw in the sky, near Troisfontaines (Moselle) a mysterious flying object which, according to her testimony had a strange shape and had green and red lights. A schoolboy from Sarrebourg saw the same phenomenon at about the same place. Mr. Alain Mosson, who was riding a moped near Guebling, observed three unidentified flying objects (UFOs) emitting very bright white lights. According to Mr. Mosson one of these UFOs followed him for nearly two kilometers, illuminating him with a luminous beam.
A resident of rue Schweighaeuser in Strasbourg also witnessed a curious luminous phenomenon on Tuesday around 6 p.m., in the sky. "At low altitude, in the direction of the Allée de la Robertsau, I noticed two flashing lights - blue and red - which were also spotted by pupils leaving the Vauban school. Half an hour later, putting my car in the garage, I saw that the flashing had moved high in the sky, in the direction of the oil harbor." This Strasbourg resident even took a Polaroid photo. But on the picture, we can only see a small halo with two tiny light donts.