The A17 USAF secret aircraft:
Part 1 - What was said in 2001:
Shaped with complex curves and compound curvature, the A-17 is contoured to minimize radar and aerothermal signatures as it carries out its mission of electronic warfare and deep reconnaissance. The engine exhaust geometry is reminiscent of the B-2, where the aft section of the engine nacelle slopes down to meet the aft trailing edge of the tail. The engine exhaust is buried deep within the trough, effectively masking the infra-red signature from observation from below. The two large vertical tail surfaces, serve to mask the exhaust from the sides.
No positively-identifiable pictures of the plane exist; only sightings of the alleged plane have been reported at RAF Bascombe in the UK, and Cannon AFB, New Mexico, USA.
Two events are supposed to be indicative of the A-17's existence.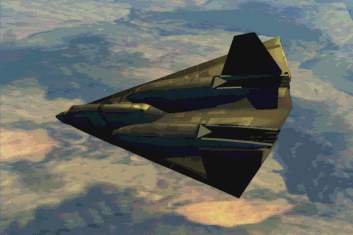 A-17 Stealth X-Plane, artist's view.
In September 1994, an unusual aircraft was seen over Amarillo, Texas meeting the description of the A-17. The plane was dumping fuel, preparing for an emergency landing. On a scanner, the pilot, using the callsign "Omega", was heard reporting a malfunction. At the time, two F-111s were acting as chase planes.
A man named Steve Douglass captured two unusual flying triangles on video. He believes they could be A-17s, but admits they could also be F-117s, Tornados, or F-14s.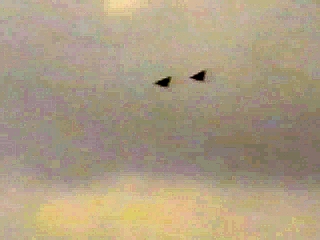 Photo of flying triangles taken by Steve Douglass.
Part 2 - What surfaced as of 2012:
All the above is my page on the A-17 such as it was discussed in 2001. Remember that I them wrote: "The plane's existence is alleged, not established."
In 2012, 11 years later, the plane should be better known, even clearly known, publicly revealed, seen in action.
But it is not: absolutely nothing surfaced in 11 years! No documentation by the US Air Force, no new images, official or private, nothing.
So what should we think about it?
It seems to me that the most reasonable explanation would be that A17 never really existed. At best, it could have been a project, since abandoned.
It should be noted that YF-23, which supposedly was a precursor of A17 does exist:
Other "secret planes":