Alleged photographs of ET beings:
Warning:
After gathering and investigating many alleged photographs of extraterrestrial beings, my overall impression is that most of them are proven hoaxes, some of the rest might be genuine or hoaxed. But it is not within my range of competence to qualify each photograph as hoax or genuine. I am not claiming any kind of "truth," I have no desire to "convince" any one in any way, I have no certain "final word" explanation for most of the pictures presented here.
This section of the site is only intended as a recollection of such photographs and offers comments from various sources, "as is." I appreciate every precise information item you might offer.
Careful: some of these pictures are rather disturbing, even in the cases of proven hoaxes. Please leave this page now if you are not willing to confront disturbing or frightening pictures.
Photographs of non-aliens later presented as true aliens:
Dead man changed to space visitor, 1948:
Near Adela´de, Australia, in 1948, the corpse of a dead man was found on a beach. As the police could not identified him, they made a model of his face in hope to identify him later.
Then, taking advantage of the slightly "pointed ears" of the man, a tablo´d published the picture of the head's model and claimed it was an extraterrestrial being, and it appeared in some bulletin of ufology's lunatic fringe as such.
---
German newspaper April fool's joke, 1950:
German researcher Klaus Webner did prove that this photograph has been presented as an April 1st joke in the German newspaper "Wiesbadener Tagblatt" (Wiesbaden Daily Newspaper) in 1950, by editor William Sprunkel, using a painted photograph from Hans Scheffler. Scheffler's son posed as alien on a series of the picture such as the one on the right, and Scheffner used one of them as background, adding a painted alien. However, the picture, and some slightly different versions of it, are still sometimes presented as "an alien in the hands of RAF officers."
---
Roswell museum dummy:
Over and over, this photograph and other of a whole series of photographs of the same being is presented as the image of an alien captured somewhere in China. The reality is that all the photographs of this "alien" are from the display at the Roswell International Museum as a depiction of what the aliens might have looked like in the alleged 1947 UFO crash near Roswell, New Mexico.
---
ET exhibit in Canada:
A wax model of an alien has been presented for pure entertainment purposes at the exhibit "Expo'67" in 1981 in Canada. It was a way model created by Linda Corriveau, then photographed by the Canadian ufologist/esoterist Christian Robert Page. He never presented it as anything else than a way model, but finally foreign ufology magazines started to show it as a "photograph of the Roswell alien."
Larger version of the picture here.
---
ET exhibit in Japan:
This is one of the alternate shots of the above "alien" wax model, I was told it was also shown at an exhibit in Japan.
---
Roswell, Yes, but from the TV movie:
This picture is a still from the TV fiction, later broadcasted as a movie, "Roswell". The fiction is based on Roswell investigations, and tries to be faithful to these investigations, but offers no pictures other than fictitious pictures. The alien body has only a vague similarity to the alien seen in Ray Santilli's film, which is only normal: the Roswell TV fiction has been made before the first broadcasting of Ray Santilli's "alien autopsy" video.
---
Gift shop item:
A small alien in a jar. Various versions, can be bought on e-Bay or at the Roswell Museum (Underneath).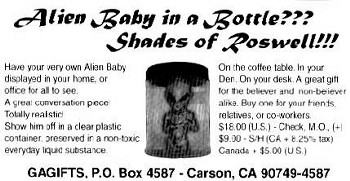 ---
Art:
This Hollywood-worthy "head of a Reptilian" is a piece of artwork, by Charlie White, from "Art in context."
---
J-ROD:
The real story behind the so-called photograph of an extraterrestrial being as released on the "Coast to Coast AM" web site is here.
---
The Aurora, Tx, 1897 alien:
British tabloid The Sun shows this as a photo f the alien who crashed in Aurora, Texas, 1897:
The truth about this is not out there, it is here
---
Computer-generated:
Of course this is in not a photograph but a computer generated rendition of the face of an alleged "grey."
See also: