The Belgium flap:
On November 29, 1989:
At about 16:30 p.m. in St. Vaast, La Louvière, Mrs. Lilian G.:
The SOBEPS says that on November 29, 1989, around 4:30 p.m., in the vicinity of La Louvière, an ovoid structure has been reported.
From her home in St-Vaast, Liliane G. saw, "by her kitchen window, passing in front of her, a dark egg-shaped object" that was "like built of an assembly of riveted plates." The observation lasted only a short time but she nevertheless noticed this detail while the phenomenon went away at a low altitude towards the northeast.
The author notes that this case has not been fully investigated, he used what was provided by the witness.
The author finds it difficult to draw definitive conclusions from such cases, and wonders whether it is even possible in ufology to draw definitive conclusions.
He says comments can still be made. For example, this testimony and those of the same series refer to a dark ovoid object whose surface seemed covered of assembled plates, a structure that was visible in Hainaut, but especially in the area of Jalhay where it flew in a north-east/south-west axis in both directions.
He notes that the diurnal nature of this observation and others in the area provided little new information on the observed objects, the structural details are difficult to extract from the testimonies. He comments that this difficulty is in itself an interesting feature, since several witnesses said they were puzzled by the lack of external details.
Source:
"Vague d'OVNIS sur la Belgique - Une Enigme Non Résolue", book, SOBEPS publishers, Belgium, page 253, 1994.
There is a summary for this observation, published on the web by the Belgian ufologist Godelieve Van Overmeire in her catalog circa 1999, now gone, but much copied by UFO websites and forums. This summary is as follows:
1989, November 29
BELGIUM, La Louvière-St Vaast (Hainaut)
Mrs. Liliane G. saw at 04:30 p.m. through the kitchen window, passing in front of her, a dark object shaped like an egg and like made of an assembly of riveted plates. The object moved away at low altitude towards the northeast. (Inforespace #84 of 1992)
Source example:
http://www.forum-ovni-ufologie.com/t8884-en-1989-les-temoignages-de-cette-annee
Luminosity of the sky during this sighting:
| | |
| --- | --- |
| | 04:20 p.m. |
| | 04:30 p.m. |
| | 04:40 p.m. Sunset is at 16:37. |
| | 04:50 p.m. |
Localization:
Saint Vaast is about 150 km west from Eupen.
Notes:
As indicated by the SOBEPS commentator, there had been several daylight observation reports with similar description of an egg-shaped dark object at low altitude, including those in the Verviers - Eupen area:
The French "UFO-skeptic" Renaud Leclet commented about 2008 that the "riveted plates" indicate these were helicopters. However, to distinguish plates, or riveted plates, that some helicopters barely show, you certainly have to see the helicopter very closely, so closely that it would not be possible not to recognize the helicopter.
Below is the image in the text by Renaud Leclet apparently added by someone other than him to show visible "plates" of some helicopters: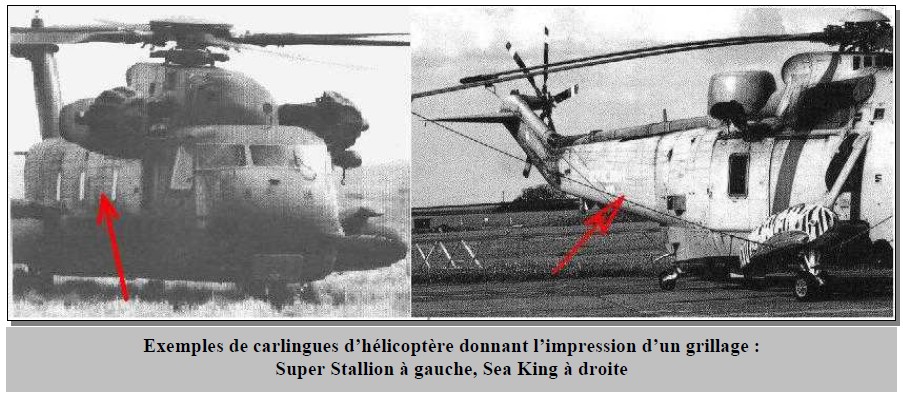 Source:
"La vague OVNI Belge de 1989 à 1992 - Une hypothèse oubliée", by Renaud Leclet, France,
published by the CNEGU ufology group, page 26, 2008.
It can be seen that while one actually distinguishes the plates, it is impossible not to see that this image shows helicopters.
Note that to see their structure, which has nothing of an egg-shape, as an egg-shaped structure, without any of the numerous details of the structures, the helicopter has to be so far away that there is no possibility anymore to distinguish the plates.
Below, an image with a decent quality of the "Super Stallion" helicopter:
Its riveted plates are visible, but so many other details of the structures are so much more visible: the rotor, tail rotor, the tail, the wheel, engines, masts, identification numbers, windows... Whereas the witnesses saw nothing of all that, they were supposed to have seen the plates.
Below, decent quality images of "Super Stallions" at a more important distance, upfront and from the side:
It is obvious that the plates are not that visible, although the distance is not very important, but it is still impossible not to see that these are helicopters, anyone would recognize that. We see very clearly the details of the structures, and nothing could make anyone say these are "egg-shaped" craft with riveted plates.
Document history.
| Version: | Created/changed by: | Date: | Description: |
| --- | --- | --- | --- |
| 0.1 | Patrick Gross | September 21, 2013 | Creation. |
| 1.0 | Patrick Gross | September 21, 2013 | First publication. |