The 1954 French flap:
The index page for the 1954 French flap section of this website is here.
Beg. October, 1954, Ramatuelle, Var:
Reference number for this case: Beg-Oct-Mois-54-Ramatuelle. Thank you for including this reference number in any correspondence with me regarding this case.
Reports:
[Ref. lm1:] "LE MERIDIONAL" NEWSPAPER: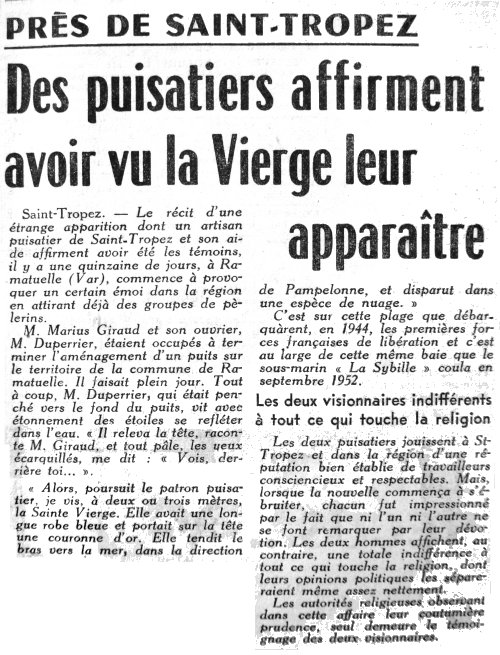 NEAR SAINT-TROPEZ
Potters claim to have seen the virgin appear to them
Saint Tropez. -- The story of a strange apparition that a well-digger of Saint-Tropez and his assistant claim to have witnessed about two weeks ago in Ramatuelle (the Var), begins to cause a certain stir in the region by already attracting groups of pilgrims.
Mr. Marius Giraud and his workman, Mr. Duperrier, were busy finishing the construction of a well in the territory of the commune of Ramatuelle. It was full daylight. Suddenly Mr. Duperrier, who was leaning towards the bottom of the well, saw with amazement stars reflected at the bottom of the water. "He raised his head," said Mr. Giraud, and, pale and wide-eyed, said to me: "Look behind you."
"Then," continued the boss, "I saw, two or three yards away, the Blessed Virgin." She had a long blue dress and wore a golden crown on her head and stretched her arm towards the sea in the direction of Pampelonne, and disappeared in a sort of cloud."
It was on this beach that the first French forces of liberation landed in 1944 and it was on the margin of this same bay that the submarine "La Sybille" sank in September 1952.
The two visionaries indifferent to everything related to religion
In St-Tropez and in the region, the two well-diggers enjoy a well-established reputation as conscientious and respectable workers. But when the news began to appear, everyone was impressed by the fact that neither of them was noticed by their devotion. The two men, on the contrary, display a total indifference to all that touches religion, their political opinions separate them quite clearly from it.
The religious authorities observe in this case their customary prudence, only the testimony of the two visionaries remains.
Explanations:
Obviously, it is permissible to ask why an (alleged) "apparition of the Virgin" appears in a ufological catalog. It would be fairly simple and obvious to find that it is just off topic; but things are not that simple.
Whereas some ufologists would have rejected such a story from the start, others on the contrary would reproach them to reject it, under various pretexts:
Some "skeptical" ufologists believe that the stories of flying saucers and their occupants are just as false as the "Blessed Virgin" apparitions stories. So they include such stories in their catalogs (eg, Raoul Robé) with the idea of ??demonstrating it: since so-called credible witness say they saw the "Blessed Virgin", who does not exist, the stories about saucers and occupants are of the same stuff, equally false. The whole is only "folkore".
Some ufologists are convinced that the saucer stories, or at least some of them, are true, but that the stories of appearance of the "Blessed Virgin" are just as true. They argue that this proves that these "visions", real as they are, in a "certain way", form a "global" phenomenon, often called "paranormal". UFOs, religious apparitions, ghosts, poltergeists and all sorts of things would be the "same phenomenon", the cause of which not being specified often - and when it is specified one may just smile. They argue that "believing in extraterrestrials" as an explanation for UFO sightings is "naive", a sign of "ignorance", since this "global phenomenon" is not made only of saucer stories, but also of all sorts of other stories.
The people of the latter "school" (Keel, Valley, Sider and many imitators) are keen to criticizing their opponents by arguing that they would "filter out" things, eliminating everything that would go against the "extraterrestrial" explanation. This is what I do not do here.
There is still another possibility: one can remember the famous phrase by Arthur Clark asserting that a manifestation of an extraterrestrial intelligence would necessarily appear to us as a form of "magic", something far beyond our faculties of understanding and even of interpretation; thus it is permitted to ask whether this "incommensurability" would not make some extraterrestrial appearances appear as "religious" appearances, as this would be an interpretation that can made of the manifestation of an extraterrestrial intelligence. In this order of idea, it should be noted here that the "Blessed Virgin" here is very vaguely described, and that she "disappears in a kind of cloud" that some would have called "UFO phenomenon".
Personally I am careful not to decide on the basis of this story alone, which offers no good guarantee of veracity, it apparently was not investigated at all, and lacks detail.
Keywords:
(These keywords are only to help queries and are not implying anything.)
Ramatuelle, Var,
Sources:
[---] indicates sources which I have not yet checked.
[lm1] Article in the regional newspaper Le Méridional, France, October 20, 1954.
[---] "La Vierge serait apparue à deux puisatiers de Saint-Tropez", article in the national newspaper Franc-tireur, France, October 20, 1954.
Document history:
| Version: | Created/Changed by: | Date: | Change Description: |
| --- | --- | --- | --- |
| 1.0 | Patrick Gross | January 21, 2017 | First published. |