The 1954 French flap:
The index page for the 1954 French flap section of this website is here.
October 3, 1954, Saint-Bonnet-de-Bellac, Haute-Vienne:
Reference for this case: 3-Oct-54-Saint-Bonnet-de-Bellac.
Please cite this reference in any correspondence with me regarding this case.
Reports:
[Ref. pce1:] NEWSPAPER "LE POPULAIRE DU CENTRE":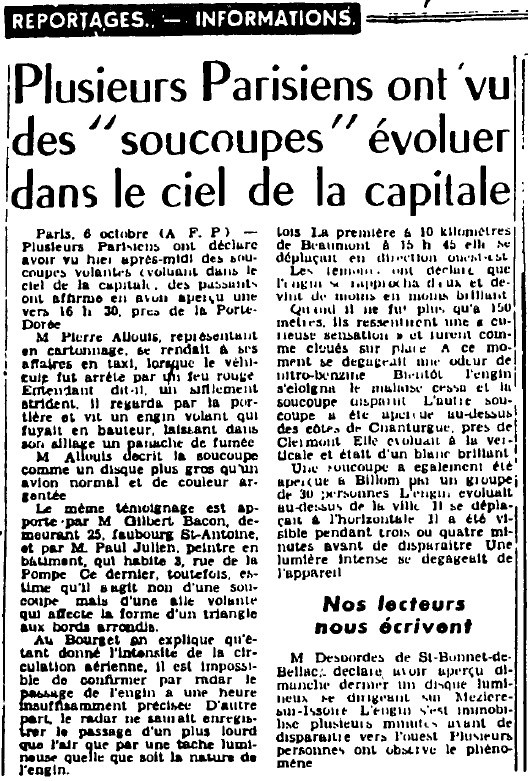 Several Parisians saw "saucers" evolving in the sky of the capital
Paris, October 6 (A.F.P) - Several Parisians said they saw yesterday afternoon flying saucers moving in the sky of the capital, passersby claimed to have seen one around 4:30 p.m., near the Porte Dorée.
Mr. Pierre Allouis, a cartoon trader, went to his business by taxi, when the vehicle was stopped by a red traffic light. Hearing, he said, a hissing whistling sound, he looked through the door and saw a flying machine flying high, leaving in its wake a plume of smoke.
Mr. Allouis describes the saucer as a disc larger than a normal plane, silver-colored.
The same testimony was given by Mr. Gilbert Bacon, residing at 25, Faubourg Saint-Antoine, and by Mr. Paul Julien, a painter, who lives at 3, rue de la Pompe. The latter, however, believes that it is not a flying saucer but a flying wing that has the shape of a triangle with rounded edges.
At Le Bourget, it is explained that, given the intensity of air traffic, it is impossible to confirm by radar the passage of the craft at the insufficiently precise hour. On the other hand, the radar cannot record the passage of a heavier than the air more than by a luminous spot whatever the nature of the craft is.
[Missing part]
time. The first 10 kilometers from Beaumont at 3:45 p.m. It was moving in a westerly direction.
Witnesses said the craft moved closer to them and became less and less brilliant.
When it was only 150 meters away, they felt a curious sensation and were nailed to the spot. At this point there was an odor of nitro-benzine. Soon the craft moved away, the discomfort ceased and the saucer disappeared. The other saucer was seen above the coasts of Chanturges, near Clermont. It moved vertically and was of a brilliant white.
A saucer was also spotted in Billom by a group of 30 people. The craft moved over the city. It moved horizontally. It was visible for three or four minutes before disappearing. An intense light emanated from the apparatus.
Our readers write to us
Mr. Desbordes of St-Bonnet-de-Bellac said he had seen last Sunday a luminous disk heading for Mézières-sur-Issoire. The machine stopped for several minutes before disappearing to the west. Several people have observed the phenomenon.
Explanations:
Not looked for yet.
Keywords:
(These keywords are only to help queries and are not implying anything.)
Saint-Bonnet-de-Bellac, Haute-Vienne, Desbordes, disc, luminous, Mézières-sur-Issoire, craft, motionless, duration, multiple
Sources:
[----] indicates sources that are not yet available to me.
[pce1] Article in the regional newspaper Le Populaire du Centre, France, October 7, 1954.
Document history:
| Version: | Created/Changed by: | Date: | Change Description: |
| --- | --- | --- | --- |
| 1.0 | Patrick Gross | January 4, 2017 | First published. |