The 1954 French flap:
The index page for the 1954 French flap section of this website is here.
October 3, 1954, Auxi-le-Château, Pas-de-Calais:
Reference for this case: 3-Oct-54-Auxi-le-Château.
Please cite this reference in any correspondence with me regarding this case.
Summary:
In the regional newspaper Le Courrier Picard, on page 3, on October 4, 1954, one read that an industrialist from Vimeu, returning from a hunting trip in the Pas-de-Calais department, had seen an "orange disc"; which he could follow for some time above the wood of Auxi-le-Château.
Other newspapers mentioned the sighting, without other information.
The GNEOVNI ufology group, in the 1970's, told of "discs" in the plural, but this does not seem to be supported.
Reports:
[Ref. lcp1:] NEWSPAPER "LE COURRIER PICARD":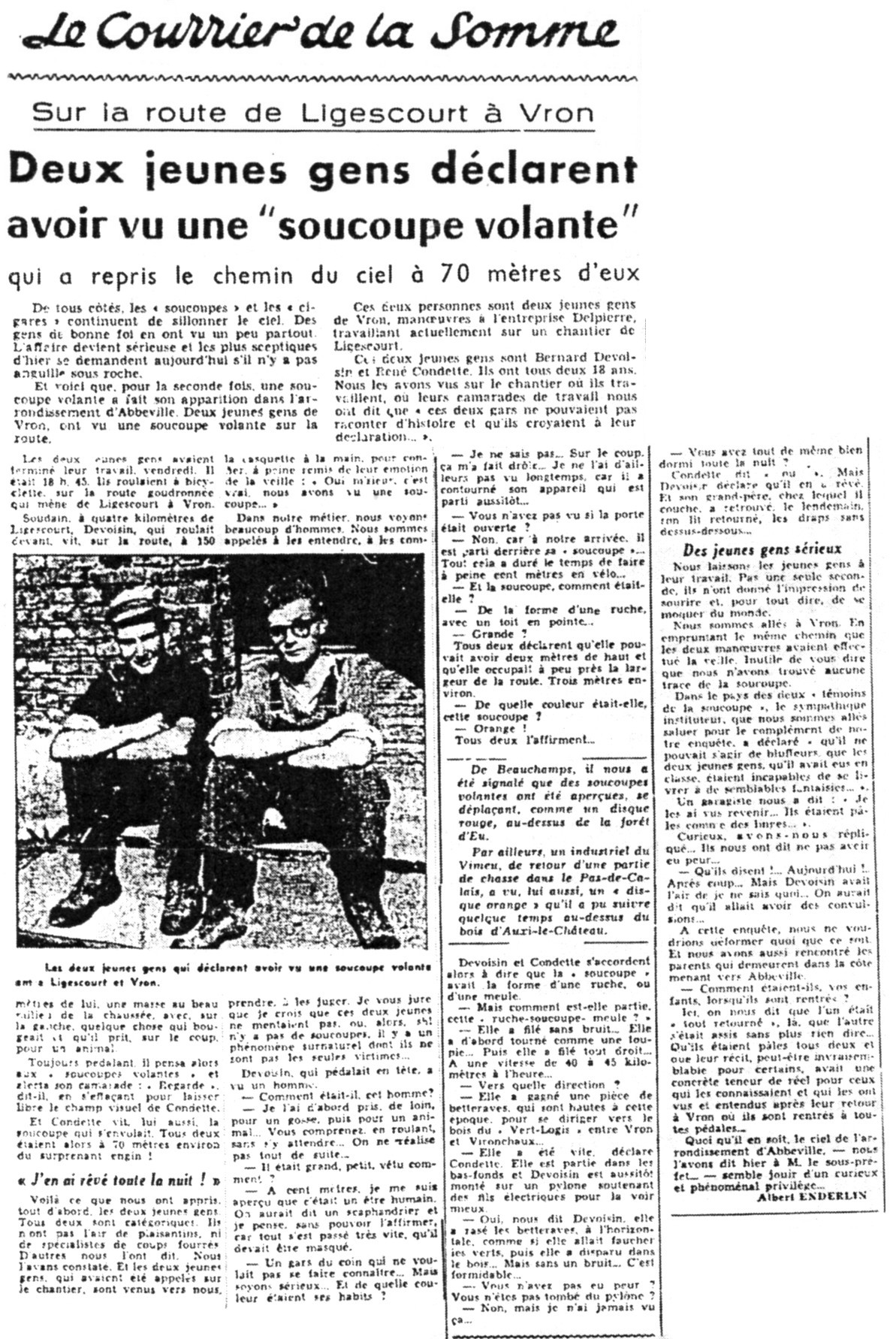 The Courier of the Somme
On the road from Ligescourt to Vron
Two young men say they saw a "flying saucer"
who took back the way of the sky 70 meters from them
On all sides the "saucers" and "cigars" continue to furrow the sky, People of good faith have seen them everywhere. The case becomes serious and the most skeptical of yesterday are now wondering if there is not something fishy.
And now, for the second time, a flying saucer appeared in the district of Abbeville. Two young people from Vron saw a flying saucer on the road.
The two young men had completed their work on Friday. It was 6:45 p.m. They were driving a bicycle on the paved road that leads from Ligescourt to Vron.
Suddenly, four kilometers from Ligescourt, Devoisin, traveling ahead, saw on the road, 150 meters away, a mass in the middle of the floor with on its left, something moving and he took it, at the time, for an animal.
Always pedaling, he thought of "flying saucers" and alerted his companion: "Look," he said, and he drove aside to free Condette's visual field.
Condette also saw, the saucer that flew away. Both were then about 70 meters from the amazing machine!
"I dreamed all night!"
That's what we have first learned from the two young men. Both are categorical. They did not seem to be pranksters or specialists in dirty tricks. Others have told us. We have seen this. And the two young men who were called on the construction site came to us cap in hand to tell us, barely recovered from their emotion of the day before: "Yes sir, it's true, we saw a saucer..."
In our business we see many men. We are used to hearing, understanding, judging. I swear I think these two young were not lying, or else, if there is no saucer, there is a supernatural phenomenon they are not the only victims of.
Devoisin who pedaled in front, saw a man.
- How was he, that man?
- I first thought it was a kid, then an animal... You see, when riding, without expecting it... One do not realize right away...
- He was tall, short, dressed like what?
- At a hundred meters, I realized it was a human being. You would have thought it was a diver and I think, without being able to say, because everything happened so quickly, it could have had a mask.
- A local guy who would not want to be recognized... But let's be serious... And what color were his clothes?
- I do not know... at the time, it made me feel funny... I did not see him for long because he bypassed his craft; which left immediately...
- You did not see if the door was open?
- No, because when we arrived, he went behind his "saucer"... All this happened in the time to ride barely a hundred meters by bike...
- And the saucer, how was it?
- In the form of a beehive, with a peaked roof ...
- Big?
Both say it could have been two meters high and it occupied nearly the width of the road. About three meters.
- What color was it, this saucer?
- Orange!
Both assert this...
---
In Beauchamp, it's been reported that flying saucers were seen, moving like a red disc above the forest of Eu.
In addition, an industrial Vimeu, back from a hunting trip in the Pas-de-Calais, also saw an "orange disc", that he was able to follow it for some time over the wood of Auxi-le-Château.
---
Devoisin and Condette then agree that the "saucer" was shaped like a beehive, or a haystack.
- But how did it took off, this "beehive-saucer-haystack"?
- It fled without noise... It first turned like a spinning top... Then shot straight up... At a speed of 40-45 kilometers per hour...
- What direction?
- It went to a beets field - which are high at the time - headed for the wood of the "Logis Vert" between Vron and Vironchaux...
- It went quickly, says Condette. It went into the slums and Devoisin was immediately climbed on a pylon supporting electrical wires to see it better.
- Yes, says Devoisin, it shaved the beets horizontally, as if she was going to mow the greens, and then it disappeared into the woods without a sound... But... It's amazing...
- You were not afraid? Did you not fall from the pylon?
- No, but I had never seen that...
- Did you sleep well that night anyway?
Condette said "yes". But Devoisin says he had "dreamed". And his grandfather, to with whom he spends the night, found the next day his bed all over, the sheets all upside down.
Serious young people
We let the young people go to work. Not a single second, they gave the impression of a smile and, frankly, to make fun of the world.
We went to Vron. Following the same path as the two workers the day before. Needless to say, we found no trace of the saucer.
In the country of the two "witnesses to the saucer," we went to greet the sympathetic teacher to complement our investigation, he said "they could not be bluffers, the two young men he had had in his classroom were unable to engage in such fancies..."
A mechanic told us: "I saw them coming back ... They were as pale as linen..."
Curious, we answered back that they told us not having been afraid...
- Let them say that! Today! But at the time... Devoisin looked indescribable... He looked like he was going to have seizures...
In this investigation, we would not distort anything. And we also met the parents who live on the hillside leading to Abbeville.
- How were they, your children, when they came back?
Here we are told that one was "really upset" there, that the other sat down with nothing to say...
They were both pale and their story, perhaps implausible to some, had a real content for those who know them and who saw or heard them after they were back to Vron at full speed...
Anyway, the sky of the district of Abbeville - we said that yesterday to the Deputy Prefect - seems to enjoy a curious and phenomenal privilege...
Albert ENDERLIN
[Ref. vdn1:] NEWSPAPER "LA VOIX DU NORD":

A kind of beehive
posed on the road,
near Abbeville,
and a disturbing
dwarf spacesuit
Two young people, Bernard Devoisin and René Condette, domiciled in Vron, working at the Enterprise Delpierre, had just left Friday around 6:45 p.m. a building site in Lugescourt [sic] and returned home by bicycle.
Four kilometers from Lugescourt, they saw about 150 meters in front of them, placed on the tarmac road, a mass of orange color in the shape of a hive, with a pointed roof, which could be two meters high and which held the entire width of the road, about three meters.
Devoisin, who pedaled head on, even saw something moving on the left. He took it from afar for an animal, but which seemed to be clothed in a diving suit. It happened very quickly, and we can understand that in their turmoil, the young people did not have time to realize.
In any case, at their approach, the mysterious being, small in size, disappeared from their sight by circumventing the saucer, which set off immediately about 70 meters from the cyclists.
The craft disappeared quickly, without noise, and the two witnesses returned upset "pale as sheets" a mechanic said. Add that these are serious young people, well regarded by all, and their teacher considers them incapable of bluffing.
Multicolored half-moon
in Armentières
The sky of the Armentières region has also been visited by a flying saucer.
The thing happened on Sunday between 9 p.m. and 9:20 p.m. A flying object, a sort of golden half-moon, marked in its center by a greenish bar, stopped above rue Fleury, at Chapelle-d'Armentières.
All the inhabitants observed at length "the thing". It was, moreover, one of them who, using binoculars, was able to specify its shape. Suddenly the saucer moved away, after gaining altitude, in the direction of the Pas-de-Calais.
Almost everywhere
Also, it is reported in Beauchamp that the saucers were seen as red disks moving above the forest of Eu and above the wood of Auxi-le-Château.
***
In addition, an industrialist from the Vimeu, returning from a hunting trip in the Pas-de-Calais, also saw, an orange disc that he was able to follow for a while.
***
Finally, on Saturday evening, two residents of Jeumont who remain anonymous but whose good faith cannot be doubted saw a bizarre saucer-shaped object above the city before climbing vertically and disappearing.
[Ref. jds1:] NEWSPAPER "LE JOURNAL DE DOULLENS":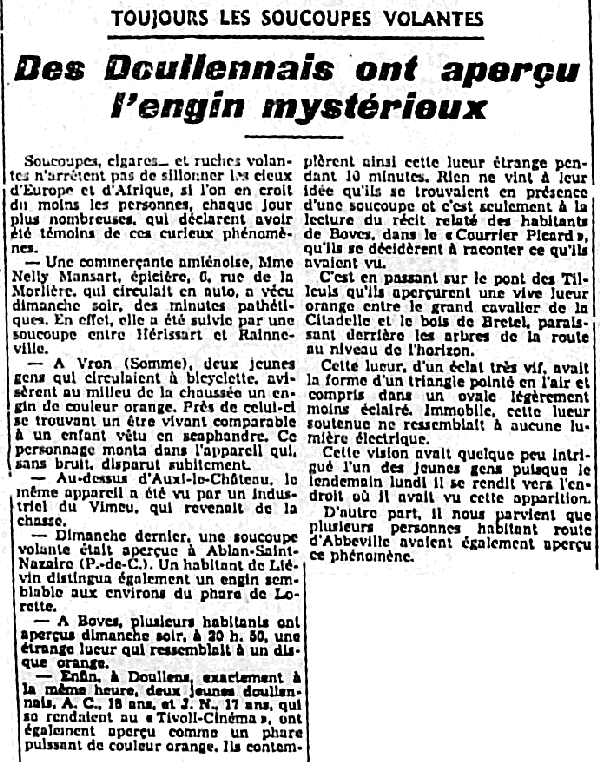 STILL THE FLYING SAUCERS
Some residents of Doullens saw
the mysterious craft
Saucers, cigars... and flying beehives keep crisscrossing the skies of Europe to Africa, if we are to believe the people, every day more numerous, who state they witnessed these curious phenomena.
- A shopkeeper from Amiens, Mrs. Nelly Mansart, grocer, 6, rue de la Morlière, who was driving, lived on Sunday evening, pathetic minutes. Indeed, she was followed by a saucer between Hérissart and Raineville.
- In Vron (Somme), two young men who were riding their bikes, noted an orange-colored object in the middle of the road. Beside it was a living being comparable to a child dressed in a spacesuit. This character climbed into the craft which, without noise, suddenly disappeared.
- Above Auxi-le-Château, the same craft was seen by a Vimeu industrialist, who was returning from hunting.
- Last Sunday, a flying saucer was seen in Ablain-Saint-Nazaire (P.-de-.C.). A resident of Liévin also distinguished a similar craft around the lighthouse of Lorette.
- In Boves, several residents saw Sunday evening at 8:30 p.m., a strange glow that looked like an orange disc.
Finally, in Doullens, at exactly the same hours, two young residents of Doullens, A.C., 18, and J.N., 17, who were going at the "Tivoli-Cinéma" also saw as a powerful hue of orange color. They thus contemplated this strange gleam for 10 minutes. Nothing came to their idea that they were in the presence of a saucer and it was only on reading the narrated account of the residents of Boves, in "Le Courrier Picard", that they decided to tell what they had seen.
It was while passing over the Pont des Tilleuls that they saw a bright orange glow between the great horseman of the Citadel and the Bois de Bretel, appearing behind the trees of the road at the horizon.
This glow, of a very bright brightness, had the shape of a triangle pointed in the air and included in an oval slightly less enlightened. Motionless, that steady glow looked like no electric light.
This vision had somewhat intrigued one of the two young people since the next day he went to the place where he had seen this apparition.
On the other hand, it came to us that several people living on the road to Abbeville had also seen this phenomenon.
[Ref. abt1:] NEWSPAPER "L'ABEILLE DE LA TERNOISE":

Flying Saucers...
Like it or not, there is a problem with the flying saucers, the matter seems to be getting serious.
Whereas, at the beginning, many newspapers scoffed (and L'Abeille, like the others), it became obvious, even to the most skeptical "that there is something".
To take only examples close to here and officially noted by the gendarmeries and the security services of the territory, how to admit that in Hem-Hardinval, the mysterious craft which intrigued several farmers, known for their seriousness, and which frightened their horses, is a product of the imagination? At a distance of 100 meters, people still could not dream... As could not dream the inhabitants of Domart-en-Ponthieu who saw a saucer land near their car, and strange beings get out of it.
In the Ternois, people are more discreet, and if we know that some saw bizarre craft (a miner from Linzeux, a Buneville farmer woman, etc.) they were careful not to advertise too much what they saw.
Other residents of the Ternois also saw strange objects in the sky: an industrialist from Saint-Pol returning in the evening by car, farm workers returning from work. Monday evening a dozen Saint-Pol residents saw around 8:30 p.m. a luminous object, followed by a dazzling tail which took the direction of Ramecourt. The object was clearly seen by a city councilor, a doctor and various other personalities.
We also talked about strange objects seen in Frévent, in Auxi, in Wavrans, etc...
What should we conclude from this? It would obviously be very difficult to say.
Be that as it may, we find ourselves in the presence of two very distinct phenomena: luminous objects in the sky and objects of metallic appearance posed in the countryside, or landing there.
Some objections immediately come to mind. Why would the occupants of these objects come to land in hollow paths, in the deserted plains, etc. If they really come from other planets and are on an observation mission, it would make more sense for them to come near factories, big cities, ports. Given their power and the influence of their so-called paralyzing beam, what would they risk?
L'Abeille obviously does not claim to provide its readers with the solution to this problem which, to be honest, seems really frightening. However, we thought it would be interesting to publish extracts from a letter that a prominent Swiss personality, Mr. Alfred Nahon, professor of philosophy and psychology in Lausanne, just sent to the newspaper L'Express.
Here's what he writes:
"I was surprised the other day to find that you seem to deal with the so-called "flying saucer" issue lightly.
Studying the questions and information relating to "flying saucers", I have been perfectly aware for seven years, of everything that has been said or written on this matter. I am a member and general correspondent for Switzerland of the International Investigation Commission "Ouranos".
It follows from my information, intersected by the turn of certain important diplomatic facts, that these craft come from several planets and that their occupants have advised the main governments to have to stop their atomic and military policies in general.
It is a long time since the population should have been honestly informed of the truth: the extraterrestrial nature of these apparatuses, the peaceful mission of its other humanity, the possibility of several landings in the immediate future, details on the past landings in 1948 and 1952 in the United States, 1952 and 1954 in France, etc.
In recent days, identical phenomena multiplied, in France in particular, and the public, who once laughed, seems to be worried today.
This concern is not justified. It is due to the ignorance in which the population was kept on all the phases and particularity of these prodigious forewords to the interplanetary era.
Consequently, I think that it is necessary, without delay, to train the public in the idea of this reality, to inform them of all the historical aspect of the question, of our own preparations with a view to going to nearby planets and provide directions for contact or simple unsuccessful landing.
Alfred Nahon
Professor of Philosophy
and Psychology
Lausanne
[Ref. gni1:] "GNEOVNI" UFOLOGY GROUP:
10/3/1954 - AUXI LE CHATEAU (BEAUCHAMP) 62 type 3
Saucers were seen as red disks moving above the wood of Auxi le Château.
(GNEOVNI Archive)
[Ref. gni2:] "GNEOVNI" UFOLOGY GROUP:
In "Special notes" of their catalogue, the GNEOVNI group indicates that there exists in several books, such as Aimé Michel's "M.O.C.", Planète publishers in 1966, in which there is a number of observation cases in the Nord and Pas-de-Calais which are not included in their catalogue because there "remains much doubts as to their credibility." One of them is noted "3-10-54 Auxi le château pdc".
(Note: the Auxi-le-Château case is not mentioned in Aimé Michel's book.)
Explanations:
Insufficient information, but many cases in that region at that date in the evening are explained as misinterprtation of a red Moon barred by clouds; it could be the explanation of this case too.
Keywords:
(These keywords are only to help queries and are not implying anything.)
Auxi-le-Château, Pas-de-Calais, disc, orange, forest
Sources:
[----] indicates sources that are not yet available to me.
Document history:
| Version: | Created/Changed by: | Date: | Change Description: |
| --- | --- | --- | --- |
| 1.0 | Patrick Gross | July 11, 2010 | First published, [gni2]. |
| 1.1 | Patrick Gross | October 23, 2014 | Addition [lcp1]. |
| 1.2 | Patrick Gross | January 20, 2020 | Additions [gni1], Summary. Explanations changed, was "Not looked for yet." |
| 1.3 | Patrick Gross | April 21, 2020 | Addition [vdn1]. |
| 1.4 | Patrick Gross | May 4, 2020 | Addition [jsd1]. In the Summary. addition of "Other newspapers mentioned the sighting, without other information." |
| 1.5 | Patrick Gross | June 22, 2020 | Addition [abt1]. |