The 1954 French flap:
The index page for the 1954 French flap section of this website is here.
October 3, 1954, Escaudoeuvres, Nord:
Reference for this case: 3-Oct-54-Escaudoeuvres.
Please cite this reference in any correspondence with me regarding this case.
Summary:
Around 2017, "skeptical" ufologist Dominique Caudron, based in the Nord, cataloged sightings in the Nord region for October 3, 1954, neglected by ufologists, including many that were previously unpublished, and mostly explainable by a red moon whose appearance was altered by clouds.
One of these observations was reported in the regional newspapers La Voix du Nord and La Croix du Nord for October 5, 1954:
At 08:30 p.m., on the National Road 29 near Escaudoeuvres in the department of the Nord, cyclists saw the same phenomenon than that in Marcoing, the latter being a misinterpretation of the Moon.
Reports:
[Ref. vdn1:] NEWSPAPER "LA VOIX DU NORD":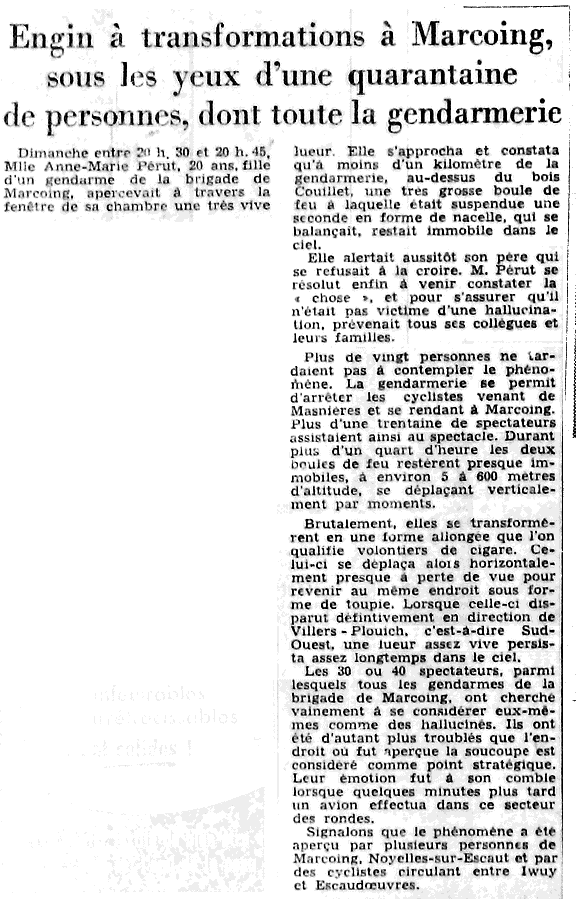 Transforner craft in Marcoing,
under the eyes of about forty
people, including the entire gendarmerie
Sunday between 8:30 p.m. and 8:45 p.m., Miss Anne-Marie Pérut, 20 years old, daughter of a gendarme of the Marcoing brigade, saw through the window of her bedroom a very bright glow. She approached and noticed that less than a kilometer from the gendarmerie, above the Couillet wood, a very large ball of fire to which was suspended a second ball in the shape of a nacelle, which swayed, remained motionless in the sky.
She immediately alerted her father who refused to believe her. Mr. Pérut finally resolved to come and see the "thing", and to make sure he was not the victim of a hallucination, he warned all his colleagues and their families.
More than twenty people were soon to contemplate the phenomenon. The gendarmerie allowed itself to stop the cyclists coming from Masnières and going to Marcoing. More than thirty spectators attended the show. For more than a quarter of an hour the two fireballs remained almost immobile at around 500 to 600 meters above sea level, moving vertically at times.
Suddenly, they turned into an elongated shape that we readily call a cigar. The latter then moved horizontally almost as far as the eye could see and returned to the same place in the form of a spinning top. When the latter disappeared definitively in the direction of Viller-Plouich, that is to say Southwest, a rather bright gleam persisted for quite a long time in the sky.
The 30 or 40 spectators, including all the gendarmes of the Marcoing brigade, tried in vain to consider themselves hallucinated. They were all the more disturbed because the place where the saucer was seen is considered to be a strategic spot. Their emotion was at its height when a few minutes later a plane circled this area.
Note that the phenomenon was seen by several people of Marcoing, of Noyelles-sur-Escaut and by cyclists traveling between Iwuy and Escaudières.
[Ref. cdn1:] NEWSPAPER "LA CROIX DU NORD":

If you see landing
a SAUCER
bring us the Martians
- Oh! A saucer!
- No, it's a balloon.
- And I tell you it's a saucer!
... I would have liked him to be right, because, you will believe me if you want, I have never had the chance to see a single saucer, a flying saucer of course. But alas, it was really a balloon.
It gets really annoying, everyone sees flying saucers, or at least cigars imbued with indecisive gleams, everyone... except us, the journalists!
And they come to me at the newsroom.
- I, Sir, saw last night around nine o'clock, near the door of Bethune, "something that emitted a red glow"...
- You're lucky, I wish it was me...
- Laugh, laugh, don't you believe me?
- But I just want to believe, show me your "something" with its "red glow", so I also can see what it looks like.
- You can imagine that "it" is gone, since Sunday evening, but I can introduce you to someone who saw the occupants come out of the "thing".
- Huh! ...
And here we go, going to the witness'.
The "witness" saw nothing, but it was his son... This boy returned to the local school, telling that the teacher had seen, Sunday evening, a saucer land, from where came out little men no higher than that, dressed in shiny spacesuits...
All this, of course, is the kid's say.
But I will end up believing, me, in these saucer stories! If you find one, bring it to me, we have it examined and if you find it too heavy, at least bring the Martian.
The next day, we will make you a paper like that, in the newspaper and with a convincing photo, moreover.
A SAUCER
ON JEUMONT
Fashion is with flying saucers and cigars. These mysterious craft disturb the most balanced minds and often fanciful comments mark the appearance of these flying "machines."
In the evening from Saturday to Sunday, two residents of Jeumont wishing to remain anonymous, but whose good faith cannot be doubted for those who know them, stated to have seen while they were driving on rue de Solre-le-Château, in Jeumont, a strange-shaped craft in the sky; this saucer-shaped object, after having moved for a few seconds above the city, went up to vertically and was soon out of sight.
... AND IN
THE CAMBRESIS
Sunday, around 8:30 p.m., Miss Anne-Marie Pérut, 20, saw from her bedroom window in Cambrai, above the Couillet wood, a large fireball accompanied by another smaller one below.
She warns her father, a gendarme at the Marcoing brigade, who was very incredulous.
Shortly after, having left the house, he saw the same phenomenon which could be examined by his colleagues, their families and passers-by.
Originally, the fireballs had a spherical then elliptical shape. After a quarter of an hour, they disappeared, came back to disappear definitively in the form of a crescent.
Note that the same phenomenon was observed, at the same time, between Iwuy and Escaudoeuvres.
A GILDED HALF-MOON
IN
ARMENTIERES
Sunday, around 9:30 p.m., a mysterious machine was seen a few kilometers from Armentières.
The object appeared in the form of a golden half-moon, crossed in the center by a greenish line. It hovered above rue Fleury, at la Chapelle d'Armentières.
It was widely observed by the inhabitants of this district, one of whom provided himself with binoculars to better examine the contours of the "saucer."
But, soon, the luminous form disappeared in the direction of Fleurbaix (Pas-de-Calais).
[Ref. gqy1:] GUY QUINCY:
[Ref. dcn1:] DOMINIQUE CAUDRON:
The weekend of October 2-3 appears on all graphs as the maximum-maximorum of the 1954 wave. Although the work of counting the press of the time is not yet finished, the 118 various issues of newspapers and magazines I have been able to analyze for this period gives us an almost complete overview, in any case very broadly representative of the regional observations which were reported in the press for Sunday, October 3. I included the observations of the Somme which seemed to me inseparable from those of Nord - Pas-de-Calais and which also appear in the chapter entitled "Zigzag on the mining country" of the book by A. Michel: "Mystérieux Objets Célestes."
I count, as one case, each observation made by an independent group of witnesses. The astonishing quantity of observations reported below, shows once again the interest of thoroughly searching the newspaper archives.
OCTOBER 3, 1954:
[... other cases...]
19) 08:30 p.m., RN29, near d'ESCAUDDEUVRES _59_ cyclists saw the same phenomenon than in Marcoing. (5/10: VdN, p.3 and Croix du Nord p.8)
[... other cases...]
Dominique Caudron explains in his article that in these two cases as well as in other cases in the area at that time, it was a misinterpretation caused by the Moon.
[Ref. dcn3:] DOMINIQUE CAUDRON:
Dominique Caudron drew up an inventory of observations in the Nord on October 3, 1954, containing 51 reports, including this one:
The Fabulous day of October 3, 1954
[...]
Chronology of the observations of October 3.
We give here only a summary of what was published in the press of the time, for the Nord region, regardless of what the ufologists could later say. We have numbered all these observations, the first of which have nothing to do with the setting of the moon, in order to be able to study them globally in a table. Some are already the subject of a special file.
[... other cases...]
19) 08:30 p.m., RN29 near ESCAUDOEUVRES (59)
- Cyclists saw the same phenomenon than in Marcoing.
(La Voix du Nord 5/10 page 3, La Croix du Nord 5/10 page 8)
[... other cases...]
All this is only a compilation of the information given by all newspapers of the time, including local editions, and of which ufologists only used a part.
We will see that the analysis of this information makes it possible to eliminate the hypothesis of a flying saucer, in favor of those of multiple observations of the moon, whose image was reddened and deformed by clouds, which also gave it an illusory apparent movement.
[Ref. dcn4:] DOMINIQUE CAUDRON:
Analysis of the observations of October 3, 1954
[... other cases...]
19) 08:30 p.m., RN29 near ESCAUDOEUVRES (59)
proximity with the identifiable case of Marcoing
[... other cases...]
Explanations:
The Moon.
Keywords:
(These keywords are only to help queries and are not implying anything.)
Escaudoeuvres, Nord, cyclists, road
Sources:
[----] indicates sources that are not yet available to me.
[vdn1] Article in the regional newspaper La Voix du Nord, Nord - Pas-de-Calais, France, page 3, October 5, 1954.
[cdn1] Article in the regional newspaper La Croix du Nord, Lille, Pas-de-Calais, France, page 5, October 5, 1954.
[dcn1] "Chronologie d'un dimanche fantastique", article by Dominique Caudron, in the ufology bulletin Recherches Ufologiques, of the GNEOVNI ufology group, France, #5, 2nd quarter 1978.
[gqy1] "Observations 1954", monograph by Guy Quincy, France - Algeria, private publication, page 11, the 1950's.
[dcn3] "La fabuleuse journée du 3 octobre 1954", web page by Dominique Caudron, France, last updated February 21, 2017, at http://oncle.dom.pagesperso-orange.fr/paranormal/ovni/confusions/lune/3_octobre/chronologie.htm
[dcn4] "Analyse des observations du 3 octobre 1954", web page by Dominique Caudron, France, last updated February 21, 2017, at http://oncle.dom.pagesperso-orange.fr/paranormal/ovni/confusions/lune/3_octobre/analyse.htm
Document history:
| Version: | Created/Changed by: | Date: | Change Description: |
| --- | --- | --- | --- |
| 1.0 | Patrick Gross | June 6, 2019 | First published. |
| 1.1 | Patrick Gross | April 20, 2020 | Additions [vdn1], [cdn1]. |
| 1.2 | Patrick Gross | April 23, 2022 | Additions [gqy1], [dcn1]. |