The 1954 French flap:
The index page for the 1954 French flap section of this website is here.
October 3, 1954, Iwuy, Nord:
Reference for this case: 3-Oct-54-Iwuy.
Please cite this reference in any correspondence with me regarding this case.
Summary:
In his 1958 book on the French wave of 1954, the pioneering ufologist Aimé Michel, discussing the observation in Marcoing on October 3, 1954, wrote that the witnesses, mainly the Marcoing gendarmes, had carried out an investigation which showed that the object they had seen had also been seen by numerous witnesses at the time of its arrival, notably in Iwuy.
In 1979, the "skeptical" ufologist Dominique Caudron, who is from the region, indicated that there was no observation at Iwuy.
However, the article in the regional newspaper La Voix du Nord on page 3 for October 5, 1954, about the observation of the gendarmes of Marcoing, indicated that the "phenomenon" had also been seen by cyclists "circulating between Iwuy and Escaudières"; this is probably what Aimé Michel noted as an observation made from Iwuy; whci made it a double-entry for that of Escaudoeuvres.
Reports:
[Ref. vdn1:] NEWSPAPER "LA VOIX DU NORD":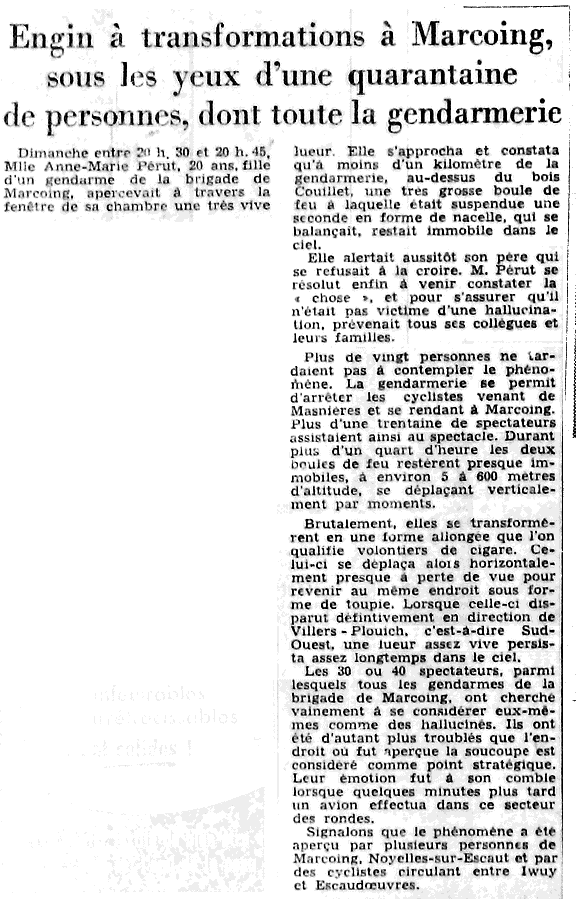 Transforner craft in Marcoing,
under the eyes of about forty
people, including the entire gendarmerie
Sunday between 8:30 p.m. and 8:45 p.m., Miss Anne-Marie Pérut, 20 years old, daughter of a gendarme of the Marcoing brigade, saw through the window of her bedroom a very bright glow. She approached and noticed that less than a kilometer from the gendarmerie, above the Couillet wood, a very large ball of fire to which was suspended a second ball in the shape of a nacelle, which swayed, remained motionless in the sky.
She immediately alerted her father who refused to believe her. Mr. Pérut finally resolved to come and see the "thing", and to make sure he was not the victim of a hallucination, he warned all his colleagues and their families.
More than twenty people were soon to contemplate the phenomenon. The gendarmerie allowed itself to stop the cyclists coming from Masnières and going to Marcoing. More than thirty spectators attended the show. For more than a quarter of an hour the two fireballs remained almost immobile at around 500 to 600 meters above sea level, moving vertically at times.
Suddenly, they turned into an elongated shape that we readily call a cigar. The latter then moved horizontally almost as far as the eye could see and returned to the same place in the form of a spinning top. When the latter disappeared definitively in the direction of Viller-Plouich, that is to say Southwest, a rather bright gleam persisted for quite a long time in the sky.
The 30 or 40 spectators, including all the gendarmes of the Marcoing brigade, tried in vain to consider themselves hallucinated. They were all the more disturbed because the place where the saucer was seen is considered to be a strategic spot. Their emotion was at its height when a few minutes later a plane circled this area.
Note that the phenomenon was seen by several people of Marcoing, of Noyelles-sur-Escaut and by cyclists traveling between Iwuy and Escaudières.
[Ref. aml1:] AIME MICHEL:
Discussing the sighting in Marcoing on October 3, 1954, Aimé Michel said:
An investigation conducted by the Marcoing police showed that the object had been observed at the moment of its arrival by numerous witnesses at Iwuy, [... other places...]
[Ref. gqy1:] GUY QUINCY:
[Ref. dcn1:] DOMINIQUE CAUDRON - GENOVNI:
Discussing the October 3, 1954, sightings in the North of France, Dominique Caudron indicates about Iwuy:
There was no observation in IWUY.
Explanations:
Possible non-event.
If the gendarmes had noted an observation in Iwuy and that Aimé Michel knew of it, it should be in a gendarmerie report that Michel would have read. But for the moment, this hypothetical report is not published.
Even if there were witnesses at Iwuy, the chances are very high that they made the same misinterpretation as most of the other witnesses in the region that night, ie not being able to recognize the Moon, which was a red moon in the process of setting and barred by a cloud, thus seeming to split into two objects.
Addition for April 20, 2020:
By the source of the time [vdn1], shared by Dominique Caudron in 2020, it appears that there was indeed an allusion to Iwuy in this newspaper.
My new assessment of the case would therefore be now: insufficient information, probable misinterpretation, and in any case, this was the sighting in Escaudoeuvres.
Keywords:
(These keywords are only to help queries and are not implying anything.)
Iwuy, Nord, night
Sources:
[----] indicates sources that are not yet available to me.
[vdn1] Article in the regional newspaper La Voix du Nord, Nord - Pas-de-Calais, France, page 3, October 5, 1954.
[aml1] "Mystérieux Objets Célestes", book by Aimé Michel, Arthaud publisher, France, 1958.
[aml1] "Flying Saucers and the Straight-Line Mystery", book by Aimé Michel, English version of "Mystérieux Objets Célestes", S.G. PHillips publisher, USA, 1958.
[gqy1] "Observations 1954", monograph by Guy Quincy, France - Algeria, private publication, page 11, the 1950's.
[aml1] "A Propos des Soucoupes Volantes - Mystérieux Objets Célestes", book by Aimé Michel, Planète publisher, France, page 142, 1966.
[aml1] "Mystérieux Objets Célestes", book by Aimé Michel, Seghers publisher, France, page 244, 1977.
[aml1] "Mystérieux Objets Célestes", book by Aimé Michel, Robert Laffont publisher, France, page 244, 1978.
[dcn1] "Requiem pour un zig zag", article by Dominique Caudron, in the ufology bulletin Recherches Ufologiques, GNEOVNI, France, #7, 1st quarter 1979.
Document history:
| Version: | Created/Changed by: | Date: | Change Description: |
| --- | --- | --- | --- |
| 1.0 | Patrick Gross | February 12, 2020 | First published. |
| 1.1 | Patrick Gross | April 20, 2020 | Addition [vdn1]. In the Summary, addition of the paragraph "However, the article in the regional newspaper La Voix du Nord..." In the Explanation, addition of the part "Addition for April 20, 2020". |
| 1.2 | Patrick Gross | April 22, 2022 | Addition [gqy1]. |