The 1954 French flap:
The index page for the 1954 French flap section of this website is here.
May 26, 1954, Marseille, Bouches-du-Rhône:
Reference number for this case: 26-May-54-Marseille. Thank you for including this reference number in any correspondence with me regarding this case.
Reports:
[Ref. lp1:] "LE PROVENCAL" NEWSPAPER: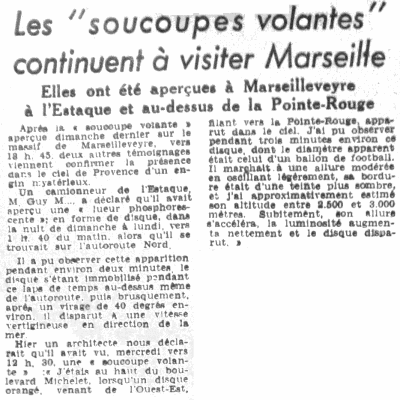 The "flying saucers" continue to visit Marseille
They were seen at Marseilleveyre at l'Estaque and above Pointe-Rouge
After the "flying saucer" seen last Sunday on the mounts of Marseillevyre, around 06:45 p.m., two other testimonys come to confirm the presence in the sky of Provence of a mysterious craft.
A truck-driver of Estaque, Mr. Guy M... stated that he had seen a "phosphorescent gleam"; in the shape of a disc, in the night from Sunday to Monday, towards 01:40 in the morning, whereas he was on the Northern motorway.
He managed to observe this appearance during approximately two minutes, the disc being motionless during this lapse of time above same the motorway, then suddenly, after a turn of 40 degrees approximately, it disappeared at a vertiginous speed in the direction of the sea.
Yesterday an architect reported to us that he had seen, Wednesday around 12:30, a "flying saucer": "I was with the top of the Michelet boulevard, when an orange disc, coming from West-East [!?] slipping by towards Pointe Rouge, appeared in the sky. I could observe this disc during three minutes approximately, its apparent diameter was that of a soccer ball. It went at a pace moderated while oscillating slightly, its edge was of a darker colour, and I roughly estimated its altitude between 2.5500 and 3.000 meters. Suddenly, its pace accelerated, the luminosity increased clearly and the disc disappeared".
[Ref. lc1:] LUC CHASTAN:
Luc Chastan indicates that in the Bouches du Rhône in Marseille on May 23, 1954 at 01:40 "A truck-driver at the wheel of his truck was dazzled by a round gleam having the glare of an electric arc, that emerged in the sky. Stopping his truck, he puts his headlights out of night light and goes down from the latter. He then distinguishes a thing of ovoid form offering the aspect of an ebonite plate which surrounded this gleam. The object was moving very slowly while crossing the expressway then it was immobilized. Its luminosity increased and it reached a maximum during three minutes. All of a sudden, it moved at a rather large speed, was tilted and left at a vertiginous pace."
The source is indicated as "Black-out sur les Soucoupes volantes by Guieu Jimmy ** Fleuve Noir 1956 omnium 1977".
[Ref. ub1:] "UFO-DATENBANK":
| Case Nr. | New case Nr. | Investigator | Date of observation | Zip | Place of observation | Country of observation | Hour of observation | Classification | Comments | Identification |
| --- | --- | --- | --- | --- | --- | --- | --- | --- | --- | --- |
| 19540526 | | | 26.05.1954 | | Marseille | France | | | | |
Explanations:
Not looked for yet.
Keywords:
(These keywords are only to help queries and are not implying anything.)
Marseille, Bouches-du-Rhône, architect, day, Michelet, disc, orange, duration, slow, fast, oscillation, manoeuver, edge, luminous
Sources:
[---] indicates sources which I have not yet checked.
[lp1] Article in the regional newspaper Le Provençal, France, May 29, 1954.
[lc1] Base OVNI France, website by Luc Chastan, France, circa 2005, at baseovnifrance.free.fr/listgen.php?typlist=9&page=0&numobs=618
[ub1] Online database UFO-Datenbank, Germany, found in 2016, at ufodatenbank.de
Document history:
| Version: | Created/Changed by: | Date: | Change Description: |
| --- | --- | --- | --- |
| 0.1 | Patrick Gross | March 7, 2006 | First published. |
| 1.0 | Patrick Gross | March 1, 2010 | Conversion from HTML to XHTML Strict. First formal version. Addition [lc1]. |
| 1.1 | Patrick Gross | Febuary 5, 2017 | Addition [ub1]. |