The 1954 French flap:
The index page for the 1954 French flap section of this site is here.
October 21, 1954, Guengat, Finistère:
Reference number for this case: 21-Oct-54-Guengat. Thank you for including this reference number in any correspondence with me regarding this case.
Reports:
[Ref. ge1:] UFOLOGY GROUP "GEPSI":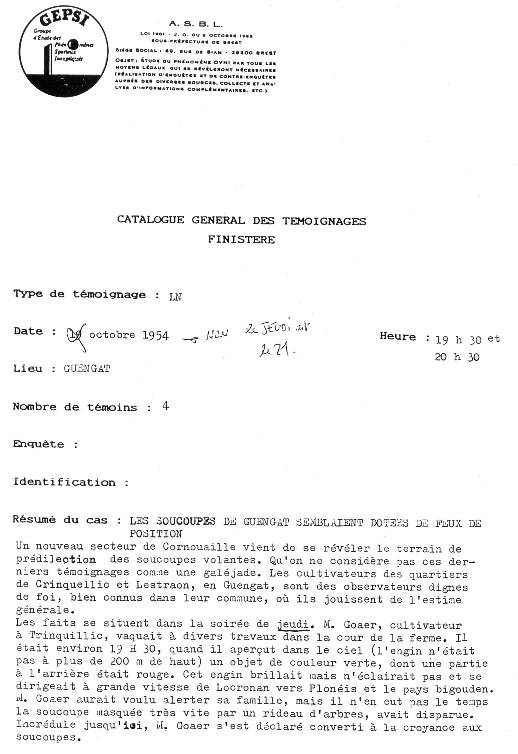 GEPSI
Groupe d'Etude des Phénomènes Spatiaux Inexpliqués [Unexplained Space Phenomena Study Group]
A.S.B.L.
1901 LAW- OFFICIAL JOURNAL OF OCTOBER 6, 1983
HEADQUARTERS [] RUE DE SIAM - 29200 BREST
OBJECT: STUDY OF THE UFO PHENOMENON BY ALL
LEGAL MEANS WHICH MAY PROVE NECESSARY
(INVESTIGATIONS AND COUNTER-INVESTIGATIONS
TO THE VARIOUS SOURCES, COLLECT AND ANA-
LYSIS OF ADDITIONAL INFORMATION, ETC.)
GENERAL CATALOGUE OF WITNESSES
FINISTERE
Type of testimony: NL [Nocturnal Light]
Date: October 21, 1954
Time: 07:30 P.M. and 09:30 P.M.
Location: GUENGAT
Number of witness: 4
Investigation:
Identification:
Case summary: THE FLYING SAUCERS OF GUENGAT SEEMED TO HAVE BEEN EQUIPPED WITH NAVIGATION LIGHTS
A new sector of Cornouailles has just appeared as the ground of choice of the flying saucers. Let it not be thought that these last testimonies are yada yada. The farmers of the districts of Crinquellic and Lestraon, in Guengat, are worthy of faith observers, well-known in their community, where they enjoy the general consideration.
The facts happened in the evening of Thursday. Mr. Goaer, farmer in Trinquillivic, was occupied with various tasks in the farmyard. It was approximately 07:30 P.M. when he saw (the machine was not at more than 200 meters in height) an object of green color in the sky, of which a part at the back was of red color. This machine shone but did not illuminate and moved at high speed from Locronan towards Plonéis and the bigouden country. Mr. Goaer would have liked to alert his family, but he did not have of it time the saucer masked very quickly by a curtain of trees, had disappeared. Nonbeliever up to now, Mr. Goaer declared that he converted to the belief in the saucers.
Explanations:
Not looked for yet.
Keywords:
(These keywords are only to help queries and are not implying anything.)
Guengat, Finistère, Goaer, Locrononan, Ploénis, green, red, brilliant, airplane, helicopter
Sources:
[---] indicates sources which I have not yet checked.
[ge1] File record, GEPSI ufology group, France.
Document history:
| Version: | Created/Changed by: | Date: | Change Description: |
| --- | --- | --- | --- |
| 0.1 | Patrick Gross | January 16, 2004 | First published. |
| 1.0 | Patrick Gross | January 12, 2010 | Conversion from HTML to XHTML Strict. First formal version. |