The 1954 French flap:
The index page for the 1954 French flap section of this site is here.
October 19, 1954, Ygrande, Allier:
Reference number for this case: 19-oct-54-Ygrande. Thank you for including this reference number in any correspondence with me regarding this case.
Reports:
[Ref. mf1:] FRANCAT, MICHEL FIGUET:
In his listing of non-UFO entries, Michel Figuet noted:
10/19/1954
Ygrande
Advertising for "Duracuir" clothes. Investigation by J.M. Giraud. Eric Zuercher p. 138.
[Ref. bb1:] GERARD BARTHEL AND JACQUES BRUCKER:
The two authors indicate that the newspaper "Le Dauphiné Libéré", for October 2, 1954, published the following text:
"We are informed that the schoolteacher of Ygrande, Gustave Rivet, walked in the countryside at approximately 03:00 p.m., accompanied his young class of 19 pupils for the course of practical botany."
"At the time when they were on the verge of arriving at the location called "les Deux Passages", their attention was caught by an uncommon noise. A light and alternative whistle resounded in the air of the sunny and windless countryside. The children, not reassured, asked their teacher what it was. The latter was unable to answer. The noise ceased suddenly. Forgetting this incident, the young class continued their studious walk. Approximately half an hour later, again the noise was heard and how amazed was the class when they discovered that this noise came from the middle of the field hidden by a curtain of trees."
"An apparatus whose metallic appearance of a dark red, made them at once think of a flying saucer. This apparatus had two parts, the lower part of approximately one meter to of one meter fifty, spherical and equipped with oval port-holes; the second, higher part, appearing to be a disc of approximately 0,50 meters thickness, rotating and emitting a soft whistling sound, rested on square blocks."
"Mr Gustave Rivet could observe this strange vision at length and with a cool spirit. Around the apparatus there were three shapes that seemed to be the passengers of this machine. These shapes were made of a trunk like that of a normal man provided with two arms of which the proportions were human but ended by hooks which were opening and closing again. They had only one leg ending in a spherical base which allowed their displacements by small hops. The head, very small and conical, seemed to have three eyes located in triangle and allowing to see in all the directions at the same time."
"The most curious feature was their costume which seemed to be a leather jacket of a gray steel color. The young Chatelin kid, aged 14, son of the clothes merchant of Ygrande, certifies to have recognized a "Duracuir" clothing, that brand which dressed Louison Bobet, the classy world champion, always nicely dressed...!!!"
The two authors indicate that if the ufologists had humor instead of being stupid because of their fanaticism they would laugh when reading this.
They then say that this affair can be "eliminated without any doubt."
They tell then that they made an in-depth investigation into this case, by letters and telephone calls and "several working days to be sure that we do not make an error of judgment."
They then say then that it is a hoax and that Mr. Rivet and the young Chatelin kid did not exist but that "in the other sightings the nature of the report does not always make it possible to suspect a possible joke."
[Ref. pr1:] PETER ROGERSON:
October 19 1954. 1500hrs
YGRANDE (ALLIER : FRANCE)
Teacher Gustav Rivet and 19 schoolboys were going for a botany ramble in the country, when at 'les deux passages' they heard a slight whistling that suddenly stopped. 30 minutes later they heard the same noise and saw a deep red coloured metallic object. It comprised of a spherical lower part, 1.5m diameter, with oval portholes, surmounted by a rotating disc 50cm thick, which gave off the sound. It stood on square blocks. Around the object were three figures with humanoid trunks, but only one leg that terminated in a spherical stand. They had hook like hands and small conical heads with three eyes in a triangle. They wore leather jackets.
Alain Gamard, citing Le Dauphine Libre [sic] 20 October 1954.
[Ref. gz1:] JULIEN GONZALEZ:
The author indicates that there was a false close encounter of the third kind in Ygrande, the Allier, on 19 October 1954, at 03:00 p.m.:
The teacher of Ygrande, M. Gustave Rivet, was walking in the countryside accompanied by his young class of 19 students for the botany lesson. When they arrived at the place called "Les Deux Passages", their attention was attracted by an unusual noise, a slight and alternate whistling sound. The noise ceased suddenly. Half an hour later, the sound was heard again and the whole class discovered its origin: in the middle of a field a machine of metallic appearance, dark red, composed of two parts, a lower part of about 1 m to 1.50 m height, spherical and lined with oval portholes; a discoidal upper part about 0.50 m thick, rotating and emitting a slight whistling sound, resting on square blocks. Around the apparatus there were three forms, each composed of a man's trunk, almost normal, with two arms of human proportions, but terminated by a hook opening and closing. A single leg terminated by a spherical base allowed them to move in small jumps. The head, very small and conical, seemed to have three eyes located in a triangle allowing vision in all directions at once. The young Chatelain, aged 14, the son of a garment-maker in Ygrande, had certified that he had recognized in the costume of the entities which appeared to be a steel-gray leather jacket, a "Duracuir" garment, such as worn by Louison Bobet, the world champion, always chic and well dressed!
Sources are indicated as Le Dauphiné Libéré for October 20, 1954.
Julien Gonzalez notes that after counter-investigating, Mr. Jean Giraud concluded that there was never any Gustave Rivet teacher in Ygrande; tThat there has never been any Chatelain, clothing merchant in Ygrande, and that no place called "Les Deux Passages" exists in the commune of Ygrande.
The source for this explanation is given as INFO-UFO special n ° "Catalog of landings in Auvergne".
Explanations:
As a ufologist, therefore "stupid" and "without humor" by definition if I am to believe Gerard Barthel and Jacques Brucker, I did laugh, but at the expense of Jacques Barthel and Gerard Brucker rather than at the expense of the ufologists.
Indeed, it is enough to read the last paragraph of the newspaper text that they reproduce to understand that this is simply advertising for the Duracuir clothing brand, presented in the form of a Martian landing story, such advertising scheme having become frequent at the time.
It seems that Gerard Barthel and Jacques Brucker take people for granted when they claim that they made an in-depth investigation for "several working days."
First, there was no risk of "error of judgment" in discarding this story: a Duracuir jacket, the elegant champion cyclist Louison Bobet!
Second, there was not the least reason to insult people who would be "without humour", "fanatics" and "stupid". This case, when it appears in the ufology literature, is obviously not presented to make a case for the flying saucer! The only mention of this case that I found is that of Michel Figuet who clearly indicates: "advertising for Duracuir clothing."
As for Gustave Rivet "who does not exist", he was actually a republican politician deceased for a long time, who had had functions in public education, principal private secretary of the Secretary of State to the State Education in 1879, his name was given to a certain number of places and streets of France, possibly providing inspiration to the author of the publicity.
As for the bicycle champion Louison Bobet, victorious of the Tour France three consecutive times in 1953, 1954 and 1955, he was indeed an elegant man, he also was really the first French sportsman who had been solicited by advertisers.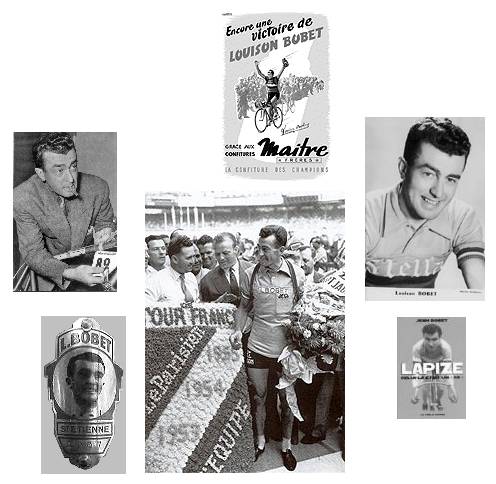 Keywords:
(These keywords are only to help queries and are not implying anything.)
Ygrande, Allier, teacher, advertising, two, occupants, humanoids, Gustave Rivet, children, Chatelain, claws, three eyes, whistling, square
Sources:
[---] indicates sources which I have not yet checked.
Document history:
| Version: | Created/Changed by: | Date: | Change Description: |
| --- | --- | --- | --- |
| 0.1 | Patrick Gross | October 1, 2005 | First published. |
| 1.0 | Patrick Gross | January 4, 2010 | Conversion from HTML to XHTML Strict. First formal version. Additions [1]. |
| 1.1 | Patrick Gross | August 14, 2013 | Addition [pr1]. |
| 1.2 | Patrick Gross | 17 févrire 2017 | Addition [gz1]. |