The 1954 French flap:
The index page for the 1954 French flap section of this site is here.
October 18, 1954, Villepinte, Aude:
Reference number for this case: 18-Oct-54-Villepinte. Thank you for including this reference number in any correspondence with me regarding this case.
Reports:
[Ref. cm1] "CENTRE-MATIN" NEWSPAPER: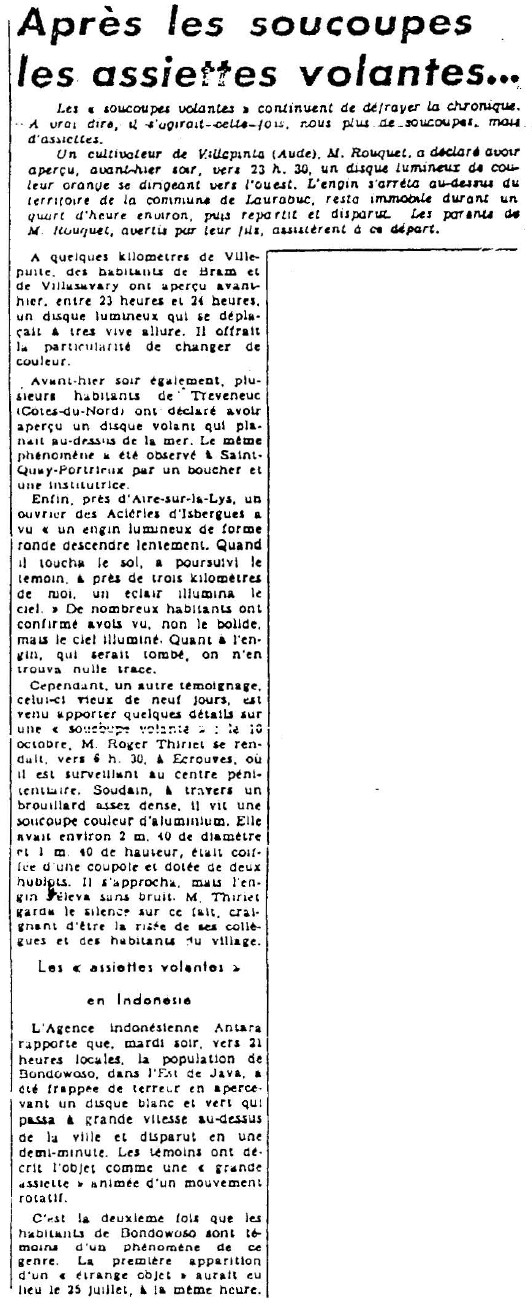 After the saucers
the flying plates
The "flying saucers" continue to make headlines. Actually, it would be this time, either saucers, but plates.
A farmer from Villepinte (Aude), Mr. Rouquet said he saw the day before yesterday in the evening, around 11:30 p.m., a bright orange disk moving westward. The craft stopped above the territory of the municipality of Laurabuc, remained motionless for a quarter of an hour, then went back and disappeared. Mr. Rouquet's parents, alerted by their son, witnessed the departure.
A few kilometers from Villepinte, residents of Bram and of Villasavary spotted on the day before yesterday, between 11 p.m. and midnight, a luminous disc that moved at a fast pace. It offered the ability to change color..
The evening of the day before yesterday also, several residents of Tréveneuc (Côtes-du-Nord) reported seeing a flying disc hovering above the sea. The same phenomenon was observed in Saint-Quay-Portrieux by a butcher and a teacher.
Finally, near Aire-sur-la-Lys, a steel mill worker of Isbergues saw a round shaped luminous craft descend slowly. When it hit the ground, the witness said, about three kilometers from me, a flash of lightning illuminated the sky." Many people confirmed seeing, not the fireball, but the brightened sky. Regarding the craft, which would have fallen, no trace of it was found.
Meanwhile, another witness report, this one nine days old, came to give some details of a "flying saucer": on October 10, Mr. Roger Thiriet went, around 6:30 a.m., to Ecrouves, where he is a warden at the penitentiary. Suddenly, through a dense fog, he saw a saucer of aluminum color. It was about 2 m. 40 in diameter and 1 m. 40 high, was topped by a dome and had two windows. He approached, but the craft rose silently. Mr. Thiriet kept silence on this, fearing to be ridiculed by his colleagues and the villagers.
The "flying plates" in Indonesia
The Indonesian agency Antara reported on Tuesday evening, that about 9 p.m. local time, people in Bondowoso, East Java, were awestruck when they saw a white and green disc which passed at high speed over the town and disappeared in half a minute. The witnesses described the object as a "large plate" animated by a rotating motion.
This is the second time that the people of Bondowoso witness a phenomenon of this kind. The first appearance of a "strange object" took place on July 25, at the same hour.
[Ref. ld1:] FERNAND LAGARDE:
This ufologist indicates that on October 18, 1954, at approximately 08:30 p.m., a farmer of the area of Villepinte saw in direction of the west, above the communes of Laurabuc and La Cassaigne, an orange luminous disc, moving away at sharp pace.
He alerted his parents who also saw it, the observation having lasted 20 minutes.
Fernand Lagarde indicates that La Cassaigne is a village at 4 km from the road where Mr. and Mrs. Pons made their observation [in 1969], 2 km at the limits of the commune.
He indicates that his source is Mr. Chevrel who communicated to him the Indépendant newspaper for October 20.
[Ref. js1:] JEAN SIDER:
The French ufologist and author Jean Sider discovered this case of October 18, 1954, unknown time, in Villepinte in the Aude, in the newspaper "Le Pays d'Auge - Tribune" of October 26, 1954. He gives the contents of the article:
"In Villepinte, Mr. Henri Bouquet, aged 22, returned at his home when he noticed a luminous shape which evolved at a high altitude. Suddenly, the machine lands not far from the farm where the young man lives. He hastened to alert his family and several neighbors, and all those people managed to observe the saucer directly. At the end of a few minutes, the disc rose without noise to quickly disappear."
[Ref. ud1:] "UFODNA" WEBSITE:
The website indicates that on 18 October 1954 at 23:30, in Villepinte, France, "An unidentified object was sighted, but with appearance and behavior that most likely would have a conventional explanation. One object was observed on a farm."
The source are indicated as Vallee, Jacques, Computerized Catalog (N = 3073); Hatch, Larry, *U* computer database, Author, Redwood City, 2002.
[Ref. ub1:] "UFO-DATENBANK":
| | | | | | | | | | | |
| --- | --- | --- | --- | --- | --- | --- | --- | --- | --- | --- |
| Case Nr. | New case Nr. | Investigator | Date of observation | Zip | Place of observation | Country of observation | Hour of observation | Classification | Comments | Identification |
| 19541019 | | | 19.10.1954 | | Villepinte | France | | NL | | |
Explanations:
Not looked for yet. Probable meteor.
Keywords:
(These keywords are only to help queries and are not implying anything.)
Villepinte, Aude, multiple, Henri Bouquet, disc, luminous, saucer, duration, silent, Henri Rouquet, multiple
Sources:
[---] indicates sources which I have not yet checked.
Document history:
| Version: | Created/Changed by: | Date: | Change Description: |
| --- | --- | --- | --- |
| 0.1 | Patrick Gross | March 26, 2005 | First published. |
| 1.0 | Patrick Gross | June 7, 2009 | Conversion from HTML to XHTML Strict. First formal version. Additions [ud1]. |
| 1.1 | Patrick Gross | September 19, 2014 | Addition [cm1]. |
| 1.2 | Patrick Gross | October 12, 2016 | Addition [ld1]. |
| 1.3 | Patrick Gross | March 6, 2017 | Addition [ub1]. |