The 1954 French flap:
The index page for the 1954 French flap section of this website is here.
October 16, 1954, Metz, Moselle:
Reference number for this case: 16-Oct-54-Metz. Thank you for including this reference number in any correspondence with me regarding this case.
Reports:
[Ref. lp1:] "LE PROVENCAL" NEWSPAPER: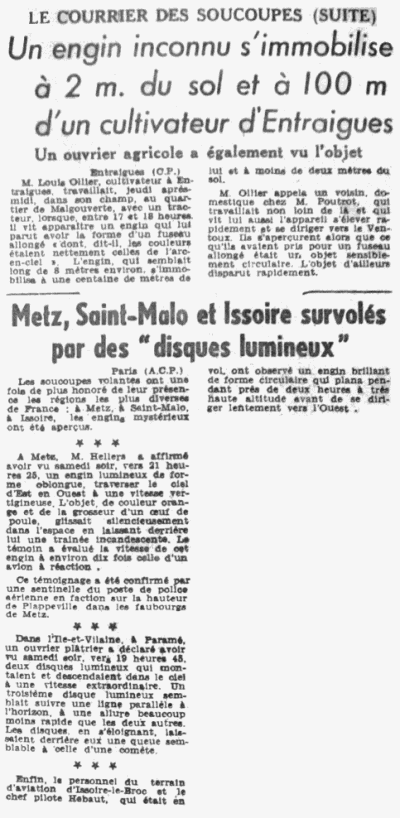 THE SAUCER COURIER (CONTINUED)
An unknown craft gets stationnary at 2 m. of the ground and 100 m of a farmer of Entraigues
A farm labourer also saw the object
Entraigues (C.P.).
Mr. Louis Ollier, farmer in Entraigues, worked, Thursday after midday, in his field, in the district of Malgouverte, with tractor, when, between 17 and 18 hours, he saw a craft appear which seemed to him to have the shape of a lengthened spindle, "which colors, he says, "were clearly those of the rainbow ". The machine, which seemed 8 meters long approximately, was immobilized at a hundred meters of him and at less than two meters of the ground.
Mr. Ollier called a neighbor, domestic at Mr. Poutrot's, who worked not far from there and who also saw the apparatus rising quickly and to move towards Ventoux. They realized at this time that what they had taken for a lengthened spindle was an appreciably circular object. The object besides disappeared quickly.
Metz, Saint-Malo and Issoire overflown by "luminous discs"
Paris (A.C.P.)
The flying saucers once more honoured of their presence the most various areas of France: in Metz, in Saint-Malo, Issoire, the mysterious machines have been seen.
* * *
In Metz, Mr. Hellers claimed to have seen Saturday evening around 09:25 p.m., a luminous machine of oblong form that crossed the sky from East to West at a vertiginous speed. The object, of orange color and the size of a hen egg, slipped silently into space while leaving behind itself an incandescent trail. The witness evaluated the speed of this machine with approximately ten times that of a jet.
This testimony was confirmed by a sentinel of the air police station in faction on the height of Plappeville in the suburbs of Metz.
* * *
In the Ille-et-Vilaine, in Paramé, a plaster stated to have seen Saturday evening, around 07:45 p.m., two luminous discs which went up and went down in the sky at an extraordinary speed. A third luminous disc seemed to follow a line parallel to the horizon, at a much slower pace than the two others. The discs, while moving away, left behind them a tail similar to that of a comet.
* * *
Lastly, the personnel of the airfield of Issoire-le-Broc and the chief pilot Hebaut, which was in flight, observed a shining craft of circular form which hovered during nearly two hours at very high altitude before moving very slowly towards the West.
[Ref. am1:] AIME MICHEL:
Aimé Michel wrote about the October 16, 1954, 09:30 p.m. meteor:
THE TEST OF THE METEOR. October 16, as if it was purposely, a splendid meteor crossed the north of France towards 09:30 p.m.. It was observed on a score of departments by thousands of people, from the Allier to Lorraine and from the Swiss border to Paris. Naturally many witnesses believed to have seen a Flying Saucer and said so. The newspapers printed "Flying Saucer in Orly", or "in Montididier", or "in Metz." But once again the description made by all these weak brains appeared of a remarkable honesty.
[...]
The innumerable gathered testimonys show indeed that even when the witnesses called "Flying saucer" the observed object, their description is identical on 200.000 square kilometres where the visible phenomenon was visible: an "orange ball followed by a trail", a "large luminous ball with a tail", a "flying egg followed by a trail", a "bottle's bottom with a trail of thirty times its diameter", etc. The same phenomenon is uniformly described.
[...]
[Ref. 422:] MICHEL FIGUET AND HENRI JULIEN:
The two ufologists report that on October 14, 1954, in Entraigues-sur-Sorgues, in the district of Malgouverne, Mr. Louis O. is at work on its tractor, when he saw a luminous machine, within less than 100 meters in front of him.
The machine is in the shape of an elongated spindle, with a length of 8 meters, luminous, dans the witness said it had "the colors of the rainbow."
Louis O. is disconcerted and calls a neighbor who was also looking at the machine.
The two witnesses then observe the object rising from the ground vertically and then move towards mount Ventoux. At this time its shape appears perfectly circular.
[Ref. js1:] JEAN SIDER:
French ufologist and author Jean Sider learned in an article from the newspaper La Provence, of Marseilles, for October 18, 1954 on page 8, that on October 14, 1954, between 05:00 p.m. and 06:00 p.m., in Entraigues-sur-Sorgue in the department of Vaucluse, Louis Ollier, farmer of Entraigues, saw in his field of the Malgouverne district, whereas he was busy on his tractor, a machine in the shape of an elongated spindle having the colors of the rainbow.
The machine was eight meters long approximately, was motionless at a hundred meters of the witness and within two meters of the ground.
Louis Ollier called his neighbor, Mr. Poutrot, who then saw the apparatus rising quickly and slipping by towards Ventoux. At this time the object appeared to be circular.
[Ref. lc1:] LUC CHASTAN:
The database's author indicates that in Metz in the department of Moselle on October 16, 1954, there was an observation of an elongated object, "having the size of an hen's egg, sliding silently in the sky at a speed five of six times faster than a jet airplane."
The source is indicated as "Alerte dans le ciel by Garreau Charles ** Alain Lefeuvre 1981".
Explanations:
The meteor of October 16, 1954, at 09:30 p.m..
Keywords:
(These keywords are only to help queries and are not implying anything.)
Metz, Moselle, night, object, elongated, egg, fast, Hellers, sentinel, police, trail, glowing, orange, silent
Sources:
[---] indicates sources which I have not yet checked.
Document history:
| Version: | Created/Changed by: | Date: | Change Description: |
| --- | --- | --- | --- |
| 0.1 | Patrick Gross | March 1, 2006 | First published. |
| 1.0 | Patrick Gross | December 27, 2009 | Conversion from HTML to XHTML Strict. First formal version. |