The 1954 French flap:
The index page for the 1954 French flap section of this site is here.
December 14, 1954, Marseille, Bouches-du-Rhône:
Reference number for this case: 14-Dec-54-Marseille. Thank you for including this reference number in any correspondence with me regarding this case.
Reports:
[Ref. lp1:] "LA PROVENCE" NEWSPAPER: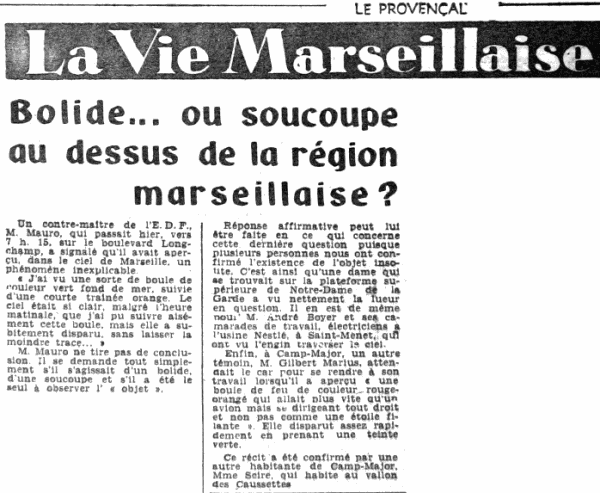 Fireball... or saucer above the area of Marseille?
A foreman of E.D.F. [national power co], Mr. Mauro, who passed yesterday around 07:15 on the Longchamps boulevards, announced that he saw an unexplainable phenomenon in the sky of Marseille.
"I saw a kind of ball of deep marine green color, followed of a short orange trail. The sky was so clear, in spite of the early hour, that I could easily follow this ball, but it suddenly disappeared, without leaving the least trace..."
Mr. Mauro does not draw conclusions, he quite simply wonders if it was a meteor, a saucer and if he was the only one who observed the "object".
An affirmative answer can be given to him with regard to this last question since several people assure us of the existence of the strange object. Thus a lady who was on the higher platform of Our-Lady of the Guard saw the gleam in question clearly. It is the same for Mr. André Boyer and his work colleagues, electricians at the Nestlé plan, in Saint-Menet, who saw the machine crossing the sky.
Lastly, in Camp-Major, another witness, Mr. Gilbert Marius, awaited the bus to go to his work when he saw "a ball of orange red fire color which went more quickly than a plane but while moving straight and not like a shooting star". It disappeared rather quickly while taking a green colour.
This account was confirmed by another living of Camp-Major, Mrs. Seire, who lives in the small valley of Caussettes.
[Ref. ud1:] "UFODNA" WEBSITE:
The website indicates that on December 14, 1954, at 07:15 in Marseille, France, "an unidentified object was seen, but with an aspect and a performance which most probably would have a conventional explanation. One object was observed."
The source is indcated as "Vallee, Jacques, Computerized Catalog (N = 3073)."
[Ref. ub1:] "UFO-DATENBANK":
| | | | | | | | | | | |
| --- | --- | --- | --- | --- | --- | --- | --- | --- | --- | --- |
| Case Nr. | New case Nr. | Investigator | Date of observation | Zip | Place of observation | Country of observation | Hour of observation | Classification | Comments | Identification |
| 19541214 | | | 14.12.1954 | | Marseille | France | | | | |
Explanations:
Probable meteor.
Keywords:
(These keywords are only to help queries and are not implying anything.)
Marseille, Bouches-du-Rhone, Mauro, Longchamps, green, object, ball, trail, orange, morning, meteor, fireball, gleam, red, André Boyer, Gilbert Marius, Seire, Caussette, Camp-Major, Our-Lady of the Guard
Sources:
[---] indicates sources which I have not yet checked.
Document history:
| Version: | Created/Changed by: | Date: | Change Description: |
| --- | --- | --- | --- |
| 0.1 | Patrick Gross | February 26, 2006 | First published. |
| 1.0 | Patrick Gross | December 26, 2008 | Conversion from HTML to XHTML Strict. First formal version. Additions [1]. |
| 1.2 | Patrick Gross | November 2, 2016 | Addition [ub1]. |