Roswell 1947 - newspapers in 1947
Weather balloon parachute and radio found, Oneonta, New York, 1947:
The article below was published in the newspaper Press and News Bulletin, Binghamton, New York, USA, page 2, on October 3, 1947.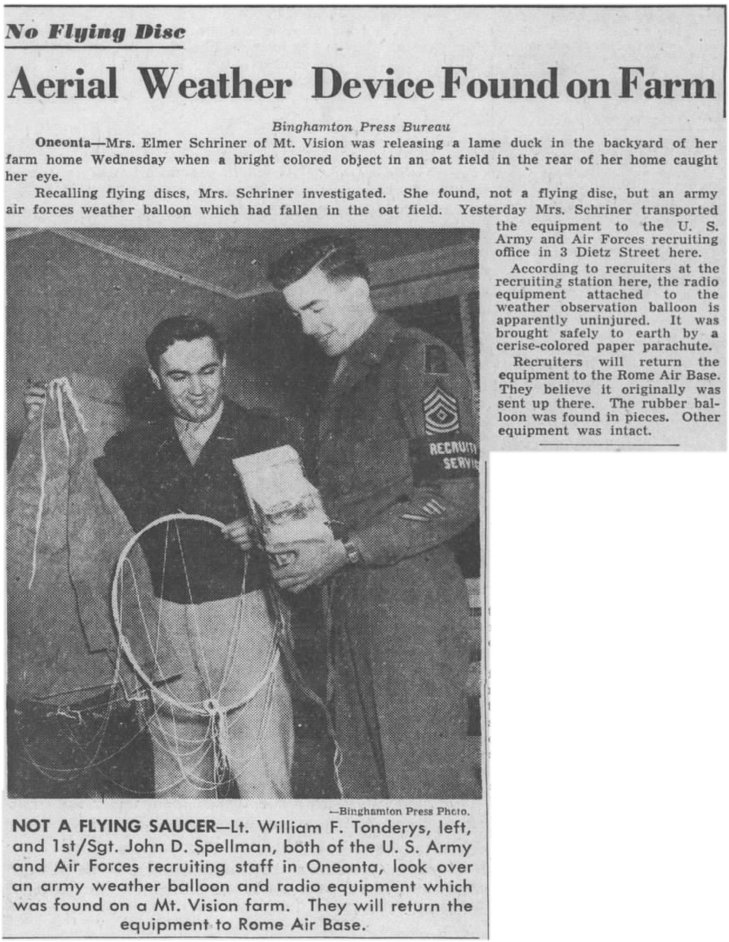 No flying disc
Aerial Weather Device Found on Farm
Binghamton Press Bureau
Oneonta - Mrs. Elmer Schriner of Mt. Vision was releasing a lame duck in the backyard of her farm home Wednesday when a bright colored object in an oat field in the rear of her home caught her eye.
Recalling flying discs, Mrs. Shriner investigated. She found, not a flying disc, but an army air forces weather balloon which had fallen in an oat field. Yesterday Mrs. Shriner transported the equipment to the U. S. Army and Air Forces recruiting office in 3 Dietz street here.
According to the recruiters at the recruiting station here, the radio equipment attached to the weather observation balloon is apparently uninjured. It was brought safely to earth by a cerise-colored paper parachute.
[Photo caption:]
NOT A FLYING SAUCER -- Lt. William F. Tonderys, left, and 1st/Sgt. John D. Spellman, both of the U. S. Army and Air Force recruiting staff at Oneonta, look over an army weather balloon and radio equipment which was found on a Mt. vision farm. They will return the equipment to Rome Air Base.