Roswell 1947 - newspapers in 1947
Roswell explained, other sightings, July 1947:
The article below was published in the newspaper The Minneapolis Star, Minneapolis, Minnesota, USA, pages 1 and 8, on July 9, 1947.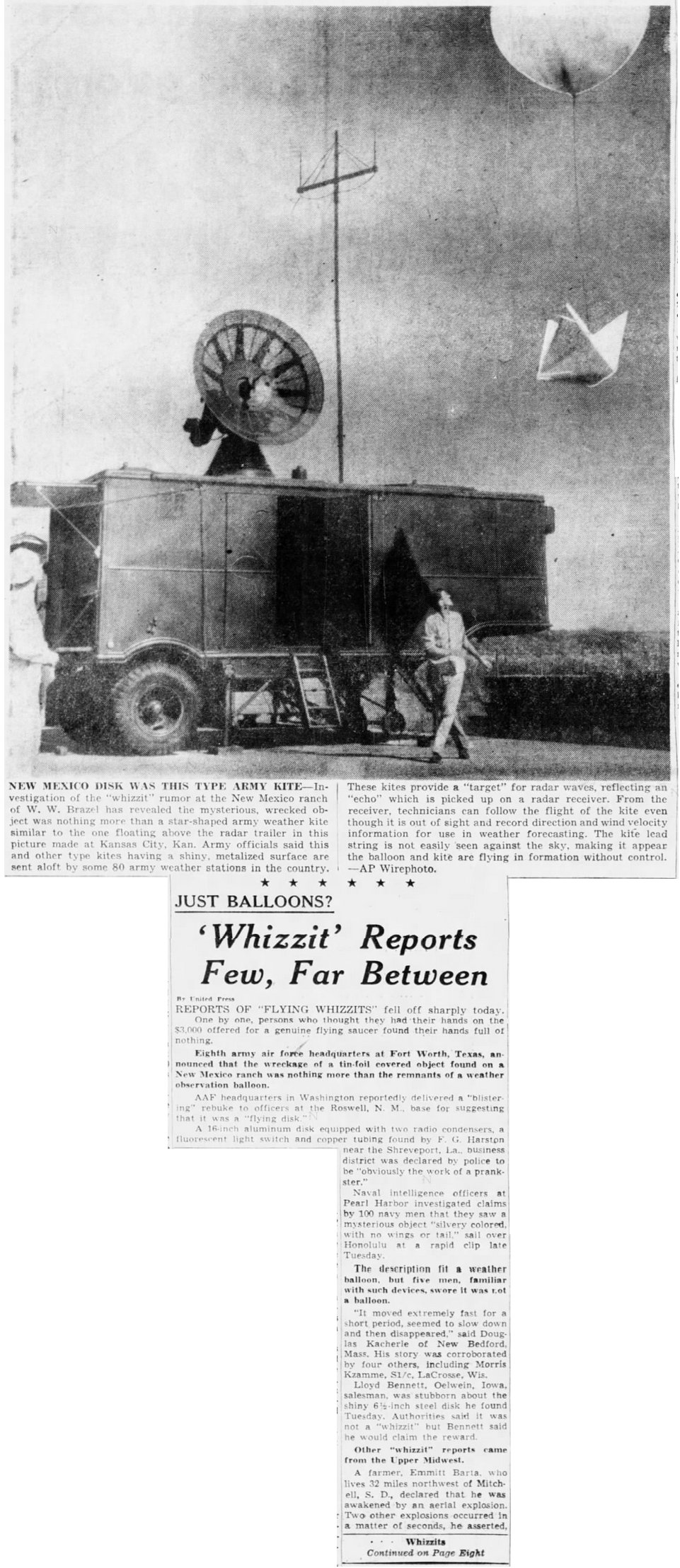 NEW MEXICO DISK WAS THIS TYPE OF KITE -- Investigation of the "whizzit" rumor at the New Mexico ranch of W. W. Brazel has revealed the mysterious, wrecked object was nothing more than a star-shaped army weather kite similar to the one floating above the radar trailer in this picture made at Kansas City, Kan. Army officials said this and other kites having a shiny, metalized surface are sent aloft by some 80 army weather stations in the country.
These kites provide a "target" for radar waves, reflecting an "echo" which is picked up on a radar receiver. From the receiver, technicians can follow the flight of the kite even though it is out of sight and record direction and wind velocity information for use in weather forecasting. The kite lead string is not easily seen against the sky, making it appear the balloon and kite are flying in formation without control. -- AP Wirephoto.
* * * *
JUST BALLOONS?
'Whizzits' Reports Few, Far Between
By United Press
REPORTS OF "FLYING WHIZZITS" fell off sharply today. One by one, persons who thought they had their hands on the $3.000 offered for a genuine flying saucer found their hands full of nothing.
Eighth army air force headquarters at Fort Worth, Texas, announced that the wreckage of a tin-foil covered object found on a New Mexico ranch was nothing more than the remnants of a weather observation balloon.
AAF headquarters in Washington reportedly delivered a "blistering" rebuke to officers at the Roswell, N. M., base, for suggesting that it was a "flying disc."
A 16-inch aluminum disk equipped with two radio condensers, a fluorescent light switch and cooper tubing found by F. G. Harston near the Shreveport, La., business district was declared by police to be "obviously the work of a prankster."
Naval intelligence officers at Pearl Harbor investigated claims by 100 navy men that they saw a mysterious object "silvery colored, with no wings or tail," sail over Honolulu at a rapid clip late Tuesday.
The description fit a weather balloon, but five men, familiar with such devices swore it was not a balloon.
"It moved extremely fast for a short period, seemed to slow down and then disappeared," said Douglas Kacherie of New Bedford, Mass. His story was corroborated by four others, including Morris Kzamme, S1/c, LaCross, Wis.
Lloyd Bennett, Oeilwein, Iowa, salesman, was stubborn about the shiny 6 4/2-inch steel disc he found Tuesday. Authorities said it was not a "whizzit" but Bennett said he would claim the reward.
Other "whizzit" reports came from the Upper Midwest.
A farmer, Emmitt Barta, who lives 32 miles northwest of Mitchell, S. D., declared that he was awakened by an aerial explosion. Two other explosions occurred in a matter of seconds, he asserted,
Whizzits
Continued on Page eight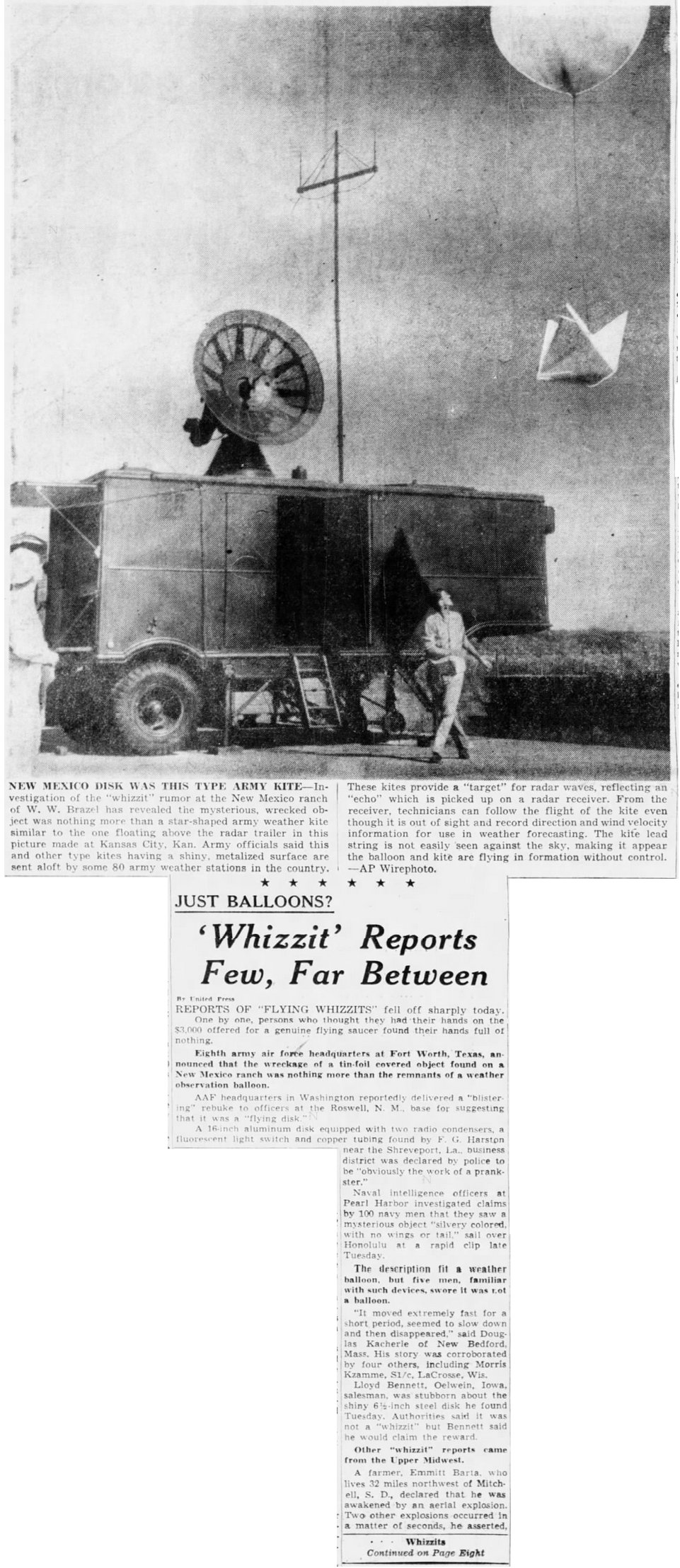 [Photo caption:] Associated Press Wirephoto
W. W. Brazel.
Found 'disc' on ranch
* * * *
WHIZZITS
Continued from Page One
adding that his barnyard was lighted momentarily.
Barta declared that after the third explosion, a bright red object "about as big as a bushel basket," hovered over his farm for a moment."
At Albert Lea, Minn., William Schultz reported that he had seen a "whizzit" speeding through the air above the Rock Island railroad station.
"I know it wasn't a plane," he said, "I could see its round shape."
Meanwhile, the excitement at the New Mexico ranch ran through this cycle:
Lt. Warren Haught [sic, Walter Haut], public relations officer at the Roswell base, released a statement in the name of Col. William Blanchard, base commander. It said that an object described as a flying disc was found on a nearby ranch three weeks ago by W. W. Brazel and had been sent to higher officials for examination.
Brig. Gen. Roger B. Ramey, commander of the Eighth air force said at Fort Worth that he believed the object was "the remnant of a weather balloon and a radar reflector."
Later, Warrant Officer Irving Newton, Stetsonville, Wis., weather officer at Fort Worth, examined the object and said definitely that it was nothing but a target used to determine the direction and velocity of high altitude winds.
Haught reportedly dais he had been "shut up by two blistering phone calls from Washington."
Newton said four of the wind sounding devices were released daily by every army weather station in the nation.
The incident aroused the possibility that other "whizzits" have been weather balloons reflecting the sun at high altitudes as they were carried along by the wind.
In addition to army weather balloons, hundreds of others are sent aloft daily by government weather forecasters.