Roswell 1947 - newspapers in 1947
Balloons and radar reflectors to explain flying disks and saucers:
The article below was published in the newspaper Longview News-Journal, Longview, Texas, USA, page 8, on July 13, 1947.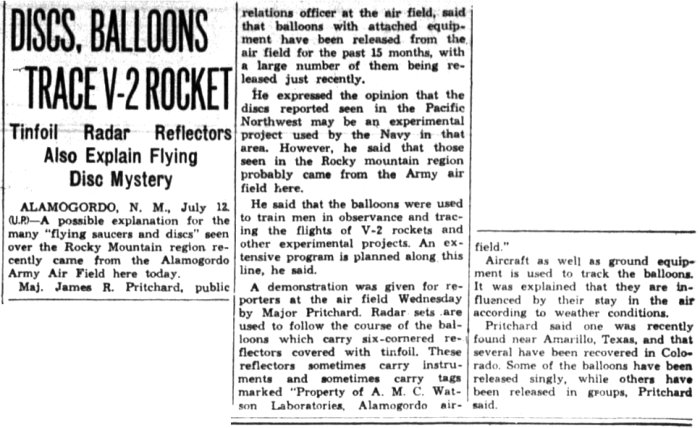 DISC, BALLOONS TRACE V-2 ROCKETS
Tinfoil Radar Reflectors Also Explain Flying Disc Mystery
ALAMOGORDO, N. M., July 12. (U.P.) -- A possible explanation for the many *flying saucers and discs" seen over the Rocky Mountain region recently came from the Alamogordo Army Air Field here today.
Maj. James R. Pritchard, public relations officer at the air field, said that balloons with attached equipment have been released from the air field for the past 15 months, with a large number of them being released just recently.
He expressed the opinion that the discs reported seen in the Pacific Northwest maybe an experimental project used by the Navy in that area. However, he said that those seen in the Rocky mountain region probably came from the Army air field here.
He said that the balloons were used to train men in observance and tracing the flights of V-2 rockets and other experimental projects. An extensive program is planned along this line, he said.
A demonstration was given for reporters at the air field Wednesday by Major Pritchard. Radar sets are used to follow the course of the balloons which carry six-cornered reflectors covered with tinfoil. These reflectors sometimes carry instruments and sometimes carry tags marked "Property of A. M. C. Watson Laboratories, Alamogordo air field."
Aircraft as well a s ground equipment is used to track the balloons. It was explained that they are influenced by their stay in the air according to weather conditions.
Pritchard said one was recently found near Amarillo, Texas, and that several have been recovered in Colorado. Some of the balloons have been released singly, while others have been released in groups, Pritchard said.