Roswell 1947 - newspapers in 1947
Roswell "disc" explained:
The article below was published in the newspaper Joplin Globe, Missouri, USA, page 1, on July 10, 1947.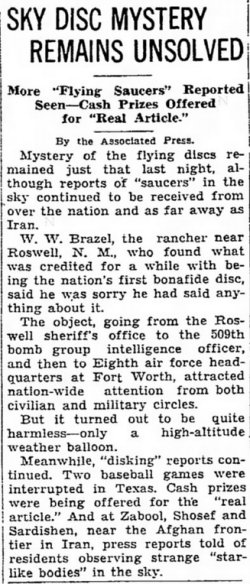 SKY DISC MYSTERY REMAINS UNSOLVED
More "Flying Saucers" Reported Seen - Cash Prize Offered for "Real Article"
By the Associated Press
Mystery of the flying discs remained just that last night, although reports of "saucers" in the sky continued to be received from over the nation and as far as Iran.
W. W. Brazel, the rancher near Roswell, N. M., who found what was credited for a while with being the nation's first bona fide disc, said he was sorry he had said anything about it.
The object, going from the Roswell's sheriff's office to the 50th bomb group intelligence officer, and then to Eighth air force headquarters at Fort Worth, attracted nation-wide attention from both civilian and military circles.
But it turned out to be quite harmless - only a high-altitude weather balloon.
Meanwhile, "disking" reports continued. Two baseball games were interrupted in Texas. Cash prizes were being offered for the "real article." And at Zabool, Shosef and Sardishen, near the Afghan frontier in Iran, press reports told of residents observing strange "star-like bodies" in the sky.