Roswell 1947 - newspapers in 1947
Radar targets as explanation of "flying discs", July 9, 1947:
The article below was published in the newspaper The Jacksonville Daily Journal, Jacksonville, Illinois, USA, on July 9, 1947.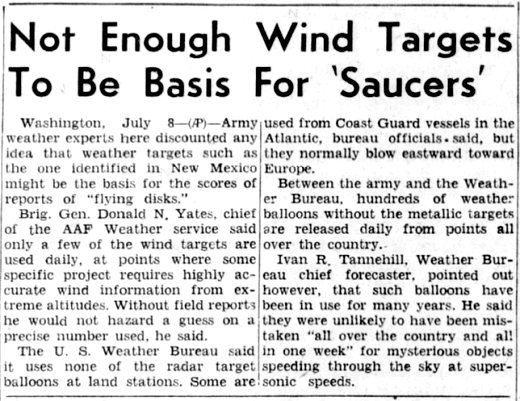 Not Enough Wind Targets To Be Basis For 'Saucers'
Washington, July 8 -- (AP) Army weather experts here discounted any idea that weather targets such as the one identified in New Mexico might be the basis for the scores of reports of "flying discs."
Brig. Gen. Donald N. Yates, chief of the AAF Weather service, said only a few of the wind targets are used daily, at points where some specific projects require highly accurate wind information from extreme altitudes. Without field reports he would not hazard a guess on a precise number used, he said.
The U. S. Weather Bureau said it uses none of the radar target balloons at land stations. Some are used from Coast Guards in the Atlantic, bureau officials said, but they normally blow eastwards toward Europe.
Between the army and the Weather Bureau, hundreds of weather balloons without the metallic targets are released daily from points all over the country.
Ivan R. Tannehill, Weather Bureau chief forecaster, pointed out however, that such balloons have been in use for many years. He said they were unlikely to have been mistaken "all over the country and all in one week" for mysterious objects speeding through the sky at supersonic speeds.