Roswell 1947 - newspapers in 1947
Saucers as result of "imaginitis", August 1947:
The article below was published in the newspaper The Deming Headlight, Deming, New Mexico, USA, page 2, on August 1, 1947.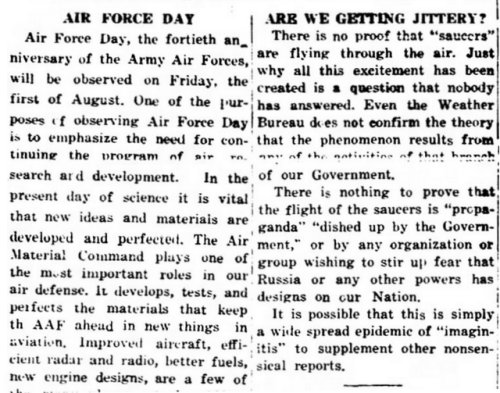 AIR FORCE DAY
Air Force day, the fortieth anniversary of the Army Air Forces, will be observed on Friday, the first of August. One of the purposes of observing Air Force Day is to emphasize the need for continuing the program of air research and development. In the present day of science it is vital that new ideas and materials are developed and perfected The Air Material Command plays one of the most important roles in our air defense. It develops, tests and perfects the material that keep the AAF ahead in new things in aviation, improved aircraft , efficient radar and radio, better fuels, new engine designs, are a few of [...]
ARE WE GETTING JITTERY?
There is no proof that "saucers" are flying through the air. Just why all the excitement has been created is a question that nobody has answered. Even the Weather Bureau that not confirm the theory that the the phenomenon results from any of the activities of that branch of our Government.
There is nothing to prove that the flight of saucers is "propaganda" "dished up by the Government" ot by any organization or group wishing to stir up fear that Russia or any other powers has designs on our nation.
It is possible that this is simply a wide spread epidemics of "imagninitis" to supplement other nonsensical reports.