Roswell 1947 - newspapers in 1947
Another Roswell, and sightings in Texas, June 1947:
The article below was published in the newspaper The Corsicana Daily Sun, Corsicana, Texas, USA, page 1, on July 1, 1947.

Many Texans Report Seeing Mysterious Disks Flying Through Skies; One Said Found As Army Officers Differ On Possibility
By the Associated Press.
Eyewitness accounts of flying disks were circulating around Texas and the Southwest today about as frequently as the "saucers" reported themselves.
One man, Troy Pendergrass of Hot springs, N. M., said at El Paso he even chased one until it landed.
He said he followed the object and saw it come to earth in Ash Canyon, in the southwest corner of Elephant Butter Lake in New Mexico.
It was a five-by-eight-inch piece of tinfoil.
Pendergrass said he and friends were watching the sky Sunday afternoon when they first saw the disk - "It was so bright we couldn't tell how big it was or how far away it was."
The tinfoil, Pendergrass said, was slightly heavier that that used from gum wrappers and was very crinkled.
He said it looked as if it had been wrapped around a circular object. It was partially burned and belted, he said.
See DISKS, Page 9
DISKS SEEN HERE
We've gottem in Corsicana.
The flying disks.
A call to the Sun office shortly after noon from a masculine voice claimed to have seen the "whirling disks."
He refused to divulge his name. saying people would think he was crazy. He hung up abruptly.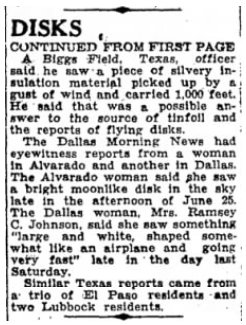 DISKS
CONTINUED FROM THE FIRST PAGE
A Biggs Field, Texas, officer said he saw a piece of silvery insulation material picked up by a gust of wind and carried 1.000 feet. He said it was a possible answer to the source of tinfoil and the reports of flying disks.
The Dallas Morning News had eyewitness reports from a woman in Alvarado and another in Dallas. The Alvarado woman said she saw a bright moonlike disk in the sky late in the afternoon on June 25.
The Dallas woman, Mrs. Ramsey C. Johnson, said she saw something "large and white, shaped somehow like an airplane and going very fast" late in the day that Saturday.
Similar Texas reports came from a trio of El Paso residents and two Lubbock residents.