Roswell 1947 - newspapers in 1947
Former Army weather man recognizes Chillicothe "flying saucer" to be radar target, July 10, 1947:
The article below was published in the newspaper The Cincinnati Enquirer, Cincinnati, Ohio, USA, page 4, on July 10, 1947.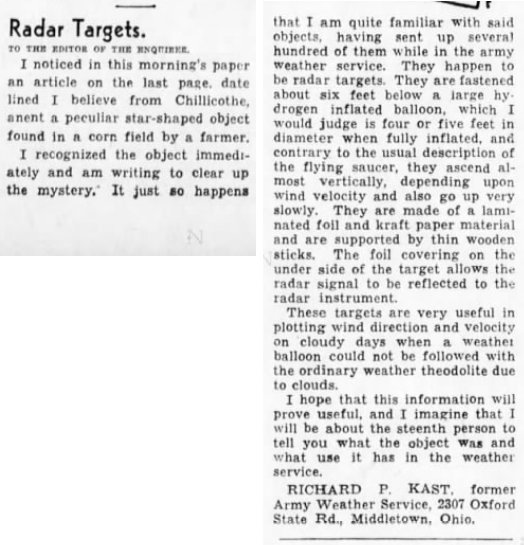 Radar targets
TO THE EDITOR OF THE ENQUIRER
I noticed in this morning's paper an article on the last page, date lined I believe from Chillicothe, about a peculiar star-shaped object found in a corn field by a farmer.
I recognized the object immediately and am writing to clear up the mystery. It just so happens that I am quite familiar with said objects, having sent up several hundreds of them while in the army weather service. They happen to be radar targets. They are fastened about six feet below a large hydrogen inflated balloon, which I would judge is four of five feet in diamater when fully inflated, and contrary to the description of the flying saucer, they ascend almost vertically, depending upon wind velocity and also go up very slowly. They are mande of a laminated foil and kraft paper material and are supported by thin wooden sticks. The foil covering on the under side of the target allows radar signals to be reflected to the radar instrument.
These targets are very useful in plotting wind direction and velocity on cloudy days when a weather balloon could not be followed with the ordinary weather theodolite due to clouds.
I hope that this information will prove useful, and I imagine that I will be about the steenth person to tell you what the object was and what use it has in the weather service.
RICHARD P. KAST, former Army Weather Service, 2307 Oxford State Rd., Middletown, Ohio.