Roswell 1947 - newspapers in 1947
Toy balloons too, July 1947:
The article below was published in the newspaper The Chronicle-Telegram, Elyria, Ohio, USA, page 2, on July 8, 1947.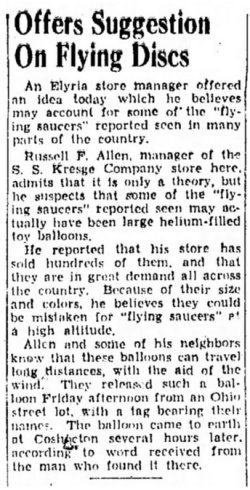 Offers Suggestion On Flying Discs
An Elyria store manager offered an idea today which he believes may account for some of the "flying saucers" reported seen in many parts of the country.
Russell F. Allen, manager of the S. S. Kresge Company store here, admits that it in only a theory, but he suspects that some of the "flying saucers" reported seen may actually have been large helium-filled toy balloons.
He reported that his store has sold hundreds of them, and that they are in great demand all across the country. Because of their size and colors, he believes they could be mistaken for "flying saucers" at a high altitude.
Allen and some of his neighbors know that these balloons can travel long distances, with the aid of the wind. They released such a balloon Friday afternoon from an Ohio street lot, with a tag bearing their names. The balloon came to earth at Coshocton several hours later, according to word received from the man who found it here.
Note: Coshocton is 120 km South of Elyria.