Roswell 1947 - newspapers in 1947
Roswell explained, The Chicago Tribune, July 10:
The article below was published in the newspaper The Chicago Tribune, Chicago, Illinois, USA, page 7, on July 10, 1947.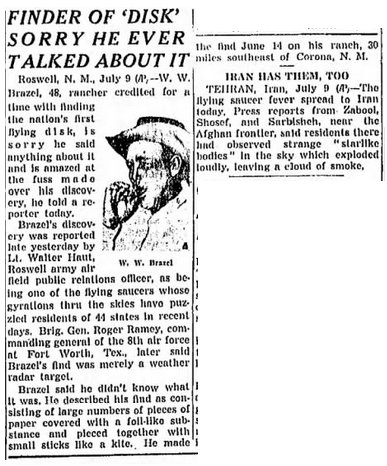 FINDER OF 'DISK' SORRY HE EVER TALKED ABOUT IT
Roswell, N.M., July 9 (AP). -- W. W. Brazel, 48, rancher credited for a time with finding the nation's first flying disc, is sorry he said anything about it and is amazed at the fuss made over his discovery, he told a reported today.
Brazel's discovery was reported late yesterday by Lt. Walter Haut., Roswell army air field public relation officer, as being one of the flying saucers whose gyrations thru the skies have puzzled residents of 44 states in recent days.. Brig. Gen. Roger Ramey, commanding general of the 8th air force at Fort Worth, Tex., later said Brazel's find was merely a weather radar target.
Brazel said he didn't know what it was. He described his find as consisting of large numbers of pieces of paper covered with a foil-like substance and placed together with small sticks like a kite. He made the find June 14 on his ranch, 30 miles southwest of Corona, N. M.
---
IRAN HAS THEM, TOO
TEHRAN, Iran, July 8 (AP) -- The flying saucer fever spread to Iran today, Press reports from Zaboul, Shosef, and Sarbisheh, near the Afghan frontier, said residents there had observed strange "starlike bodies" in the sky which exploded loudly, leaving a cloud of smoke.