Roswell 1947 - newspapers in 1947
Another Roswell:
The article below was published in the newspaper Amarillo Daily News, Amarillo, Texas, page 1, on August 6, 1947.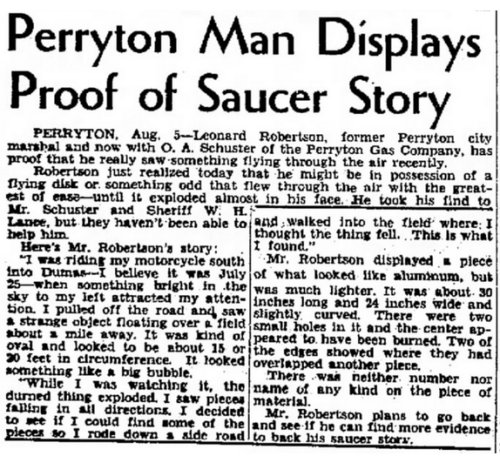 Perryton Man Displays Proof of Saucer Story
PERRYTON. Aug 5 -- Leonard Robertson, former Perryton city marshal and now with O. A. Schuster of the Perryton Gas Company, has proof that he really saw something flying through the air recently.
Robertson just realized today that he might be in possession of a flying disc or something odd that flew through the air with the greatest of ease - until it exploded almost in his face. He took his find to Mr. Schuster and Sheriff W. H. Lance, but they hadn't been able to help them.
Here's Mr. Robertson's story:
"I was riding my motorcycle south into Dumas - I believe it was July 25 - when something bright in the sky to my left attracted my attention. I pulled off the road and saw a strange object floating over a field about a mile away. It was kind of oval and looked to be about 15 or 20 feet in circumference. It looked something like a big bubble.
"While I was watching it, the darned thing exploded. I saw pieces falling in all directions. I decided to see if I could find some of the pieces so I rode down a side road and walked into the field where I thought the thing fell. This is what I found."
Mr. Robertson displayed a piece of what looked like aluminum, but was much lighter. It was about 30 inches long and 24 inches wide and slightly curved. There were two small holes in it and the center appeared to have been burned. Two of the edges showed where they had overlapped another piece.
There was neither number nor name of any kind on the piece of material.
Mr. Robertson plans to go back and see if he can find more evidence to back his saucer story.
Comment:
This is one of the several "Other Roswells" I found in the 1947 Press in the New Mexico and Texas area. It looks like the "saucer" might have been a balloon that exploded, yet, as often, the details are sketchy or odd enough to prevent any totally firm conclusion.
Dumas, Texas, the place of this "saucer crash", is about 200 miles Northeast of Roswell, New Mexico:.