Roswell 1947 - newspapers in 1947
Silver City sighting, explanations of discs, June 1947:
The article below was published in the newspaper Amarillo Daily News, Amarillo, Texas, USA, page 1, on June 28, 1947.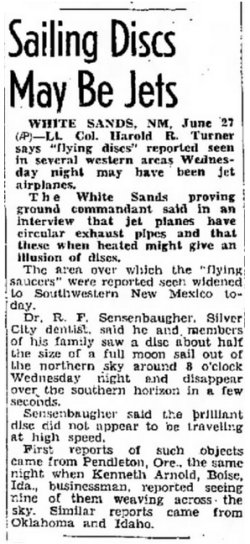 Sailing Discs May Be Jets
WHITE SANDS, NM, June27 (AP) -- Lt. Col. Harold R. Turner says "flying discs" reported seen in several western areas Wedensday night may have been jet airplanes.
The White Sands proving ground comandant said in an interview that jet planes have circular exhausts pipes and that these when heated might give an illusion of discs.
The area over which the "flying saucers" were reported seen widened to southwesterb New Mexico today.
Dr. R. F. Sensenbaugher, Silver City dentist, said he and members of his family saw a disc about half the size of the full moon sail out of the northern sky Wednesday night and disappear over the southern horizon in a few seconds.
Sensenbaugher said the brilliant disc did not appear to be traveling at high speed.
First reports of such objects came from Pendleton, Ore. the same night when Kenneth Arnold, Boise, Ida., businessman, reported seeing nine of them weaving across the sky. Similar reports came from Oklahoma and Idaho.