Sightibng of an anomaly on Tuesday, August 23, 2005 in the french sky
Hello,
I report the sighting of an unidentified flying object, here is the information necessary to its identification :
Date : Tuesday, August 23, 2005
Time : Midnight on my vehicle's clock
Place : On the A1 motorway between Charles de Gaulles airport and the city of de Chessy (77700) - Marquage google earth
Additional informationon the location : the driver was nearer to Chessy than from the CDG airport.
Duration of the sighting : 5 seconds
Description of the sighting :
The object :
The object is characterized by a form similar to an isosceles triangle, the base is being twice and a half smaller than the 2 other sides (these measurements are deduced according to diagrams of reconstitution). The object emitted light from its base, the sources were multiple like « several spots » of strong intensity. The thickness of the object could not be identified for lack of visibility and light.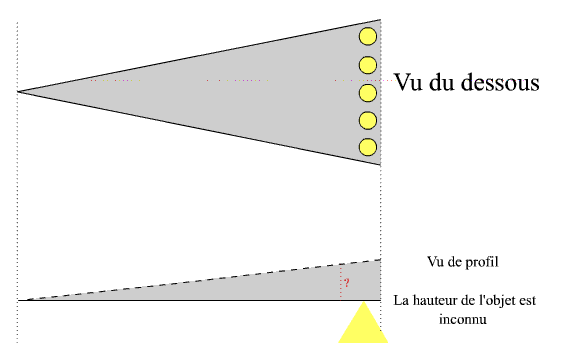 Motion :
« The object was at the most at 1 km of my vehicle, it floated while advancing at reduced speed ». the object moved while oscillating in the air: « by corrugated movement ».
At the end of the observation, the object had begun a rotation on itself.
Observation :
The driver was alone in his vehicle and he leant ahead to observe the anomaly. Being on the motorway and by night, he had to quickly resume his position, he thereafter wanter to observe the object again but it had disappeared.
Request:
I call for witness any people being in the surroundings of the A1 motorway between airport CDG and Chessy, in the night of Tuesday August 23, 2005 and having observed this phenomenon.