Kenneth Arnold's sighting
Kenneth Arnold sighting reports in the Press:
The article below was published in the newspaper The Post-Register, Idaho Falls, Idaho, USA, on page 1, on August 6, 1947.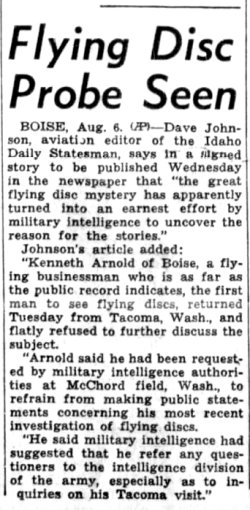 Flying Disc Probe Seen
BOISE, Aug. 6 (AP) -- Dave Johnson, aviation editor of the Idaho Daily Statesman, says in a signed story to be published Wednesday in the newspaper that "the great flying discs mystery has apparently turned into an earnest effort by military intelligence to uncover the reason for the stories."
Johnson's article added:
"Kenneth Arnold of Boise, a flying businessman who is as far as the public record indicates, the first man to see flying discs, returned Tuesday from Tacoma, Wash., and flatly refused to further discuss the subject.
"Arnold said he has been requested by military intelligence authorities at McChord field, Wash., to refrain from making public statements concerning his most recent investigation of flying discs.
"He said military intelligence had suggested that he refer any questioners to the intelligence division of the army, especially as to inquiries on his Tacoma visit."
To: Kenneth Arnold or Newspapers 1940-1949.