Kenneth Arnold's sighting
Kenneth Arnold sighting report in the Press:
The article below was published in the newspaper The Los Angeles Times, Los Angeles, California, USA, on page 4, on August 9, 1947.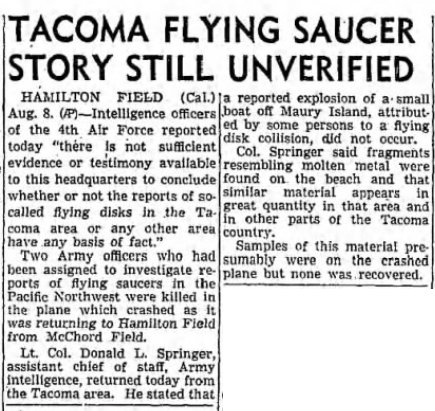 TACOMA FLYING SAUCER STORY STILL UNVERIFIED
HAMILTON FIELD (Cal.) Aug 8. (UP) -- Intelligence officers of the 4th Air Force reported today "there is not sufficient evidence or testimony available to this headquarter to conclude whether or not the reports of so-called flying disks in the Tacoma area or any other area have any basis of facts."
Two Army officers who had been assigned to investigate reports of flying saucers in the Pacific Northwest were killed in the plane which crashed as it was returning to Hamilton Field from McChord Field.
Lt. Col. Donald L. Springer, assistant chief of staff, Army intelligence, returned today from the Tacoma area. He stated that a reported explosion os a small boat off Maury Island, attributed by some persons to a flying disk collision, did not occur.
Col. Springer said fragments resembling molten metal were found on the beach and that similar material appears in great quantity in that area and in other parts of the Tacoma country.
Samples of this material presumably were on the crashed plane but none was recovered.
To: Kenneth Arnold or Newspapers 1940-1949.