Kenneth Arnold's sighting
Kenneth Arnold sighting report in the Press:
The article below was published in the newspaper The Los Angeles Times, Los Angeles, California, USA, on page 11, on July 25, 1947.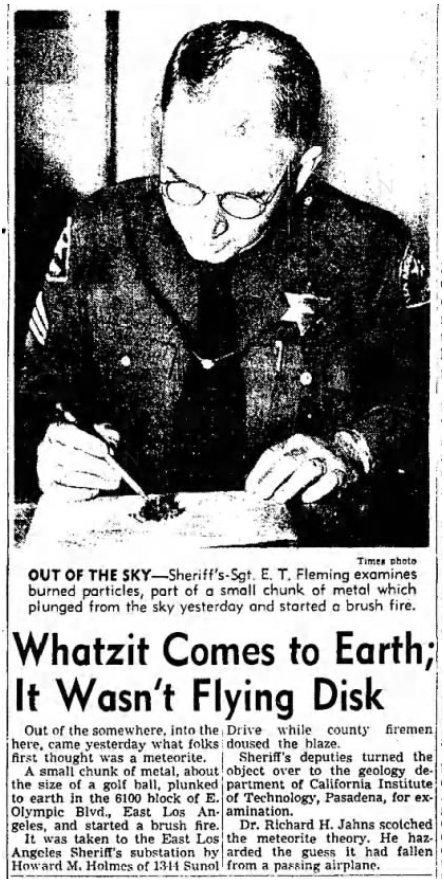 [Photo caption:] OUT OF THY SKY -- Sheriff's-Sgt. E. T: Fleming examines burned particles, part of a small chunk of metal which plunged from the sky yesterday and started a brush fire.
Times photo
Whatzit Comes to Earth; It Wasn't Flying Disk
Out of the somewhere into the here, came yesterday what folks first thought was a meteorite.
A small chunk of metal, about the size of a golf ball, plunked to earth in the 6100 block of E. Olypmpic Blvd., East Los Angeles, and started a brush fire.
It was taken to the East Los Angeles Sheriff's substation by Howard M. Holmes of 1344 Sunol Drive while county firement doused the blaze.
Sheriff's deputies turned the object over to the geology department of California Institute of Technology, Pasadena, for examination.
Dr. Richard H. Jahns scoteched the meteorite theory. He has arded the guess it had fallen from a passing airplane.
To: Kenneth Arnold or Newspapers 1940-1949.