Kenneth Arnold's sighting
Kenneth Arnold sighting reports in the Press:
The article below was published in the newspaper The Post Register, Idaho Falls, Idaho, USA, on page 1, on July 7, 1947.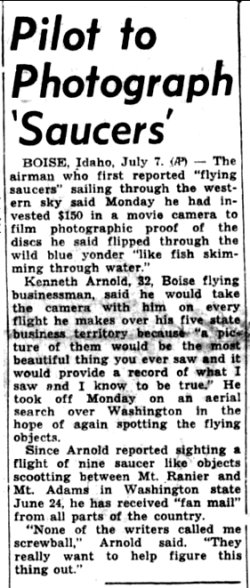 Pilot to Photograph 'Saucers'
BOISE, Idaho, July 7 (AP) -- The airman who first reported "flying saucers" sailing through the western sky said Monday he had invested $150 in a movie camera to film photographic proof of the discs he said flipped through the wild blue yonder "like fish skimming through water."
Kenneth Arnold, 32, Boise, flying businessman, said he would take the camera with him on every flight he makes overs his five states business territory because "a picture of them would be the most beautiful thing you ever saw and it would provide a record of what I saw and I know to be true." He took off Monday on an aerial search over Washington in the hope of again spotting the flying objects.
Since Arnold reported sighting a flight of nine saucer like objects scooting between Mt. Rainier and Mt. Adams in Washington state June 24, he has received "fan mail" from all parts of the country.
"None of the writers called me screwball," Arnold said. "They really want to help figure this thing out."
To: Kenneth Arnold or Newspapers 1940-1949.