Kenneth Arnold's sighting
Kenneth Arnold sighting report in the Press:
The article below was published in the newspaper The Gazette and Daily, York, Pennslyvania, USA, on page 29, on June 30, 1947.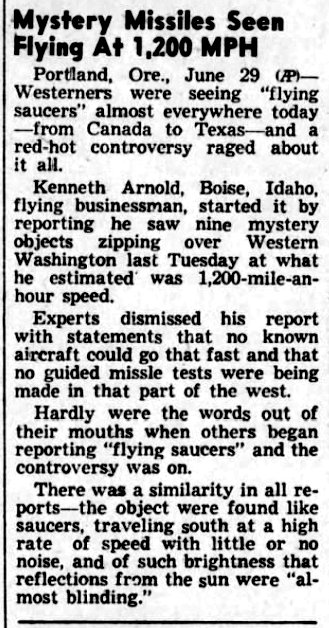 Mystery Missiles Seen Flying At 1,200 MPH
Portland, Ore., June 29 (AP) -- Westerners were seeing "flying saucers" almost everywhere today - from Canada to Texas - and a red-hot controversy raged about it all.
Kenneth Arnold, Boise, Idaho, flying businessman started it by reporting he saw nine mystery objects zipping over western Washington last Tuesday at what he estimated was 1,200-mile-an-hour speed.
Experts dismissed his report with statements that no known aircraft could go that fast and that no guided missiles tests were being made over that part of the west.
Hardly were the words out of their mouths when others began reporting "flying saucers" and the controversy was on.
There was a similarity in all reports - the objects were round like saucers, traveling south at a high rate of speed with little or no noise, and of such brightness that reflections from the sun were "almost blinding."
To: Kenneth Arnold or Newspapers 1940-1949.