IMPOSSIBLE FLIGHT CHARACTERISTICS:
This piece of video clip is absolutely amazing to say the least. Recorded by Ed Walters, outside his office, in the Gulf Breeze area of Florida, USA on the 21st July 1995. The video has been analyzed by Navy physicist Dr Bruce Maccabee of the USA and he states that he believes the clip to be an authentic piece of UFO footage. The UFO is believed to have been approximately 7000 feet away from the camera when the clip was filmed and is estimated to be about 30 feet in diameter. This particular clip is only 14 seconds long played once at normal speed and then repeated in slow motion. The anomalous craft seems to perform manoeuvres that our technology today does not seem capable of (at least to my knowledge) and the unidentified craft can clearly be seen reversing its direction instantaneously, from a fast forward motion to complete reverse, disappearing from where it had originated. It should also be noted that on some better generation copies of the video, the craft clearly casts a shadow on the nearby tree line.
Is it a bird, is it an insect, is it a UFO?
In the slow motion part, I seem to distinguis wings flapping. Probably, this was shot without visual witness, this happens to result in such videos.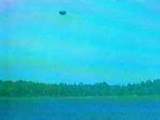 | | |
| --- | --- |
| Location: | Gulfe Breeze, Florida, USA |
| Date: | July 21, 1995 |
| From: | Dr. Bruce Maccabee |
| Source: | Ed Walters |
| Size: | 833 KB |
| Length: | 14 sec |
| Format: | MPEG |