SETI news:
Unidentified radio signal from space detected by the SETI Project:
The SETI League (Search for Extraterrestrial Intelligence) has detected an unknown signal on March 7, 2004, indicating: "There is a slight possibility that it just might originate from an extraterrestrial intelligence."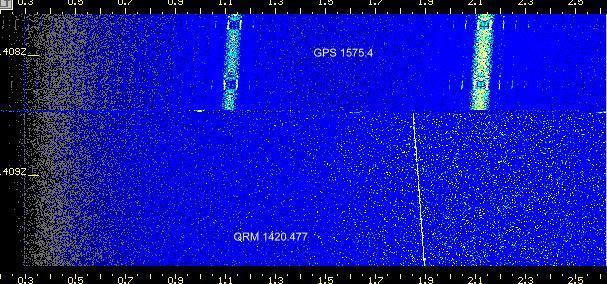 Credit and Copyright: SETI League
The vertical axis represents time, the horizontal axis represents frequencies.
The upper part of the plot shows two GPS satellites signals. The unknown signal is the line on the lower part of the plot.
Scientists have not been able to identify this signal positively and have speculated that it may either be a signal between a GPS satellite and an unidentified recipient on Earth, or a signal originating from an extraterrestrial intelligence. The signal has been strong. The name of the radiotelescope which detected it, and the duration of the detection, have not been communicated publicly by the SETI League.
Many unusual radio signals are detected from space and remained unidentified, at least one was strong and quite interesting but none has run long enough to be unambiguously identified as originating from an extraterrestrial intelligence communicating by radio.