Project Blue Book unexplained cases:
Nederland, Texas, February 6, 1966:
Blue Book case number: 10196.
Project Blue Book lists this sighting as "unidentified."
Project Blue Book's card:
Witness' letter: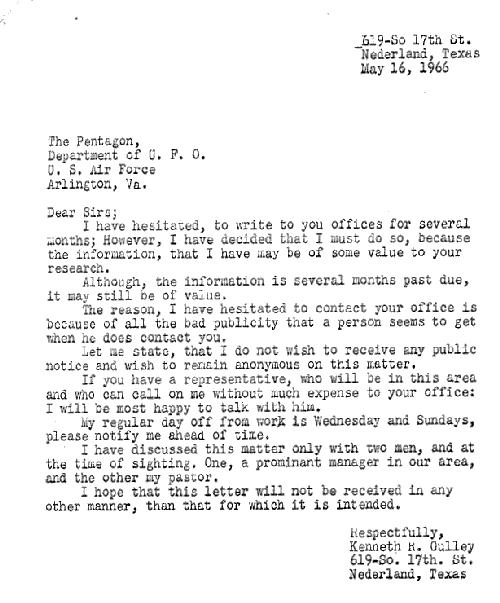 619-So 17th St.
Nederland, Texas
May 16, 1966
The Pentagon
Department of U.F.O.
U.S. Air Force
Arlington, Va.
Dear Sirs,
I have hesitated, to write to you offices for several months; However, I have decided that I must do so, because the information, that I have may be of some value to your research.
Although, the information is several months past due, it may still be of value.
The reason, I have hesitated to contact your offices is because of all the bad publicity that a person seems to get when he does contact you.
Let me state, that I do not wish to receive any public notice and wish to remain anonymous on this matter.
If you have a representative, who will be in this area and who can call on me without much expense to your offices I will be most happy to talk with him.
My regular day off from work is Wednesday and Sundays, please notify me ahead of time.
I have discussed this matter only with two men, and at the time of sighting. One, a prominent manager in our area, and the other my pastor.
I hope that this letter will not be received in any other manner, than that for which it is intended.
Respectfully,
Kenneth J. Gulley,
619-So 17th. St.
Nederland, Texas
The report form: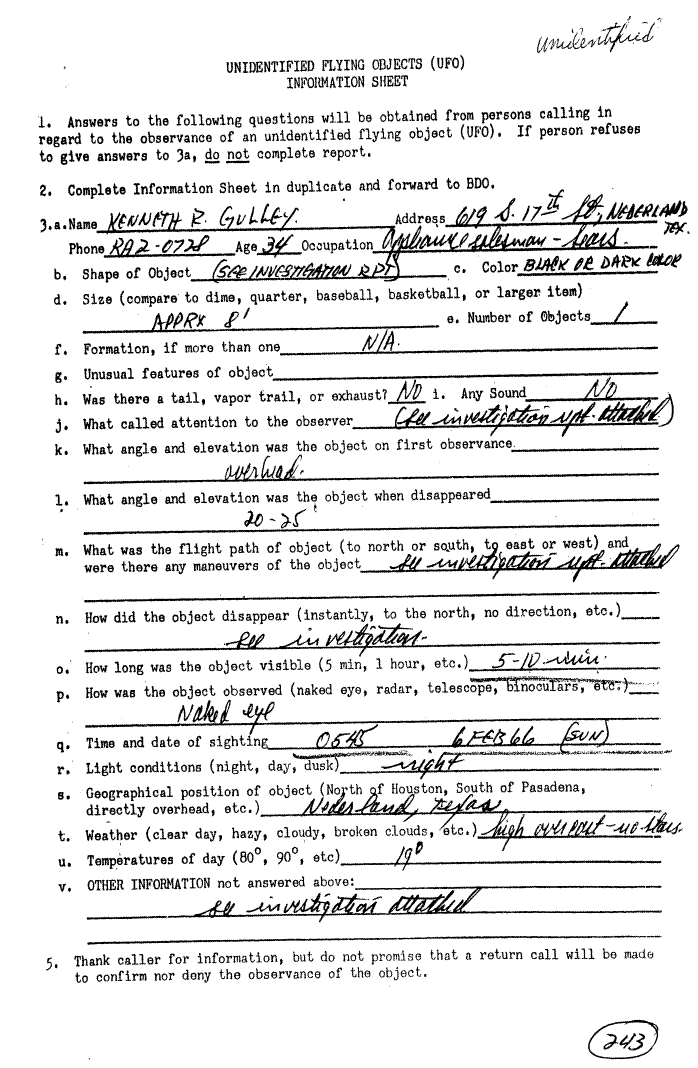 UNIDENTIFIED FLYING OBJECTS (UFO)
INFORMATION SHEET
1. Answers to the following questions will be obtained from persons calling in regard to the observance of an unidentified flying object (UFO). If person refuses to give answers to 3a, do not complete report.
2. Complete Information Sheet in duplicate and forward to BDO.
3.a. Name KENNETH R. GULLEY Address 619 s. 17th st, NEDERLAND, TEXAS.
Phone RA2 - 0728 Age 34 Occupation appliance salesman - sears
b. Shape of Object (SEE INVESTIGATION RPT)
c. Color BLACK OR DARK COLOR
d. Size (compare to dime, quarter, baseball, basketball or larger item) APPRX 8'
e. Number of Objects 1
f. Formation, if more than one N/A
g. Unusual features of object
h. Was there a tail, vapor trail, or exhaust? NO
i. Any sound? NO
j. What called attention to the observer see investigation report attached
k. What angle and elevation was the object on first observance overhead
l. What angle and elevation was the object when disappeared 20 - 25 '
m. What was the flight path of object (to north or south, to east or west) and were there any manoeuvers of the object see investigation report attached
n. How did the object disappear (instantly, to the north, no direction, etc. see investigation
o. How long was the object visible (5 min, 1 hour, etc.) 5 - 10 min
p. How was the object observed (naked eye, radar, telescope, binoculars, etc.) naked eye
q. Time and date of sighting 0545 6 FEB 66 (SUN [Sunday])
r. Light conditions (night, day, dusk) night
s. Geographical position of object (North of Houston, South of Pasaddena, directly overhead etc.) Nederland, Texas
t. Weather (clear day, hazy, cloudy, broken clouds, etc.) high overcast - no stars
u. Temperatures of day (80░, 90░, etc) 19░
v. OTHER INFORMATION not answered above: see investigation attached
5. Thank caller for information but do not promise that a return call will be made to confirm nor deny the observance of the object.
The investigation report:
This report was written by 1st Lieutenant William F. Marley, Jr., of the Foreign Technology Division (TIEW/UFO) of the ATIC, USAF, on June 7, 1966.