Project Blue Book unexplained cases:
Mount Airy, Maryland, March 8, 1965:
Blue Book case number: 9305.
Project Blue Book lists this sighting as "unknown."
The principal witness was J.H. Martin, instrument maker for the U.S. Bureau of Standards.
The report: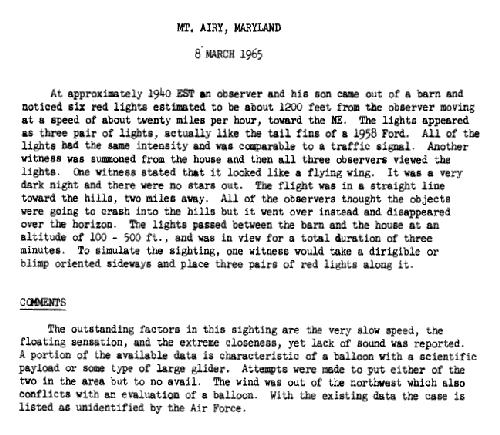 MT. AIRY, MARYLAND

8 MARCH 1965
At approximately 1840 EST an observer and his son came out of a barn and noticed six red lights estimated to be about 1200 feet from the observer moving at a speed of about twenty miles per hour, towards the NE. The lights appeared as three pair of lights, actually like the tail fin of a 1958 Ford. All of the lights had the same intensity and was comparable to a traffic signal. Another witness was summoned from the house and then all three observers viewed the lights. One witness stated that it looked like a flying wing. It was a very dark night and there were no stars out. The flight was in a straight line towards the hills, two miles away. All of the observers thought the objects were going to crash into the hills but it went over instead and disappeared over the horizon. The lights passed between the barn and the house at an altitude of 100 - 500 feet, and was in view for a total duration of three minutes. To simulate the sighting, one witness would take a dirigible or blimp oriented sideways and place three pairs of red light along it.
COMMENTS
The outsanding factors in this sighting are the very low speed, the floating sensation and the extreme closeness, yet lack of sound was reported. A portion of the available data is characteristic of a balloon with a scientific payload or some type of large glider. Attempts were made to put either of the two in the area but to no avail. The wind was out of the Northwest which also conflicts with the explanation of a balloon. With the existing data the case is listed as an unidentified by the Air Force.