ALSACAT:
Case of Kunheim, on January 11, 2017:
Case number:
ALSACAT-2017-01-11-KUHNHEIM-1
Summary:
A 40-year-old resident and family father of Kunheim reported to the UFO blog "Area 51" on January 12, 2017 about his January 11, 2017 sighting.
At nightfall, about 05:45 p.m. he was smoking a cigarette at his friend's kitchen window when he saw a distant light at the edge of the clouds but below the clouds. He described it as a big, rather orange-yellow light.
He wanted to get his phone from his pocket to film it, but, as if the light had seen this, it rose vertically and was hidden by the clouds, and it did not reappear.
He was asking if anyone else saw it, or if there was "not at the aviation control center if anything could have been detected on 01/11/2017 around 5:45 p.m. above Colmar Kunheim or even the Vosges".
He explained that it was not the Moon since it was not white but rather orange-yellow, nor a drone because with the wind it "could never have gone into the clouds" nor "climb so vertically without oscillating or creating a movement".
He repeated his testimony four times on the blog without getting a response.
Data:
Temporal data:
| | |
| --- | --- |
| Date: | January 11, 2017 |
| Time: | 05:45 p.m. |
| Duration: | Seconds. |
| First known report date: | January 12, 2017 |
| Reporting delay: | 1 day. |
Geographical data:
| | |
| --- | --- |
| Department: | Haut-Rhin |
| City: | Kunheim |
| Place: | From home window. |
| Latitude: | 48.076 |
| Longitude: | 7.534 |
| Uncertainty radius: | 800 m. |
Witnesses data:
| | |
| --- | --- |
| Number of alleged witnesses: | 1 |
| Number of known witnesses: | 1 |
| Number of named witnesses: | 1 |
| Witness(es) ages: | 40 |
| Witness(es) types: | Male resident. |
Ufology data:
| | |
| --- | --- |
| Reporting channel: | To the UFO blog "Area 51". |
| Type of location: | From home window. |
| Visibility conditions: | Nightfall, clouds. |
| UFO observed: | Yes. |
| UFO arrival observed: | ? |
| UFO departure observed: | Yes. |
| Entities: | No. |
| Photographs: | Attempted, too late. |
| Sketch(s) by witness(es): | No. |
| Sketch(es) approved by witness(es): | No. |
| Witness(es) feelings: | Puzzled. |
| Witnesses interpretation: | Not the moon, not a drone. |
Classifications:
| | |
| --- | --- |
| Hynek: | NL |
| ALSACAT: | Probable Chinese lantern. |
Sources:
[Ref. ara1:] BLOG "AREA51":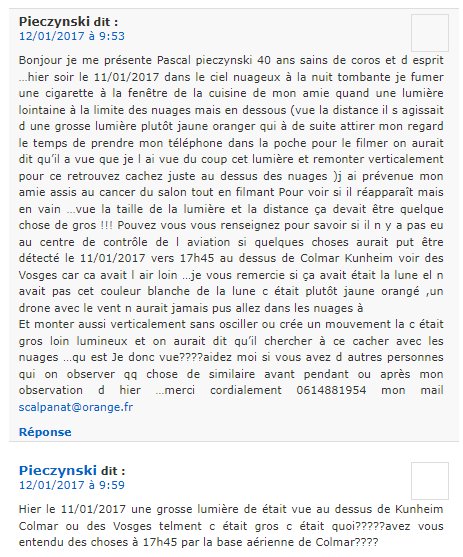 Pieczynski says:
01/12/2017 at 9:53 a.m.
Hello I introduce myself Pascal pieczynski 40 years of sound mind ... last night on 01/11/2017 in the cloudy sky at nightfall I smokd a cigarette at the window of my girlfriend's kitchen when a light distant at the edge of the clouds but below (given the distance it was a big light rather yellow orange which immediatly caught my eye the time to get my phone from the pocket to film youd say it looked like it saw that I suddenly saw this light and go up vertically to find it hiden just above the clouds) I warned my friend sitting at the cancer in the living room while filming To see if it reappears but in vain ... given the size of the light and the distance must have been something big!!! Can you inquire to find out if there was not at the aviation control center if some things could have been detected on 01/11/2017 around 5:45 p.m. above Colmar Kunheim see the Vosges because it seemed far away ... I tell you thank you if it had been the moon it's did not have this white color of the moon it was rather orange yellow, a drone with the wind would never have been able to go in the clouds at
And going up vertically without oscillating or creating a movement it was far away bright and it looked like it was trying to hide with the clouds … so what do I see????help me if you have others people who have observed something similar before during or after my observation yesterday... thank you cordially 0614881954 my email scalpanat@orange.fr
Answer
Pieczynski says:
01/12/2017 at 9:59
Yesterday 01/11/2017 a big light was seen above Kunheim Colmar or the Vosges it was so big it was what?????did you hear things at 5:45 p.m. from the Colmar air base? ???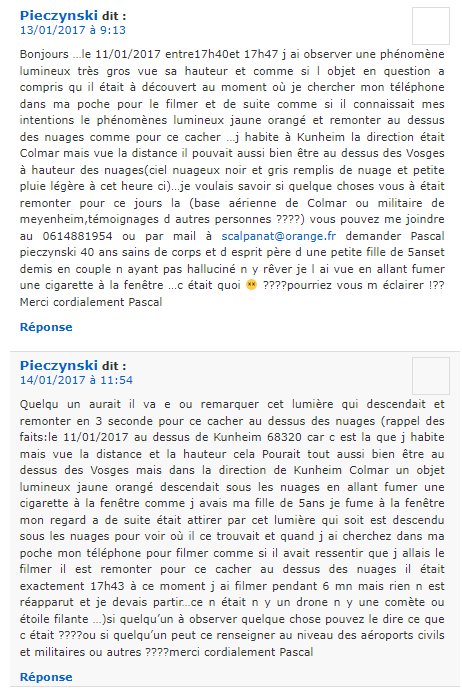 Pieczynski says:
13/01/2017 at 9:13
Hello …on 01/11/2017 between 5:40 p.m. film and immediately as if it knew my intentions the orange-yellow luminous phenomena and go up above the clouds as if to hide... I live in Kunheim the direction was Colmar but given the distance it could as well be above the Vosges at the height of the clouds (black and gray cloudy sky filled with clouds and light rain at this time)... I wanted to know if you had anything to report for this day (Colmar air base or Meyenheim military, testimonies from other people?? ??) you can reach me at 0614881954 or by email at scalpanat@orange.fr ask for Pascal pieczynski 40 years old, healthy in body and mind, father of a little girl of 5 years and a half in a couple, not having hallucinated or dreaming about it, I saw it going smoking a cigarette at the window... what was it?? ????could you enlighten me!?? Thank you sincerely Pascal
Answer
Pieczynski says:
01/14/2017 at 11:54
Would someone have noticed this light going down and up in 3 seconds to hide above the clouds (reminder of the facts: 01/11/2017 above Kunheim 68320 because that's where I live but given the distance and the height it could just as well be above the Vosges but in the direction of Kunheim Colmar a luminous orange-yellow object descended under the clouds while going to smoke a cigarette at the window as I had my 5 year old daughter I smoke at the window my gaze was immediately attracted by this light which descended under the clouds to see where it was and when I looked in my pocket for my phone to film as if he had felt that I was going to film it he is go up to hide above the clouds it was exactly 5:43 p.m. at that time I filmed for 6 minutes but nothing reappeared and I had to leave...it was not a drone, a comet or shooting star, etc. observe something can tell re what it was ????or if anyone can find out about civilian and military airports or others ????thanks cordially Pascal
Discussion:
Chinese lanterns are one cause of some old tales of UFO sightings: During the "airship" wave of 1896 - 1897 in the USA, during the wave of 1972 in the US Midwest, etc.
Since these miniature hot air paper balloons can be ordered on the Internet at very low cost - they also commonly found in Alsace now in stores - there is no need anymore to take the trouble of manufacturing them yourself.
So since 2005, about everywhere and of course in Alsace, many people who do not yet know about them report them as UFOs or at least as a subject of puzzlement: "It was not planes, not satellites, not helicopters, etc...", commonly appears in the stories. Indeed they aren't.
Most of the time, I certainly cannot "scientifically prove" or provide "hard evidence" that this or that report is explained by Chinese lanterns; but I see nothing opposes it and nothing would justify to call it spacecraft from another world or who knows what else.
It is sometimes possible to find that there was, precisely at that time, in the vicinity, a release of lanterns, during a party, a wedding party, a birthday party etc. But these releases are now so usual in Alsace at least that they are not necessarily mentioned on festivity calendars.
Since 2005, they constitute the bulk of the "testimonies" of UFOs found on websites devoted to the subject of UFOs and essentially publishing such "web report"; generally the only treatment is the publication, without any information on a possible cause, without any investigation or comment.
In Alsace, such releases are especially popular now since fireworks and firecrackers, long tolerated, are now prohibited for use unless special exemptions; Alsatians therefore largely adopted the lanterns.
As these lanterns are usually released at private or public parties, they are most often seen on Saturday nights, often at wedding dates or official festivities such as the National Day or New Year's Eve, usually between 10 p.m. and midnight. They are then usually released in clusters. But sometimes the purchaser performs a "test flight" a few days before, sometimes with a single lantern.
Above: a Chinese lantern.
Colmar, direction of observation, is a little more than 10 km, to the west, of the witness. The villages in this axis are Widensolen then Andolsheim, and further north, Urschenheim and Fortschwihr. A lantern launched from one of these villages would explain the sighting.
Evaluation:
Probable Chinese lantern.
Sources references:
* = Source is available to me.
? = Source I am told about but could not get so far. Help needed.
[ara1] * Witness report on the UFO blog Area 51, edited by "Era", France, January 12, 2017, at https://area51blog.wordpress.com/appel-a-temoins
File history:
Authoring:
| | |
| --- | --- |
| Main author: | Patrick Gross |
| Contributors: | None |
| Reviewers: | None |
| Editor: | Patrick Gross |
Changes history:
| Version: | Create/changed by: | Date: | Description: |
| --- | --- | --- | --- |
| 0.1 | Patrick Gross | March 27, 2017 | Creation, [ara1]. |
| 1.0 | Patrick Gross | March 27, 2017 | First published. |