ALSACAT:
Case of Kingersheim, on June 12, 2010:
Case number:
ALSACAT-2010-06-12-KINGERSHEIM-1
Summary:
Creating a blog about "UFOs in Mulhouse" on June 12, 2010, to "bring out the truth," Cyril reported among others, an observation of June 12, 2010, in which someone said that he and twenty other people saw lights like those spoken of in the sky of Kingersheim.
Teenagers had alerted about a good score of luminous dots coming from the north by group of three "like delta wings," approaching "quite enough", "faster than airplanes," and after a few minutes they "disappeared "above the witnesses".
It is reported: "It was like there was a convoy that followed each other, and disappeared. It lasted about 3 minutes, but the lights were quite strong and moved quickly. Weird that it was not seen by more people and that the press does not report it..."
Nobody had thought to take pictures or to film.
The same person or another still wrote:
"We are 6 people who have seen these twenty orange lights moving in the sky, asking us what it was." "From Kingersheim too these UFOs were visible, I do not know what it was, maybe a military aircraft operation..." "I also saw these many lights from Kingersheim."
Data:
Temporal data:
| | |
| --- | --- |
| Date: | June 12, 2010 |
| Time: | Night. |
| Duration: | 3 or 5 minutes. |
| First known report date: | June 13, 2010 |
| Reporting delay: | Hours, 1 day. |
Geographical data:
| | |
| --- | --- |
| Department: | Haut-Rhin |
| City: | Kingersheim |
| Place: | ? |
| Latitude: | 47.789 |
| Longitude: | 7.334 |
| Uncertainty ratio: | 3 km |
Witnesses data:
| | |
| --- | --- |
| Number of alleged witnesses: | 26 |
| Number of known witnesses: | 3 |
| Number of named witnesses: | 0 |
| Witness(es) ages: | 30, teenagers, adults. |
| Witness(es) types: | Residents. |
Ufology data:
| | |
| --- | --- |
| Reporting channel: | Blog created by a witness to tell about the sighting. |
| Type of location: | From city, UFO in the sky. |
| Visibility conditions: | Night |
| UFO observed: | Yes |
| UFO arrival observed: | ? |
| UFO departure observed: | Yes |
| Entities: | No |
| Photographs: | No. |
| Sketch(s) by witness(es): | No. |
| Sketch(es) approved by witness(es): | No. |
| Witness(es) feelings: | A bit afraid, various. |
| Witnesses interpretation: | Proof or truth about UFOs. |
Classifications:
| | |
| --- | --- |
| Hynek: | NL |
| ALSACAT: | Chinese lanterns. |
Sources:
[Ref. ome11:] "OVNI MULHOUSE" BLOG:
Ufos Mulhouse June 12, 2010
Less than 72 hours after this evening, here are some places where these yellow / orange lights were spotted. I just heard that one is talking about this phenomenon in Europe. Apparently much of France was also overflown. I think this story is far from over. Will the truth come out some day?...
[...]
[From various observation reported in completely different places, the blog author thinks that identical UFOs circulated in France and Belgium, he drew a map of their moving from Belgium to Mulhouse...]
WITNESSES : More than 30 in Mulhouse !
Published on 06/14/2010 at 10:33 p.m. by ovnismulhouse12062010
"We are a good twenty to have seen these lights in the sky of KINGERSHEIM. Teens were between them and alerted us. It was a good twenty dots of light coming from the north in groups of 3 like delta wings. They were going quite fast (faster than airplanes) and after a few minutes disappeared over us. It was as if it was a convoy that followed, and disappeared. It lasted about 3 minutes, but the lights were quite strong and moved fast. Weird that it has not been seen by more people and that the press does not talk about it...
"We did not take pictures and did not film... Too bad"
We are 6 people have seen this twenty orange lights moving in the sky, asking us what it was." "From Kingersheim too these UFOs were visible, I do not know what it was, maybe a military aircraft operation..." "I also saw these many lights from Kingersheim."
[...]
Making some research today, I stumbled upon this :
http://www.dailymotion.com/video/xdntn4_ovni-observation-le-12-juin-2010-en_tech
[The video is gone but one image remains:]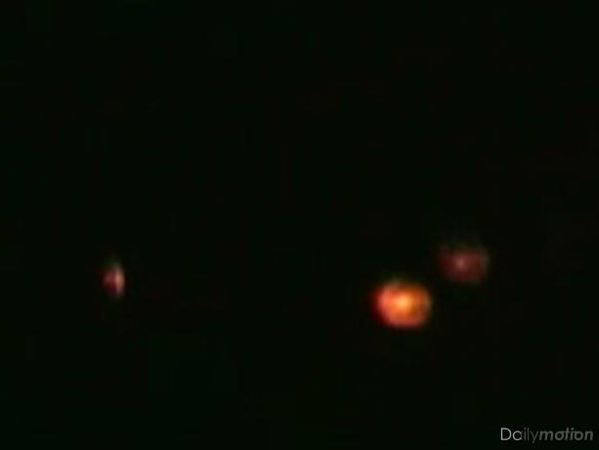 What is surprising is that this person just filmed what I saw one hour before. Unfortunately, on the video there are only 2 whereas in Mulhouse then there were twenty. I began to ask myself questions. I will try to contact that person to find out more.
I hope it is not a hoax, because if it is a hoax, he choosed [sic] the good day and the good hour !!!
[...]
I created this blog because I and six of my friends have seen twenty unidentified flying objects on June 12, 2010, at around 11:00 p.m. in Mulhouse in the Haut-Rhin (68). It was yellow / orange lights moving at low speed towards the east. It was really very scary. After 5 minutes, the lights began to disappear behind the clouds, one after the other. Unfortunately, nobody had camera to film the scene. With our cellphones, what we filmed to no avail, we see only the black...
This is the first time in my life that I see something so bizarre. When I got home, I turned on the TV to see if one talked about it, I'm doing research on the internet, apparently nobody saw anything. I will still carry on my little investigation to see if there are other witnesses and try to discover what was in the sky this Saturday night.
[Ref. ome2:] "OVNI MULHOUSE" BLOG:
marion on 06/14/2010
From Kingersheim too these ufos were visible, i don't really know what it was, maybe a patrol of military planes...
[Ref. ome3:] "OVNI MULHOUSE" BLOG:
Anonymous on 06/14/2010
I also saw these numerous lights from Kingersheim.
[Ref. myo11:] BLOG "LES MYSTERES DES OVNIS":
cyril68210
Male Age: 30
Number of messages: 6
Registered on: 06/13/2010
Localization: France
Job: Executive
Hobbies: Soccer

Subject: Re: 2010: On 06/12 between 10:30 p.m. and 00:00 - New ufo sighting - (Belgium) Sun Jun 13, 2010, 11:25 p.m.

Hi Alcore.

I saw exactly the same thing as you one hour earlier in Mulhouse (Haut-Rhin) with 6 of my friends but there were twenty. They were advancing slowly eastward. This intriguing show lasted 5 minutes before they disappeared one by 1. Their color was yellow / red. At first I was afraid, I thought it was a meteorite rain (I watch movies too) but after 10 seconds we saw that it was flying objects. One of my friends told me that this may be little lanterns but it seems unlikely to me (There was a yellow / orange light one before that was joined by three other lights) If that would have been Chinese lanterns, they were taken away by the wind... Very strange, I thought all day

[...]

i did a blog on that particular night, all is explaned there :)
[In the following messages, about an observation on the same day near Bierset in Belgium, at least one participant suggested it was Chinese lanterns. Another excludes it, speaking of security near airports.
[Ref. ome4:] "OVNI MULHOUSE" BLOG:
PLQ le 15/08/2012
Good evening, i did see the phenomenon that nigh, i was at the rond point d'Illzach near the Prixbas, in short i want to know if there is an official conclusion, GERPA [GEIPAN] was contacted, do you have results?
Discussion:
There is absolutely no doubt about what it was: the image of the video which one other reporting witness says is "exactly" what he had seen shows Chinese lanterns.
(Except of course for these sort of "ufologists" who would assert that "UFOs" have exactly the appearance and behavior of Chinese lanterns...)
The argument that it would be Chinese lanterns because of safety issue related to the airport of Bierset is deluding himself: firstly, it would not be because something would be prohibited that nobody would do it (or else we could dismantle justice and police services), and other reports are from places far from any airport, were no flight safety problems arise.
One of the reporters is surprised that the press does not talk about the case. But the regional press had previously spoken several times of such observations, first headlining about UFOs, mysterious lights, and finally understanding and publishing what it actually was: Chinese lanterns. Journalists from L'Alsace and the Dernières Nouvelles d'Alsace, and many Alsatians, now know what it is, and do not make a fuss about it anymore. Only the remaining people report it, those who see them for the first time without knowing what it is. If the press was to report as UFOs every launch of lanterns unrecognized as such by the witnesses, there would be such articles every week just in Alsace.
Chinese lanterns are one cause of some old tales of UFO sightings: During the "airship" wave of 1896 - 1897 in the USA, during the wave of 1972 in the US Midwest, etc.
Since these miniature hot air paper balloons can be ordered on the Internet at very low cost - they also commonly found in Alsace now in stores - there is no need anymore to take the trouble of manufacturing them yourself.
So since 2005, about everywhere and of course in Alsace, many people who do not yet know about them report them as UFOs or at least as a subject of puzzlement: "It was not planes, not satellites, not helicopters, etc...", commonly appears in the stories. Indeed they aren't.
In principle, any ufologist worthy of the title should be able to recognize a story related for sure or at least possibly to Chinese lanterns, but there are still ufologists who do not want to listen, or quibble, demanding that a guilty lantern is handed to them otherwise they want the story to remain a "UFO report".
Most of the time, I certainly cannot "scientifically prove" or provide "hard evidence" that this or that report is explained by Chinese lanterns; but I see nothing opposes it and nothing would justify to call it spacecraft from another world or who knows what else.
It is sometimes possible to find that there was, precisely at that time, in the vicinity, a release of lanterns, during a party, a wedding party, a birthday party etc. But these releases are now so usual in Alsace at least that they are not necessarily mentioned on festivity calendars.
Since 2005, they constitute the bulk of the "testimonies" of UFOs found on websites devoted to the subject of UFOs and essentially publishing such "web report"; generally the only treatment is the publication, without any information on a possible cause, without any investigation or comment.
In Alsace, such releases are especially popular now since fireworks and firecrackers, long tolerated, are now prohibited for use unless special exemptions; Alsatians therefore largely adopted the lanterns.
As these lanterns are usually released at private or public parties, they are most often seen on Saturday nights, often at wedding dates or official festivities such as the National Day or New Year's Eve, usually between 10 p.m. and midnight. They are then usually released in clusters. But sometimes the purchaser performs a "test flight" a few days before, sometimes with a single lantern.
Note that the lanterns have also evolved: if initially they were almost always white in color, giving an orange light during their flight, there are now all colors available and they produce other colors in flight than the usual "reddish", orange, yellow.
Above:
A Chinese lantern.
To conclude, let me report that from the place called "le Détroit" in Kingersheim, a group of teenagers launched Chinese lanterns, and told about it then on "Facebook" - on a page that is unfortnately gone now.
Finally, that there were twenty of them here, in groups of three, indicates that the launch was performed by a group of three.
Evaluation:
Chinese lanterns.
Sources references:
* = Source is available to me.
? = Source I am told about but could not get so far. Help needed.
[ome1] * "Ovnis Mulhouse 12 Juin 2010", page of the OVNIS Mulhouse blog, France, created on June 13, 2010, at http://ovnismulhouse12062010.centerblog.net
[ome2] * Message published anonymously on July 14, 2010, on the blog OVNIS Mulhouse, France, created on June 13, 2010, at http://ovnismulhouse12062010.centerblog.net/1-ovnis-a-mulhouse-12-juin-2010-vers-23h00#c12155528
[ome3] * Message published anonymously on July 14, 2010, on the blog OVNIS Mulhouse, France, created on June 13, 2010, at http://ovnismulhouse12062010.centerblog.net/1-ovnis-a-mulhouse-12-juin-2010-vers-23h00#c12155528
[myo1] * Message by "cyril68210" on the ufology blog Les Mystères des OVNIS, France, June 13, 2010, à http://www.forum-ovni-ufologie.com/t10235-2010-le-12-06-entre-22h30-et-00h00-nouvelle-observation-d-ovni-belgique
[ome4] * Message published anonymously on August 15, 2012, on the blog OVNIS Mulhouse, France, created on June 13, 2010, at http://ovnismulhouse12062010.centerblog.net/1-ovnis-a-mulhouse-12-juin-2010-vers-23h00#c12155528
File history:
Authoring:
| | |
| --- | --- |
| Main author: | Patrick Gross |
| Contributors: | None |
| Reviewers: | None |
| Editeur: | Patrick Gross |
Changes history:
| Version: | Create/changed by: | Date: | Description: |
| --- | --- | --- | --- |
| 0.1 | Patrick Gross | July 24, 2015 | Creation, [ome1], [ome2], [ome3], [myo1], [ome4]. |
| 1.0 | Patrick Gross | July 24, 2015 | First published. |