ALSACAT:
Case of Riedisheim, on February 19, 2010:
Case number:
ALSACAT-2010-02-19-RIEDISHEIM-1
Summary:
On the website of the Swiss ufology group GREPI, among the UFO sighting reports, there is one given by Gaétan, living in the Haut-Rhin, who made his observation in Riedisheim in the Haut-Rhin from inside a housing looking East, through a closed widow.
He said that on Friday, February 19, 2010, at about 06:20 p.m., he was watching television when he and another person saw four or five bright copper color dots that moved away in a group, straightly and horizontally, and soon, after about five minutes, have faded, flickered and disappeared.
He indicates that the dot size was a little bigger than the size of airliners that would pass in the sky, the speed was similar to that of a plane, in a general south to north direction, with a height on the horizon given as "midday".
He had the time to take two photographs, visible below in this file.
He said that the sky was partly cloudy, with very little wind, and he did not see the moon.
Explaining that he is Cartesian, he expressed his surprise at what he saw; which he had never seen before.
Data:
Temporal data:
| | |
| --- | --- |
| Date: | February 19, 2010 |
| Time: | ~06:20 p.m. |
| Duration: | ~5 minutes. |
| First known report date: | 2014 |
| Reporting delay: | Hours, 4 years. |
Geographical data:
| | |
| --- | --- |
| Department: | Haut-Rhin |
| City: | Riedisheim |
| Place: | From town through window, UFO in the sky. |
| Latitude: | 47.746 |
| Longitude: | 7.364 |
| Uncertainty ratio: | 2 km |
Witnesses data:
| | |
| --- | --- |
| Number of alleged witnesses: | 2 |
| Number of known witnesses: | 1 |
| Number of named witnesses: | 0 |
| Witness(es) ages: | ? |
| Witness(es) types: | Adult male. |
Ufology data:
| | |
| --- | --- |
| Reporting channel: | Web report to the ufology website of the Swiss ufology group GREPI. |
| Type of location: | From town through window, UFO in the sky. |
| Visibility conditions: | Early in the night. |
| UFO observed: | Yes |
| UFO arrival observed: | ? |
| UFO departure observed: | Yes |
| Entities: | No |
| Photographs: | Yes. |
| Sketch(s) by witness(es): | No. |
| Sketch(es) approved by witness(es): | No. |
| Witness(es) feelings: | Puzzled. |
| Witnesses interpretation: | ? |
Classifications:
| | |
| --- | --- |
| Hynek: | NL |
| ALSACAT: | Chinese lanterns. |
Sources:
[Ref. gri1:] WITNESS REPORT ON THE G.R.E.P.I. WEBSITE:
On Friday, February 19, 2010 at approximately 06:20 p.m. I was watching television when, through the window, I saw four or five bright dots that moved in groups. Shortly after they flashed and disappeared.
I have two photographs to support it.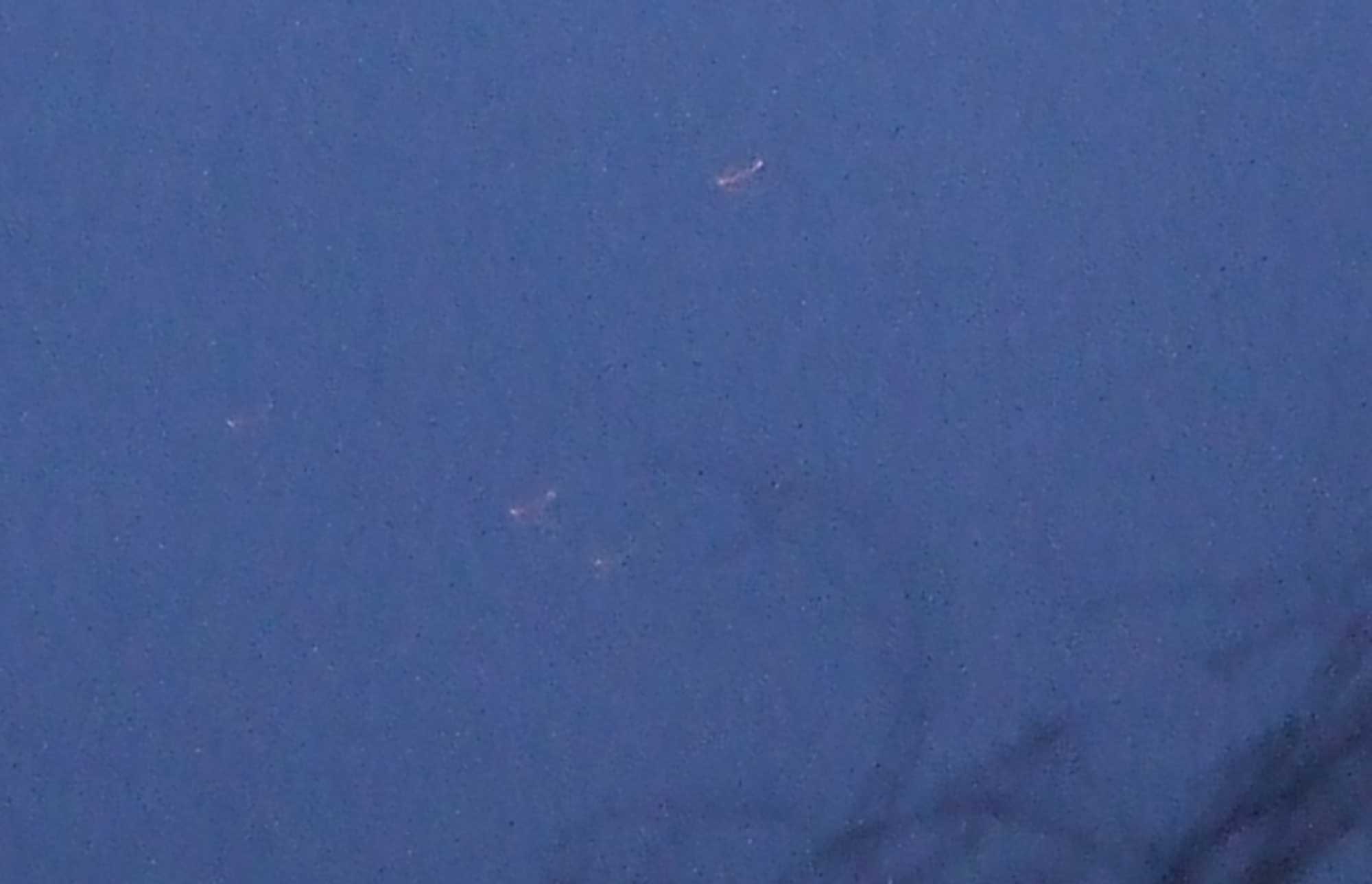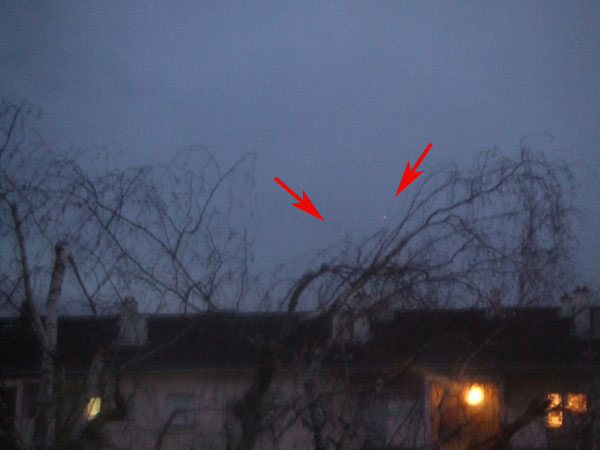 I am rational but I admit that this is the first time in my life that I see such a thing and it intrigues me.
Additional information:
Date of sighting: February 19, 2010 at 18:20
Place of observation: Riedisheim, France, in the city, from the inside of a building, observation with the naked eye through a window
Weather: partly cloudy, very gentle wind, moonless night it seems to me, unless it was behind the clouds
What general direction were you watching ? Eastward
What were you doing when you started watching, how was your attention directed to the phenomenon ? I was watching TV
Appearance: 4/ 5 bright copper colored balls in the sky moving together, uniform in color, medium gloss, the brightness did not change, round shape, spherical, the objects appeared solid, moving, the dots moved all together on a straight line
Position: Horizontal
Apparent size of objects, or of the whole of them: A little bigger than a plane you would watch in the sky
Estimation of the traveling speed: constant, in the manner of a plane
General direction of movement: South---> North
Apparent altitude: similar to airliners
Height on the horizon: Noon
Total observation time: 5 minutes
How did the observation end? The phenomenon went in the distance, faded, then disappeared
Number of witnesses: myself and another person
Regards, for any further information, contact me.
Gaétan (Haut-Rhin - France)
Discussion:
The description obviously evokes a group of Chinese lanterns, and the pictures leave no doubt about it, except for those who would choose that craft from another world would disguise in Chinese lanterns.
Above:
A Chinese lantern.
Chinese lanterns are one cause of some old tales of UFO sightings: During the "airship" wave of 1896 - 1897 in the USA, during the wave of 1972 in the US Midwest, etc.
Since these miniature hot air paper balloons can be ordered on the Internet at very low cost - they also commonly found in Alsace now in stores - there is no need anymore to take the trouble of manufacturing them yourself.
So since 2005, about everywhere and of course in Alsace, many people who do not yet know about them report them as UFOs or at least as a subject of puzzlement: "It was not planes, not satellites, not helicopters, etc...", commonly appears in the stories. Indeed they aren't.
In principle, any ufologist worthy of the title should be able to recognize a story related for sure or at least possibly to Chinese lanterns, but there are still ufologists who do not want to listen, or quibble, demanding that a guilty lantern is handed to them otherwise they want the story to remain a "UFO report".
Most of the time, I certainly cannot "scientifically prove" or provide "hard evidence" that this or that report is explained by Chinese lanterns; but I see nothing opposes it and nothing would justify to call it spacecraft from another world or who knows what else.
It is sometimes possible to find that there was, precisely at that time, in the vicinity, a release of lanterns, during a party, a wedding party, a birthday party etc. But these releases are now so usual in Alsace at least that they are not necessarily mentioned on festivity calendars.
Since 2005, they constitute the bulk of the "testimonies" of UFOs found on websites devoted to the subject of UFOs and essentially publishing such "web report"; generally the only treatment is the publication, without any information on a possible cause, without any investigation or comment.
In Alsace, such releases are especially popular now since fireworks and firecrackers, long tolerated, are now prohibited for use unless special exemptions; Alsatians therefore largely adopted the lanterns.
As these lanterns are usually released at private or public parties, they are most often seen on Saturday nights, often at wedding dates or official festivities such as the National Day or New Year's Eve, usually between 10 p.m. and midnight. They are then usually released in clusters. But sometimes the purchaser performs a "test flight" a few days before, sometimes with a single lantern.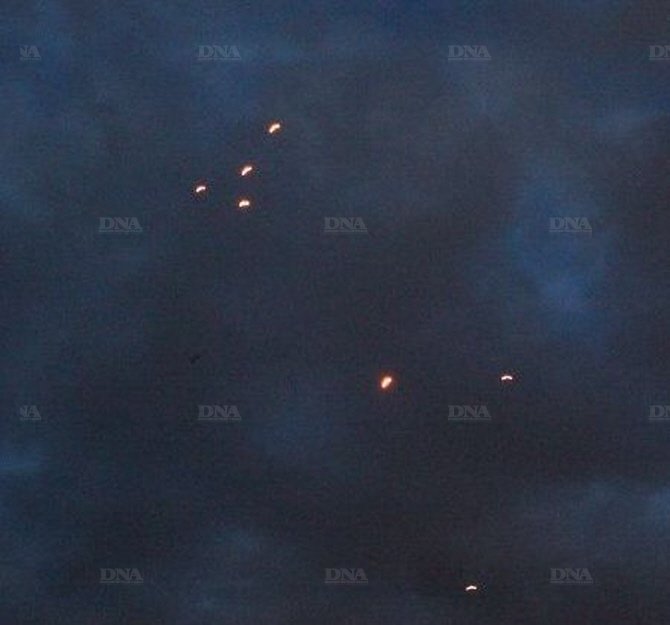 Above:
Chinese lanterns interpreted as UFO by some people, over Mulhouse on October 10, 2013. Image published in the newspaper "Les Dernières Nouvelles d'Alsace".
Evaluation:
Chinese lanterns.
Sources references:
* = Source is available to me.
? = Source I am told about but could not get so far. Help needed.
[gri1] * Witness report published on the website of the GREPI ufology group, Switzerland, not dated, found in 2014, at http://www.ovni.ch/temoign/temoig83.htm
File history:
Authoring:
| | |
| --- | --- |
| Main author: | Patrick Gross |
| Contributors: | None |
| Reviewers: | None |
| Editeur: | Patrick Gross |
Changes history:
| Version: | Create/changed by: | Date: | Description: |
| --- | --- | --- | --- |
| 0.1 | Patrick Gross | May 13, 2015 | Creation, [gr1]. |
| 1.0 | Patrick Gross | May 13, 2015 | First published. |