ALSACAT:
Case of the Grand Ballon, on May 29, 2004:
Case number:
ALSACAT-2004-05-29-GRANDBALLON-1
Summary:
On May 30, 2004, someone who did not gave a name sent an email to the Swiss ufology group GREPI to announce the capture of UFO on photographs.
There was first a photo taken the day before, May 29, 2014, by his father at the Grand Ballon in the Vosges, around 02:45 p.m., with a Kodak CX 6230 digital camera. It is said that this first image was taken to the East, to Germany, and contain two UFOs "quite far" visible by zooming in.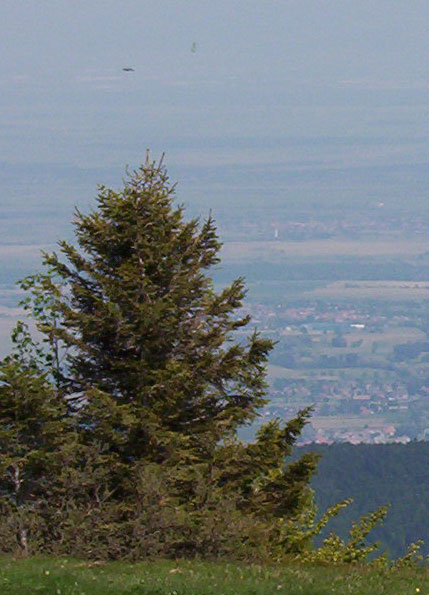 The second photo was taken 2 or 3 minutes later, to the south, the sender is sure that there are "two of them" on it.
He specifies that these UFOs were discovered when looking at the pictures on the TV.
A year later, he wrote again to GREPI with new photos including one about which he sais that when they are enlarged "300x" one can see "about a dozen UFO!!". On the last photo, the sender of the images finds it very strange that the dog seems to look "in the direction of the UFO."
Data:
Temporal data:
| | |
| --- | --- |
| Date: | May 29, 2004 |
| Time: | ~02:45 p.m. |
| Duration: | N/A |
| First known report date: | May 30, 2004 |
| Reporting delay: | 1 day. |
Geographical data:
| | |
| --- | --- |
| Department: | Haut-Rhin |
| City: | N/A |
| Place: | Vosges mountain summit of the Grand Ballon, UFO in the sky on photos. |
| Latitude: | 47.901 |
| Longitude: | 7.098 |
| Uncertainty ratio: | 200 m |
Witnesses data:
| | |
| --- | --- |
| Number of alleged witnesses: | 0 |
| Number of known witnesses: | 0 |
| Number of named witnesses: | 0 |
| Witness(es) ages: | ? |
| Witness(es) types: | ? |
Ufology data:
| | |
| --- | --- |
| Reporting channel: | ? |
| Type of location: | Mountain top, UFO in the sky on photos. |
| Visibility conditions: | Day. |
| UFO observed: | No |
| UFO arrival observed: | N/A |
| UFO departure observed: | N/A |
| Entities: | No |
| Photographs: | Yes. |
| Sketch(s) by witness(es): | No. |
| Sketch(es) approved by witness(es): | No. |
| Witness(es) feelings: | N/A. |
| Witnesses interpretation: | UFOs. |
Classifications:
| | |
| --- | --- |
| Hynek: | BLURFO |
| ALSACAT: | Bird and insects. |
Sources:
[Ref. gri1:] REPORT AND IMAGES SENT TO THE G.R.E.P.I.:
Hello, my father took 2 photos in France at the Grand Ballon (Vosges) yesterday (witness report received on May 30, 2004 - GREPI) at about 02:45 p.m., with a digital camera of the Kodak cx 6230 type. The first picture is oriented to the EAST, to Germany, you will see, it is quite far, you have to zoom in. I think I can see two of them.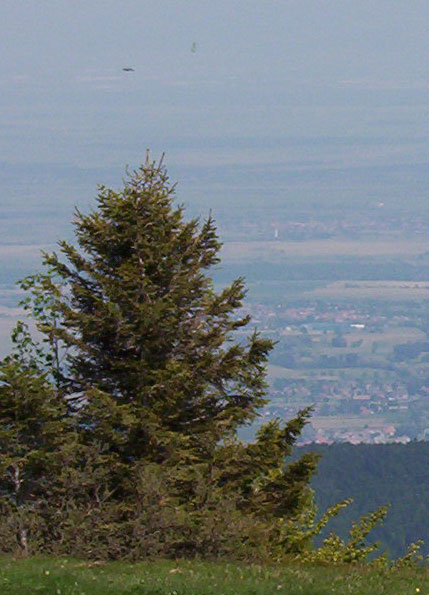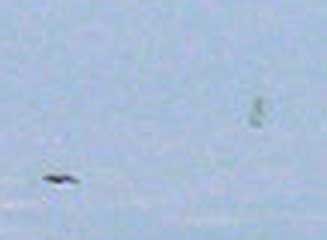 The second is taken 2 or 3 minutes later to the SOUTH, with, this time, I am sure, there are two of them, after enlarging. Important think, there is a radar for civilian and military aviation next to the place where the two shots are taken. We discovered the objects only after viewing of the pictures on the TV.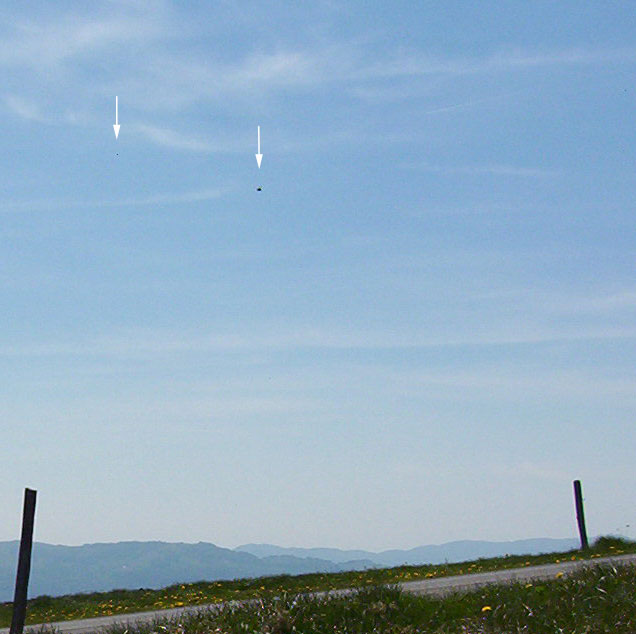 *****
Hello,
I am the anonymous one from the Vosges who sent you the photos of the Vosges with the ufos last year.
I just looked at the series of photos of last year.
I discovered new ufos on pictures belonging to the same series.
I is still a Kodak cx 6230.
The first picture you must enlarge it about 300x to distinguish about a dozen ufos!!
On indeed distinguishes a large number of dots on this picture, but so tiny (a few pixels) that we give up publishing it here. GREPI
On the second one with the dog, one could imagine the dog is looking in the direction of the ufo, it is really strange.
[There are links to two images there, but they are broken.]
Anonymous (Vosges - France)
Discussion:
The first image clearly shows a bird, I can see the wings:

Of course some stubborn ufologists might object that I have no "scientific proof" that it is a bird, and therefore will tell you that this is a "true UFO" (thus something from elsewhere or something "ultra top secret", having exactly the appearance of a bird, probably to fly unrecognized). Indeed, I have not been able to catch his feathers, or "speak to the witness," Mr. "anonymous" from "nowhere we know" whose father didn't see any UFO but just took some photographs.
On the second picture, the alleged UFOs are sharp and dark, too much for things that would at any distance and thus veiled by the atmosphere, and we do not see a bird shape; These is certainly insects at close distance, of the fly kind:
Since digital cameras are widely used, there are many "UFOs" like this, sometimes called "BLURFOS". There are dozens like it just in Alsace. These are not alien spaceships, not "paranormal phenomena", not "secret planes", these are small things more or less distant, mostly birds but sometimes airplanes, helicopters, balloons, insects, etc. From one photo to another, they sometimes appear quite differently, depending on distance, movement etc.
Often, as in this case, the original photos are not published, only greatly reduced or cropped versions are, edited sometimes; which removes the "EXIF" information present in the original digital file that sometimes give valuable indications such as the duration of exposure, the use of the flash, the exact time etc. On many uninformed ufologists websites, you will be offered enlargements by pixel smoothing; which create false impressions, and they take care not to point out that nobody saw anything, actually.
Evaluation:
Bird and insects.
Sources references:
* = Source is available to me.
? = Source I am told about but could not get so far. Help needed.
[gri1] * Witness report and images sent to the ufology group GREPI, Switzerland, not dated, at http://www.ovni.ch/temoign/temoig34.htm
File history:
Authoring:
| | |
| --- | --- |
| Main author: | Patrick Gross |
| Contributors: | None |
| Reviewers: | None |
| Editor: | Patrick Gross |
Changes history:
| Version: | Create/changed by: | Date: | Description: |
| --- | --- | --- | --- |
| 0.1 | Patrick Gross | December 10, 2014 | Creation, [gri1]. |
| 1.0 | Patrick Gross | December 10, 2014 | First published. |