ALSACAT:
Case of Strasbourg, on November 5, 1990:
Case number:
ALSACAT-1990-11-05-STRASBOURG-1
Summary:
On November 6, 1990, in their evening news show "Alsace Soir", the regional public channel FR3 Alsace broadcast a report on the "ufo?" or "luminous phenomena" seen in Strasbourg on November 5, 1990.
Carole Béchet, a student, said that at around 7:00 pm, she got out of her car, looked at the sky and saw something that made her think of planes maneuvering, "in a triangle".
But she was surprised not to hear any noise. She thought they might be flying too high to be heard, but decided that if they were too loud to be heard, they would also be too high to be seen.
She then thought it was shooting stars, but as there were almost ten, so she found it still quite exceptional. However, she made a wish, amused, thinking "we'll see".
Data:
Temporal data:
| | |
| --- | --- |
| Date: | November 5, 1990 |
| Time: | ~07:00 p.m. |
| Duration: | ? |
| First known report date: | November 6, 1990 |
| Reporting delay: | 1 day. |
Geographical data:
| | |
| --- | --- |
| Department: | Bas-Rhin |
| City: | Strasbourg |
| Place: | ? |
| Latitude: | 48.572 |
| Longitude: | 7.738 |
| Uncertainty ratio: | 20 km |
Witnesses data:
| | |
| --- | --- |
| Number of alleged witnesses: | 1 |
| Number of known witnesses: | 1 |
| Number of named witnesses: | 1 |
| Witness(es) ages: | Young adult. |
| Witness(es) types: | Female student. |
Ufology data:
| | |
| --- | --- |
| Reporting channel: | Regional pubic TV channel FR3. |
| Type of location: | ? |
| Visibility conditions: | Night. |
| UFO observed: | Yes |
| UFO arrival observed: | ? |
| UFO departure observed: | ? |
| Entities: | No |
| Photographs: | No. |
| Sketch(s) by witness(es): | No. |
| Sketch(es) approved by witness(es): | No. |
| Witness(es) feelings: | Puzzled. |
| Witnesses interpretation: | Nor planes, maybe shooting stars. |
Classifications:
| | |
| --- | --- |
| Hynek: | NL |
| ALSACAT: | Space junk re-entry. |
Sources:
[Ref. fr31:] CHAINE TV "FRANCE REGION 3 ALSACE":
The report by Géraldine Dehlinger, TV journalist, comprised an interview in a street of Strasbourg of Carole Béchet, student, about what she had seen in the sky of Strasbourg on November 5, 1990. She stated:
"So it was about seven p.m., and I got out of my car and I look in the sky and what do I see? I have the impression that it was airplanes that were maneuvering, so with ... were in a triangle, and uh, what surprised me though, is that I heard no noise, so I thought or they fly at very high altitude, but then I would not see them, uh... it did not make sense to me, and after that I thought, well, maybe it's shooting stars, but since there was almost ten of them, It's still pretty exceptional, uh... I made a wish and I told myself we'll see, ha! Ha!"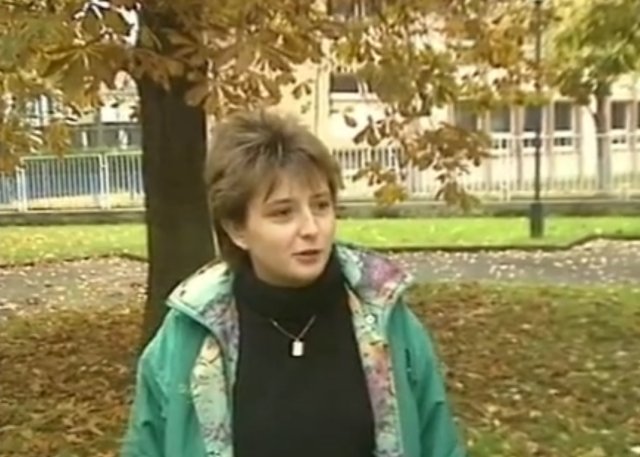 The report continues with another testimony, then Lieutenant Leconte, then team leader of the control tower of the Strasbourg - Entzheim airport, was interviewed. He stated:
"I received a few telephone calls from 7:10 p.m. on, uh, from people calling from different villages, asking me if I was aware of a strange vertical phenomenon. These people reported they had seen a seen luminous object, uh, that passed in the sky, uh, a round object, quite big, that moved slowly from west to east, uh, with a sheaf of sparks at the back."
The journalist comments:
"Even though the radars did not detect anything, it is now sure, the sky of Strasbourg was yesterday the theater of an unusual phenomenon, an appearance of a few moments which should find a natural explanation, perhaps by the presence of many satellites."
Then Agnès Acker, then director of the Strasbourg Observatory, was interviewed, and stated:
"It's quite plausible that one of the many satellites broke down and a piece broke up into several parts, and one saw that. Or, another explanation, perhaps there was a meteorite rather thick, quite big, which would have disintegrated quite low, in the atmosphere, not in the very high atmosphere, and also it is the different pieces of the decomposition that one might have seen, perhaps."
The journalist continues (on the image of a spinning radar antenna):
Today already, the Munich Observatory confirms the hypothesis of the meteorite [sic, "meteor"] which would have exploded when entering the atmosphere. As of the Centre National d'Etudes Spatiales, they did not give their conclusions yet."
Discussion:
One should not expect more accurate data on the testimony (durations, directions etc.), TV journalists are not ufologists. Note, however, the search for an explanation, well conducted, except for the resumption of the "Observatory of Munich" - an observatory that does not exist and almost a gossip: an amateur astronomer from Munich had merely suggested, without much knowledge of the descriptions of the witnesses, that it could be a meteor. A media outlet used this as an explanation by the "Munich Observatory" without checking, and the other media often published it further without checking anything either.
This provides one more case that must be explained by the stubborn supporters of the thesis that there would have been a "wave of UFOs over France" that evening: how is it that the young student describes something totally consistent with the reentry of the Russian rocket debris, without a single element that could suggest anything else? The re-entry of the rocket debris being a proven fact, how is it that she saw no UFOs in addition?
Evaluation:
Space junk re-entry.
Sources references:
* = Source is available to me.
? = Source I am told about but could not get so far. Help needed.
[fr31] * Report of the public TV channel FR3 Alsace, in the "Alsace Soir" evening news, France, November 6, 1990.
File history:
Authoring:
| | |
| --- | --- |
| Main author: | Patrick Gross |
| Contributors: | None |
| Reviewers: | None |
| Editor: | Patrick Gross |
Changes history:
| Version: | Create/changed by: | Date: | Description: |
| --- | --- | --- | --- |
| 0.1 | Patrick Gross | July 6, 2018 | Creation, [fr31]. |
| 1.0 | Patrick Gross | July 6, 2018 | First published. |